The nominees for this year's Oscars include star names, individual nods for Leonardo DiCaprio, Christian Bale and Jennifer Lawrence and nominations for films starring Sandra Bullock, George Clooney, Brad Pitt and Tom Hanks.
If A-list talent is key to drawing people to the cinema, a new book from a Harvard academic argues that it is the high-risk productions with vast budgets and headline stars, rather than independent low-cost films, that are most important for the future of the entertainment business.
Anita Elberse has spent years shadowing the famous and the decisions they make, and concludes that blockbusters are what studios, record labels and publishers must continue to push to keep being profitable.
As one of the youngest women ever to be given tenure at the Harvard School of Business when it was confirmed in 2012, the 40-year-old has been at the university since 2003, building a reputation for her innovative case studies about the worlds of film, music and sport. She now teaches MBA students through a course entitled Strategic Marketing in Creative Industries, a title she admits is "the worst in the world". "I wish I had the guts to call it 'Show Business'," she says.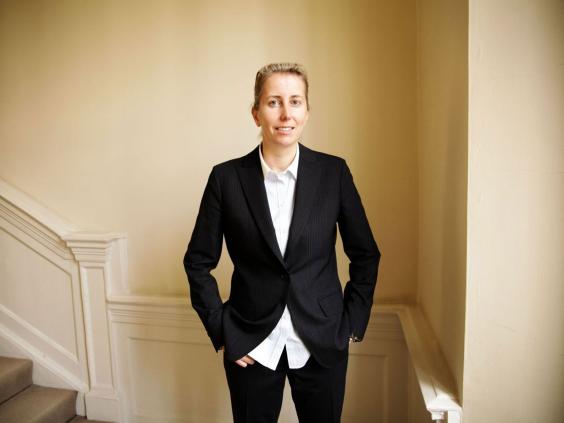 It is one of the college's most popular courses, and it is the people she profiles – who offer her unprecedented access to their business decisions – that are a big draw. They are not all household names, but include film executives such as Alan Horn, chairman of Walt Disney Studios.
Such conversations over the past decade have influenced her new book, Blockbusters: Why Big Hits – and Big Risks – Are the Future of the Entertainment Business. Clunky title aside, the big idea is that A-list stars, huge projects and massive spending are the safest ways to make money.
"The blockbuster strategy is that as a content producer I say I am going to be spending a disproportionate amount of my production and advertising budget on 'event' films," Ms Elberse explains, sitting in the London office of her UK publisher Faber & Faber, which published the book last Thursday.
Audiences respond to big-name actors, special effects and in-your-face advertising, says Ms Elberse. She adds that while it might seem safer to spread money around a series of smaller bets, this is counterintuitive on average. "It is not foolproof. It is going to lead to failures and those failures are extremely painful," she says.
Recent examples of high-cost flops include the Keanu Reeves Samurai epic 47 Ronin, released in the UK last month and reportedly on track to lose up to $175m (£106m). Johnny Depp's The Lone Ranger, released last year, is another high-profile effort that bombed.
"Those big failures are not going to go away but that is not a reason to back away from the strategy," Ms Elberse says, citing Mr Horn as an example. Before moving to Disney in 2012, he was the president and CEO of Warner Bros, which under his leadership grossed more than $1bn in American box-office receipts for 11 years in a row based on a strategy that relied heavily on films such as the Harry Potter series.
"If a movie studio like Warner Bros has had success with this strategy over a decade or so, they can afford to make a $100m film like Gravity which on the face of it seems like a really risky project," Ms Elberse says. However, she is not advocating a complete stop to smaller budget films, just the need to fit them around these "event" films.
Anita Elberse grew up in the Netherlands before studying in the US and doing a PhD in business studies from London Business School. She calls her position at Harvard her "first real job".
Her researches have taken her far and wide. Lady Gaga is a case in point. Ms Elberse shadowed her for several days as she was becoming a global icon, speaking to the singer and her manager Troy Carter to get a sense of the scale of the Gaga operation.
Her approach is total, helping to build up a detailed picture: "We met a few times with Troy Carter and really tried to go into decisions that have been made, as well as people at the record label, [Gaga's] producer, people at Live Nation who organise her concerts – to learn how these people go about their daily business." 
The same need for blockbuster stars also works in sport, she says, with tennis star Maria Sharapova, known for banking huge levels of endorsements a prime example.
"I asked her: 'Can I just follow you around while you go about your daily business for a day?'" she says, eventually spending a day with Sharapova in New York. "We went to a sponsor meeting she had. We saw her in the hotel room getting ready for a speech at the United Nations and followed her to the UN [where she is a goodwill ambassador] and then there was a party for Vogue afterwards.
"I mean, it just sounds like fun, but you pick up on who these people are. You see Maria moving from a twentysomething being all serious at the UN and being able to do that while also being one of the world's best tennis players. It is quite amazing, and that is part of her appeal."
It is obvious that Ms Elberse won't let the sheen of celebrity stop her from understanding her chosen subject. "I try to give them the room to explain, plus I'm not just going to quit. If I really want an answer, I am just going to keep asking over and over again and eventually they are going to answer," she says.
Football is a passion for Ms Elberse, with studies of Real Madrid and Argentine side Boca Juniors featuring prominently in her book. Closer to home, one of the cases that made the biggest splash in the UK – and gets only a brief mention in the book – is the time she spent shadowing former Manchester United manager Sir Alex Ferguson. She admits, laughing, that her meeting Sir Alex was one of those "really odd moments where it is like 'how did you find me?'."
She says that Sir Alex was open and "very kind and welcoming". However, she adds that Sir Alex's real passion for his career was shown in the classroom, where he was grilled by students. "It was interesting to see his reactions to students accessing his leadership style, whether it was fear, respect, compassion, praise, or a mixture of a number of them," she says.
One particular exchange stood out for her. "There was one student who said he was a big Bayern Munich fan and mentioned that he had cried when they lost the Champions League final [against Man United in 1999]." She then mimes Sir Alex rubbing his hands together with a smile on his face. "He said: 'Let me tell you some stories about Bayern Munich' and you could tell he was enjoying remembering. It was a perfect moment." Talking to the Harvard Gazette, Sir Alex said of Ms Elberse: "She controlled that room. She was the boss. I thought that was very impressive."
It is quite a compliment from the most successful, and feared, British football manager in history, although Ms Elberse modestly says that was because the sessions were "not a complete mess".
Fashion is one of the more non-traditional elements of the entertainment business that interests  Ms Elberse. British design firm Burberry also gets a mention in the book for its digital innovation, with  Ms Elberse looking at meetings with the company over a possible case study "this week".
Despite the self-developed course being a risk for Ms Elberse, "what if nobody had signed up?" she asks, speakers return regularly with Troy Carter "particularly good" at following up with students. Having seen over 1,000 students take the course her contact book continues to fill, she says that in a recent Variety piece on the most promising executives in Hollywood featured two former students.
Ms Elberse is looking to keep innovating with the three case studies she tries to create a year, chasing the big companies and names and taking her own advice from her book. "There is really no way to play it safe in the world of entertainment. The safest strategy is to make big bets."
Flying high
While Hollywood's A-list will be taking home the golden statuettes on the big night, away from the spotlight, two Britons are set to be quietly honoured for the kind of technical wizardry that makes the film industry shine.
Gifford Hooper and Philip George are to be given a Technical Achievement Award for inventing a miniature helicopter camera called Helicam, which has been used for dramatic shots in dozens of films and TV shows, including Bridget Jones's Diary, Finding Neverland and the BBC's popular series Coast.
Mr Hooper, 48, from Totnes, Devon, has been pairing flying objects and cameras since his school days and says he is "gobsmacked" by the news of the award, which came "out of the blue". Pilot Philip George, 56, from Plymouth, says he is overwhelmed. "I've been doing this for 20 years and it's great to get the recognition. I can retire now," he jokes.
Even though the Helicam has been used in films for years, Mr Hooper admits he hasn't always seen the product of his innovation. "Often, we're extremely busy filming abroad and when we get back the film is no longer in the cinema."
According to the Oscars' awarding body, Mr Hooper and Mr George's system is "a high-speed, extremely manoeuvrable, turbine-engine, radio-controlled miniature helicopter that supports professional film and digital cinema cameras".
The real success of the system is that it can take shots remotely that would be impossible for a full‑size helicopter.
Oscar Williams
Reuse content