The comic-book world is a macho, muscly, brooding place that's hardly overpopulated with "strong" women; you're more likely to see cat-suited sexpots or damsels in distress. Which is partly why Wonder Woman, the exception to the rule, has become such an enduring icon.
And now WW is getting her first big-screen outing, with Kristy Guevara-Flanagan's documentary Wonder Women! showing at the BFI on International Women's Day on 8 March, telling the history of the character and her influence on kick-ass females. For Wonder Woman's evolution also often charts changing societal attitudes towards women, from her feminist origins in the 1940s to her present position in the debate on action-movie heroes…
1940s: the Nazi-fighting Amazonian Princess
Wonder Woman is born during the Golden Age of comic books, after William Moulton Marston, the American psychologist-turned-scribe, persuades DC Comics they need a feminine icon.
In December 1941, the world is introduced to Princess Diana of Themyscira, a goddess from Paradise Island – an all-female society of Amazon warriors, who, despite their ferocious strength, are dedicated to peace and love.
One day, a US Air Force pilot, Steve Trevor, crash-lands into their paradise. After he tells them of the atrocities committed by the Nazis, the Amazons decide one of their number must deliver him home – and stay to fight fascism.
Soon, Diana is zooming round Earth in that patriotic stars-and-stripes outfit, saving men and women from evil Nazis with her physical might, her bulletproof bracelets and her golden lasso of truth.
Marston is clearly preoccupied with the latter: he is also – top trivia! – the man who invented the lie detector. And he is genuinely into the whole women-rule thing, believing that within 100 years, we would live in a matriarchal society where men submitted to women. This is a powerfully feminist Wonder Woman, in an era when ladies are enjoying newfound freedoms and responsibilities in the workplace while men are off fighting in the Second World War.
An unconventional man, the polygamous Marston bases Wonder Woman on both his lovers: his wife Elizabeth (also a psychologist), and their young pupil, Olive Byrne. Early WW strips not only promote peace and girl power, but also alternative sexuality, which Marston sums up as "loving submission". But visually, this often manifests itself in images of bondage: Princess Di is constantly tying up her enemies with her lasso, but she, too, is frequently bound (before revealing her epic powers by breaking the chains).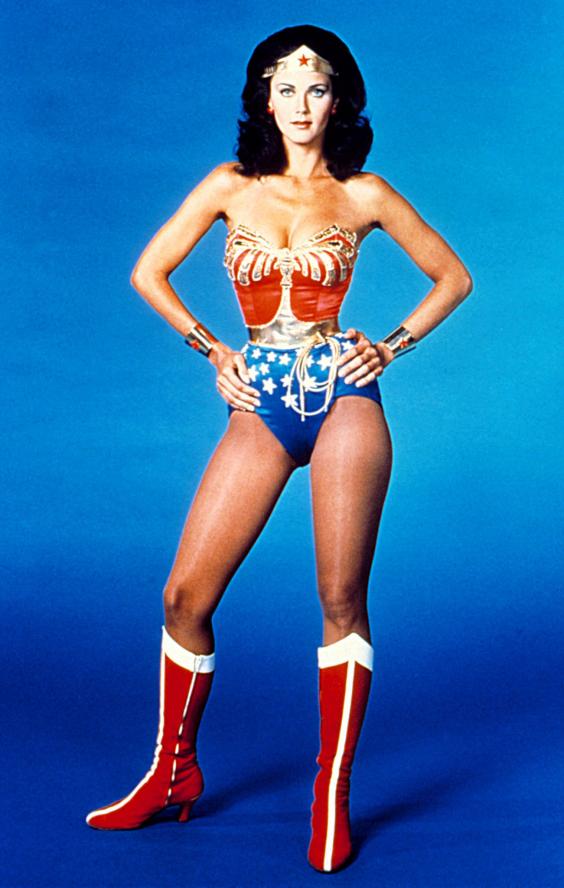 1950s: the housewife years
Marston dies in 1947, and while WW lives on, she is soon to betray her founding principles – in the 1950s, it is she who comes over all submissive. As men return from war, women are expected to return to their narrow domestic lives, and pop culture reinforces this image of the demure housewife. Suddenly, instead of saving Steve Trevor from peril, WW is being rescued by him. She spends "many, many, many years not being a feminist character at all", suggests pop-culture historian Jennifer K Stuller in Wonder Women!.
In 1954, the German-American psychiatrist Frederic Wertham publishes a polemic, "Seduction of the Innocent", suggesting that comic books are partly to blame for juvenile delinquency. Wonder Woman comes under particular fire: Wertham suggests the comics are promoting lesbianism. Following a Senate Subcommittee on Juvenile Delinquency hearing in 1954, the comic-book industry undertakes a voluntary code of conduct that rules out the more violent, and weirder, elements of the artform. Female characters are to be downplayed in general, and the WW comics begin to focus more on her soppy romance with Steve.
1960s: fashion boutiques and martial arts
Things get even stranger in the so-called Silver Age of comics. First up, Wonder Woman loses her magical powers (and that cute costume!). Instead, she runs a mod fashion boutique and wears things such as white leather jumpsuits and Mary Quant-esque mini-dresses. Not that her fight-for-justice days are entirely behind her: now going by the earthworld name of Diana Prince, she meets a martial-arts master called I-Ching, who trains her to kick butt without any mystical powers. A series of spy-fi, weapon-wielding, martial-arts adventures follows.
1970s: powers restored and TV stardom
Second-wave feminism, and women's lib activist and founder of Ms magazine Gloria Steinem decides to put childhood role-model Wonder Woman on the cover of the very first issue. Then she reads the contemporary comic strips – and is not impressed by the fashion-boutique nonsense. Steinem and co campaign to have WW's powers reinstated, and for racial representation. DC Comics capitulates, and a powered-up Wonder Woman is relaunched – alongside her black African sister, Nubia.
But it is the 1975 TV version that really cements the character in the public mind. Lynda Carter is Wonder Woman, and even invents her trademark costume-changing, transformative spin. The series is an huge hit, spawning shows such as The Bionic Woman and Charlie's Angels. A generation of young girls looks up to Carter's feisty lead as a role model.
The programme also makes an indelible impression on many dads and brothers… with the sexy hotpants-and-bustier combo and some ditzy plotlines, it's hard today to see the show as striking a clear blow for feminism. But Stuller suggests that these programmes are actually, "very multivalent – you're getting some feminism, wrapped up in a sexy package. Are these women objects? Are they inspirational? They're all these things."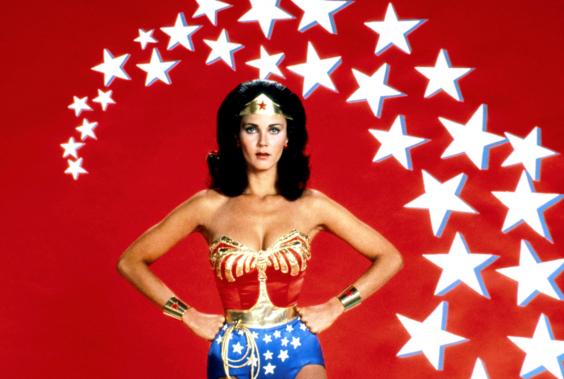 1980s-2000s: the fallow years
Wonder Woman continues to feature in ever-more complicated plotlines in comic books, and as part of the Justice League alongside Batman, Superman and Green Lantern. But in the wider world, she's sidelined: without TV or film adaptations, she becomes merely the fancy-dress shop outfit of choice, the token girly superhero. She may retain her symbolism as an icon for female power – and Guevara-Flanagan suggests she blazed the trail for strong women characters from Ripley in Alien to Buffy – but WW herself is pretty much reduced to a kitsch image emblazoned on lunchboxes and make-up bags.
2010s: a new golden age?
Given the sheer volume of superhero movies now, grumbling about the lack of a female-led blockbuster is growing ever louder. Many still mourn the shelving of Buffy creator Joss Whedon's mooted movie back in 2007. A staggeringly naff 2011 NBC TV show pilot, starring Adrianne Palicki, never got picked up. US network CW was developing a WW series, called "Amazon", but this was pronounced dead in the water in January.
But things are looking up. The Wonder Women! doc is no bad start, and 2014 brings the publication of the respected comic-book writer Grant Morrison's graphic novel, The Trial of Diana Prince, which promises to return WW to her feminist roots.
Meanwhile, a solo silver-screen outing for WW is on the cards. And we're not just talking about her block-head appearance in The Lego Movie… Gal Gadot has signed a three-picture deal with Warner Bros – she will appear as Wonder Woman in the forthcoming Batman vs Superman, and, according to Variety, will also star in a Justice League film and – hurrah! – a stand-alone Wonder Woman movie. It'll only have taken 75 years… maybe Wonder Woman's fight for female power isn't over just yet.
'Wonder Women!' is showing at the BFI Southbank, London SE1, on 8 March (bfi.org.uk, wonderwomendoc.com)
Reuse content