It seems almost impossible to believe that Zach Braff is "pushing 40 next April", as he puts it.
Never mind that he still looks like a man in his early thirties – barely a grey hair, with hopeful blue eyes and a wide smile – but there's something about his screen persona that suggests he's drunk from the fountain of youth. To his 1.4 million Twitter followers (and many others), he'll always either be JD, the intern at Sacred Heart hospital in sitcom Scrubs, or Andrew Largeman, the directionless Generation Y twentysomething in Garden State, his 2004 directorial debut.
Made for just $2.5m, Garden State won a Grammy (for Best Soundtrack), an Independent Spirit award (Best First Feature) and – crucially – took $35m at box offices around the globe. An indie breakout hit, for some it was The Graduate of its time. "A movie that changed the way young adults saw the world," as one fan wrote, it spawned the word "Braffian" online. It's meaning? You could pick any number of adjectives: sensitive, soulful, wry, poetic. But most importantly, here was a writer-director-actor unafraid to create a character close to his own personality.
Talk to him for more than 30 seconds and you get the idea. The New Jersey-born Braff speaks like someone who has attended motivational seminars for most of his life. "My thirties went really fast," he notes, "and I think, if nothing else, I'm really clear on what I want and what I'm looking for and what I want the rest of my life to be about. I'm a firm believer that this is it. We get this one life and we're animals and we die. So I'm trying to maximise my time here on Earth and write about that, for people who are interested."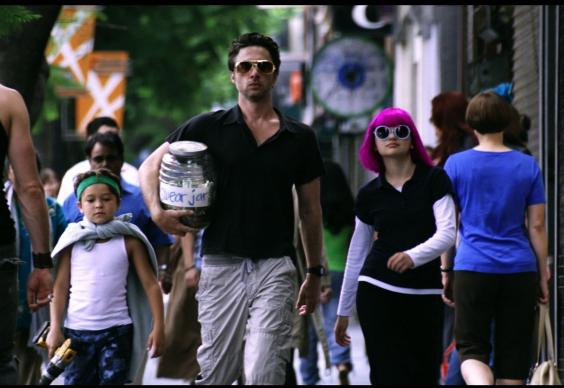 He is returning to the director's chair after a decade's absence with his new film Wish I Was Here. Fans will be relieved to know that this very "Braffian" point of view has not changed. Co-written with his older brother Adam, it sees Braff play struggling actor Aidan Bloom, a 35-year-old still clinging to his dreams of success when reality – money, family, illness – begins to impede. It's unashamedly sentimental, with Braff's self-centred Aidan coming to terms, reluctantly, with what it means to be father, son and husband.
The early reviews, when the film premiered at Sundance this year, weren't great. "A cloying compendium of follow-your-dreams platitudes, new-agey spirituality and mawkish, father-son deathbed bonding," said trade paper Variety. Braff, however, couldn't care less. "I've been critiqued for being sentimental and sincere and wearing my heart on my sleeve," he says. "Not only is that me, but everything my fanbase likes. That's what Garden State was. That's what Scrubs was. That's me. I'm certainly not trying to be anything other than me."
One scene, confronting the sexist colleague of his wife (played by Kate Hudson), sees him floored by a punch – proof, if any were needed, that he's the current embodiment of America's anti-alpha-male. But is this just an act? "I'm a very sensitive person and I'm very in touch with my emotions," he protests, "and I think that in our society that's a very bizarre thing, that masculinity is still challenged by that. In 2014, men still have to pat each other on the back when they hug each other. I find it so silly."
Wisely, Braff hasn't oversaturated the market since finishing Scrubs five years ago. He wrote and starred in a play, All New People – about a suicide case. There were a couple of flops – including The Color of Time, with James Franco and Mila Kunis, and one mega-hit, in the shape of Sam Raimi's Wizard of Oz prequel, Oz the Great and Powerful (in which he was largely a talking monkey). "I don't want to do crap!" he states. "I don't do stuff unless it's something I would want to go see, or working with a film-maker I really like."
For the most part, however, he was trying to follow up Garden State. He tried for years to get a remake of the Danish marital drama Open Hearts off the ground. Sean Penn was attached, but then the money fell through – a typical experience.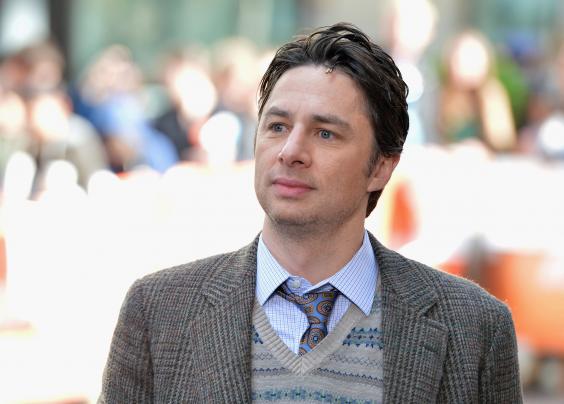 "I just kept hitting walls of all sizes and with all different types of movies," he sighs. "It was so bizarre. No-one had wanted to make Garden State, and then it was a huge success, so I thought I had earned some points. But that didn't happen."
Tired of "slamming my head against the wall", Braff decided to try an alternative: the crowdfunding website Kickstarter. He raised the $2m target in just three days, as fans donated money in return for all manner of goodies – from T-shirts and soundtracks to access to online advanced screenings and live Q&As. After raking in over $3m in total, then came the backlash, somewhat unfairly, as critics carped that a man of Braff's means should not be petitioning the public for funds.
Braff was taken aback, not least because actress Kristen Bell used the same methods to raise money for the film version of her show Veronica Mars. "Everyone thought [that] was cool," he says, a little bitterly. "I did it, and all of a sudden everyone had a problem with it. So I realised I had to, whether I wanted to or not, launch a year-long campaign correcting a lot of the misinformation... it was like running a political campaign."
Braff also had to contend with the emotions that playing father-of-two Aidan stirred up. While his co-writer brother Adam has children, he has yet to take the plunge. "I'm dying to have kids," he says. "First, I've got to find a girlfriend! Let me re-phrase... fall in love with the woman who I want to be my baby-mama!" Braff split earlier this year from his girlfriend of five years, model Taylor Bagley, though it hasn't derailed his mission to become a parent. "Having those wide eyes look up you and be able to impart on them something that you've learned, I think, must be thrilling."
Raised Jewish – his father Hal is a trial attorney and sociology professor, his mother Anne a clinical psychologist – Braff's own childhood was interrupted by his parents' divorcing and both remarrying. At the age of 10, he was diagnosed with obsessive-compulsive disorder ("I've had experience with all the twitchy disorders over the years," he once said). He only started feeling at home after he attended Stage Door Manor, a showbiz summer camp that has given starts to the likes of Braff's Garden State co-star Natalie Portman and Robert Downey Jr.
After appearing on the 1989 TV show High, his first role of significance came in 1993's Woody Allen film Manhattan Murder Mystery. "He gave me my SAG [Screen Actors Guild] card when I was 18 years old," he smiles. Braff has just finished playing the lead on stage in New York in a musical version of Allen's Bullets Over Broadway. He seems a better fit for the role than John Cusack, who played it in the 1994 film. Whether or not you like Braff's brand of sincere sentiment, he plays the nebbish Everyman like few others.
'Wish I Was Here'  is on release
Reuse content