Amy Winehouse's raw talent is on stunning display in the latest clip from hit documentary Amy, showing her recording the bluesy "Back to Black" with producer Mark Ronson.
The late singer-songwriter, who died from alcohol poisoning aged just 27 four years ago, is seen working on her Grammy-winning album in New York and describing her creative process.
"I had these feelings and words floating around in me," Amy says in her famous North London accent.
"When you write a song you have to remember how you felt, you have to remember what the weather was like, you have to remember what his neck smelled like. You have to remember all of it."
Her recording of the tragic break-up song was created without any musical accompaniment in her own corner of the studio back in 2006.
Dressed casually in denim shorts and an unbuttoned bright red shirt, she wrote the devastating lyrics and melody in just a few hours.
"Oh, it's a bit upsetting at the end innit?" she says with a grin before wandering off, whistling, like it was just another day in the office.
This is a stand-out moment from Asif Kapadia's new film, which broke the record for the highest UK opening of a British documentary last weekend.
The director, best known for Senna, said recently that he stumbled upon the "Back to Black" footage "purely by chance" after hearing a rumour that someone had been filming the session.
Amy Winehouse: Before the beehive
Amy Winehouse: Before the beehive
1/8 Amy Winehouse

Amy at Osidge Primary School

2/8 Amy Winehouse

Amy at her brother Alex's bar mitzvah

3/8 Amy Winehouse

A note Amy drew at school

4/8 Amy Winehouse

Amy singing and playing guitar with a friend in Amy

Amy

5/8 Amy Winehouse

Amy Winehouse celebrates her birthday in Amy, from the makers of Senna

6/8 Amy Winehouse

Janis with Amy as a baby

7/8 Amy Winehouse

Island in the sun: Janis and her daughter Amy in healthier, happier times in St Lucia in 2009

8/8 Amy Winehouse

Amy Winehouse playing the guitar in Amy

Amy
Ronson has praised Amy for revealing a side to the artist that "not everyone got to see". "There was nothing pretentious about her," he told The Mirror.
"She had a gift and a talent and then she ended up becoming a runaway success that led to some unfortunate things happening."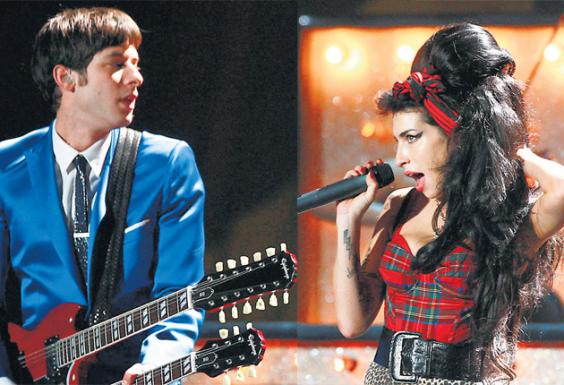 Kapadia told The Independent last month that he wanted to show "the young, fun, happy, bright-eyed healthy girl [Amy] used to be".
"You think it would have been to have met her," he said. "She would have been fun to hang out with."