Hollywood star Angelina Jolie wrote a "harrowing" screenplay about a woman who has a double mastectomy because her mother is dying of breast cancer, 16 years before she underwent the operation herself.
Jolie wrote the screenplay entitled Skins back in 1999 at the age of 24, the same year her mother Marcheline Bertrand was diagnosed with ovarian cancer. Bertrand died from the disease in 2007 at the age of 56.
In the script the woman undertook the preventative measures after her mother is suffering from the terminal illness. The story mirrors Jolie's own decision to undergo surgery in 2013 after doctors told her that she had an 87 per cent of risk because she was carrying the BRAC1 gene.
Jolie's aunt Debbie Martin reportedly died of the disease and both the actress's grandmother Lois and great-grandmother Virginia Gouwens died of ovarian cancer.
The details of Jolie's script were revealed in a biography of the star by Diana writer Andrew Morton.
"It was a harrowing read, it was really, really sad," a source told The Mirror.
"It is so similar to Angelina's own story, although when she wrote it she would have had absolutely no idea.
"It's like she based the character on herself... only she couldn't possibly have done," the source added.
Angelina Jolie on screen
Angelina Jolie on screen
1/11 Changeling -2008

Angelina Jolie plays a grief-stricken mother in this 2008 period drama

Imagine Entertainment

2/11 Lara Croft: Tomb Raider - 2001

Jolie stars in the blockbuster film based on the video game adventurer

Corbis

3/11 Hackers - 1995

Jolie stars alongside Johnny Lee Miller in the 1995 film about a computer hacker who writes a computer virus

Corbis

4/11 Girl, Interrupted - 1999

Jolie won an Oscar in 2000 for her supporting role as diagnosed sociopath Lisa, alongside Winona Ryder

Rex Features

5/11 The Tourist - 2010

Jolie stars alongside Johnny Depp, who plays an American tourist visiting Italy in a bid to mend a broken heart

GK Films

6/11 Maleficent - 2014

Jolie stars in the lead as the vengeful fairy Maleficent, who is driven to curse the young princess in Sleeping Beauty

© Disney Enterprises, Inc.

7/11 Mr & Mrs Smith - 2005

Jolie stars as assassin Jane Smith alongside Brad Pitt. The two met and began an affair while filming the movie

Corbis

8/11 The Bone Collector - 1999

Jolie plays Denzel Washington's detective partner as the two hunt down a serial killer

Columbia Pictures

9/11 Wanted - 2008

The actress plays a second in command assassin alongside James McAvoy

Universal

10/11 Salt - 2010

Jolie stars as CIA agent Evelyn

CTMG, Inc

11/11 Unbroken - 2014 (director)

Jolie with the late Louis Zamperini in her new film Unbroken about the Olympian turned World War II prisoner's life

Universal/AP
Last week the 39-year-old actress revealed she had undergone further preventative surgery in which she had her ovaries and fallopian tubes removed due to the 50 per cent risk of ovarian cancer.
"Last week, I had the procedure: a laparoscopic bilateral salpingo-oophorectomy. There was a small benign tumor on one ovary, but no signs of cancer in any of the tissues," she wrote in the New York Times.
"It is a less complex surgery than the mastectomy, but its effects are more severe."
"It puts a woman into forced menopause. So I was readying myself physically and emotionally, discussing options with doctors, researching alternative medicine, and mapping my hormones for estrogen or progesterone replacement. But I felt I still had months to make the date."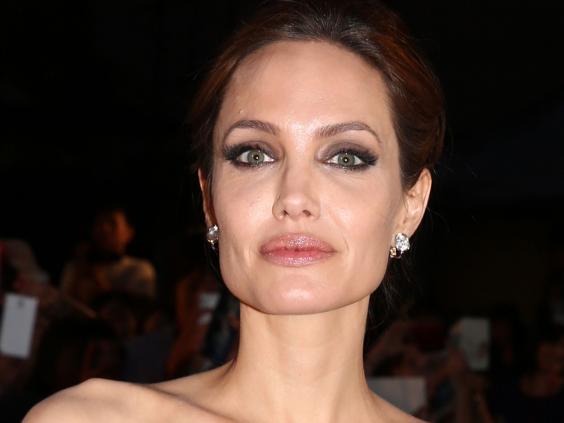 She went on to say, "I feel feminine, and grounded in the choices I am making for myself and my family. I know my children will never have to say, 'Mom died of ovarian cancer.'"
The operation triggered Jolie to start the menopause early and means that she can no longer have children naturally.
Although the procedure does not completely eliminate the risk of the cancer, it has significantly reduced her chances.
Her decision for preventative surgery has raised awareness of the illness which has been dubbed the "Angelina Effect".
She added in her piece, "It is not easy to make these decisions. But it is possible to take control and tackle head-on any health issue. You can seek advice, learn about the options and make choices that are right for you. Knowledge is power."
Reuse content