Ant-Man may not be out in the cinema yet but that hasn't stopped every interviewer presuming there will be a sequel to the Marvel blockbuster.
Peyton Reed, the director of Ant-Man, has already said he would like to direct a movie centred on the female superhero, Wasp.
Now, Michael Douglas, who plays Hank Pym in the movie, has said who he'd like to play his on screen wife: his real world wife, Catherine Zeta Jones.
When asked who he'd like to see play Wasp, AKA Janet van Dyne, in any future films by Digital Spy, Douglas said: "Maybe my wife, Catherine. We're always looking for something to do together. You're not going to think she's too young for me now, are you?"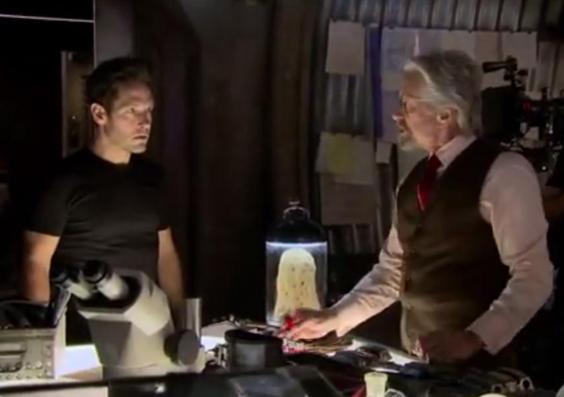 The age difference between the two is 25 years. Marvel have come under criticism recently for being ageist, having cast the 50-year-old Marisa Tomei as Spider-man's Aunt May.
Michael Douglas recently told The Independent that there is a crises going on with young American actors who are currently too image conscious.
"There's something going on with young American actors - both men and women - because the Brits and Australians are taking many of the best American roles from them.
Upcoming Marvel films
Upcoming Marvel films
1/10 In 2019: Inhumans

12 July 2019

2/10 In 2019: Avengers: Infinity War Part 2

3 May 2019

Marvel

3/10 In 2018: Black Panther

6 July 2018

Marvel

4/10 In 2018: Avengers: Infinity War Part 1

4 May 2018

Marvel

5/10 In 2017: Thor: Ragnarok

3 November 2017

Marvel

6/10 In 2017: Untitled Spider-Man

28 July 2017

Marvel

7/10 In 2017: Guardians of the Galaxy 2

5 May 2017

Marvel

8/10 In 2016: Doctor Strange

4 November 2016

Marvel

9/10 In 2016: Captain America: Civil War

6 May 2016

Marvel

10/10 In 2015: Ant-Man

17 July 2015

Marvel
"Clearly, it breaks down on two fronts. In Britain they take their training seriously while in the States we're going through a sort of social media image conscious thing rather than formal training. Many actors are getting caught up in this image thing which is going on to affect their range.
"With the Aussies, particularly with the males it's the masculinity. In the US we have this relatively asexual or unisex area with sensitive young men and we don't have many Channing Tatums or Chris Pratts, while the Aussies do. It's a phenomena."
Ant Man also stars Paul Rudd as Ant-Man, Evangeline Lilly as Hope van Dyne and Corey Stoll as Darren "Yellowjacket" Cross.
Directed by Peyton Reed and produced by Kevin Feige, Ant-Man is released in UK cinemas on 17 July 2015.
Reuse content