This year's Oscars were supposed to centre on the theme of 'movie heroes', but one planned segment of the ceremony was missing – Batkid.
Five-year-old leukemia survivor Miles Scott was due to appear with The Amazing Spider-Man star Andrew Garfield at Sunday night's event, before organisers cut that part at the last minute.
"I don't know if they ran out of time, or if there was something about the segment they didn't like," Miles' mother Natalie told the International Business Times. "It got pulled so quickly that we didn't have a lot of insight into what was going on."
The Academy had teamed up with the Make-a-Wish Foundation to bring Scott to the Oscars. He first became known as Batkid after fulfilling his wish in San Francisco, when some buildings were turned into Gotham City.
Scott accompanied a Batman through the streets to take on villains like Penguin and the Riddler in a stunt so popular that thousands stopped to watch and #batkid trended on Twitter.
Garfield did not attend the ceremony and, instead of his Oscars role, Scott was reportedly offered an all-expenses paid trip to Disneyland.
A night at the Oscars
A night at the Oscars
1/7 Oscars 2014

Actors front row from left, Jared Leto, Jennifer Lawrence, Meryl Streep, Ellen DeGeneres, Bradley Cooper, Peter Nyongío Jr., and, second row, from left, Channing Tatum, Julia Roberts, Kevin Spacey, Brad Pitt, Lupita Nyongío and Angelina Jolie as they pose for a "selfie"

AP

2/7 Oscars 2014

Benedict Cumberbatch jumps behind U2

Reuters

3/7 Oscars 2014

Host Ellen DeGeneres (R) with pizza delivery man in the audience during the Oscars at the Dolby Theatre

Getty Images

4/7 Oscars 2014

Jennifer Lawrence reaches out to grab a friend as she falls on the Oscars red carpet

5/7 Oscars 2014

Singer Liza Minelli arrives for the 86th annual Academy Awards ceremony at the Dolby Theatre in Hollywood, California

EPA

6/7 Oscars 2014

Bette Midler performs "Wind Beneath My Wings"

Rex Features

7/7 Oscars 2014

Actor Jared Leto, winner of the Best Performance by an Actor in a Supporting Role award for 'Dallas Buyers Club'

Getty Images
"Basically, because of the fluid nature of live TV production, ultimately the segment didn't work," an Academy spokesperson told Entertainmentwise.
Josh deBerge from the Make-a-Wish Foundation added: "Make-a-Wish was not involved in any way with the decision about what did not or what did make it in on-air that evening."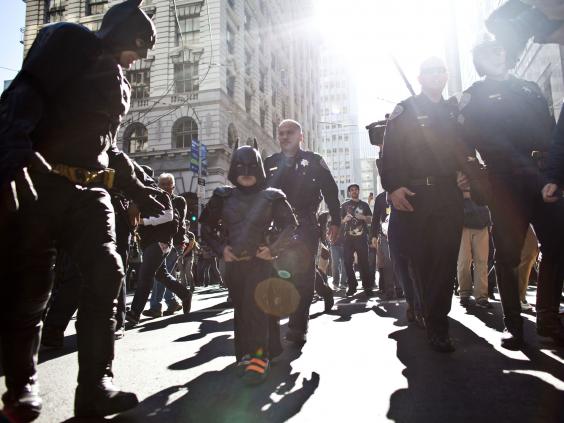 Matthew McConaughey, Cate Blanchett, Jared Leto and Lupita Nyong'o were the big acting winners at the 2014 Oscars, with 12 Years a Slave beating Gravity and American Hustle to take Best Picture.
Reuse content