Zac Efron is set to don some red shorts for the film adaptation of Baywatch.
The high school heartthrob turned half-serious actor is in talks to join the movie alongside Dwayne Johnson, according to The Hollywood Reporter.
Efron last appeared in Neighbours alongside Seth Rogen, surprising critics with his adaptability to comedy.
The plot is expected to be comedic but also has a serious undertone about saving a beach from environmental destruction at the hands of an oil tycoon.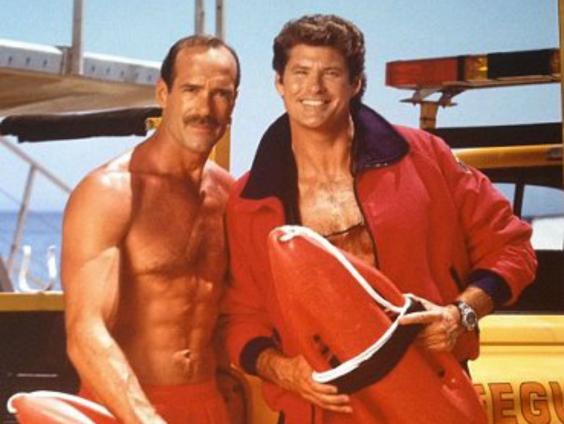 Johnson will play a by-the-book lifeguard who is forced to team up with a rule-flouting youngster (Efron) to save their beloved beach.
Johnson, who has already starred in five films this year, is also set to produce the Baywatch film alongside Dany Garcia. Seth Gordon (Horrible Bosses, Identity Thief) will direct the movie.
Top TV spin-off movies
Top TV spin-off movies
1/10 Star Trek

Star Trek's humble three season beginnings with wonky doors and polo necks spawned a dynasty of interstellar adventures. Benedict Cumberbatch took over in 2013's Into Darkness.

Rex Features

2/10 Sex and the City

The series renewed so many concepts of female independence, but in the film a woman's happy ending was to rely on a man for validation. Let's not talk about the sequel.

3/10 The Simpsons

It took them long enough but The Simpsons team finally made a film from the beloved series in 2007. The script was rewritten over a hundred times to create a pleasantly environmental story starkly similar to Stephen King's Under the Dome series.

Fox

4/10 The Man from U.N.C.L.E

Henry Cavill is coming in Guy Ritchie's The Man from U.N.C.L.E. this summer, but sixties super spies Napoleon Solo and Illya Kuryakin have long set mums' hearts a flame. While the original Solo Robert Vaughn was last seen in Hustle and Coronation Street, David McCallum (Kuryakin) stays true to his crime fighting roots as a medical examiner in NCIS.

Warner Bros

5/10 Charlie's Angels

In a film that feels like a series of music videos stapled together it's hard to know if the film is a feminist ploy or a teenage dream. Either way you are guaranteed glitz and female bonding.

6/10 The Inbetweeners

So well-loved are the incredibly British reprobates that audiences could barely wait to see what school leavers Will, Simon, Jay and Neil would do on the lash in Malia. The sequel sees them take a gap year trip to Australia.

7/10 The X-Files

It often feels like the place where mainstream nerdery began. The nineties saw school files peppered with pictures of Mulder and Scully so a spin-off film (or two) was inevitable. The actors and creator Chris Carter have said they are talking about reuniting for new episodes this summer.

8/10 The Muppets

The Muppets have been everywhere through the medium of film. Their happy little series hatched in the seventies has had adventures in space, Manhattan, at Christmas, on an island, and finally they got the reboot they needed in 2011 with Jason Segel and Nicholas Stoller's beautifully paced The Muppets film, helped along by Flight of the Concord's Bret McKenzie's musical skills.

9/10 21 Jump Street

The police procedural TV series of the eighties had a comedic U-turn in tone of actors Channing Tatum and Jonah Hills' reboot film in 2012 that led to the property being a viable franchise. We've since had 22 Jump Street and potentially another sequel -and a Men in Black crossover.

AP

10/10 Ali G Indahouse

Ali G (short for Allegory) spun out of Channel 4's The 11 O'clock Show into his own comedy show in 2000. A parody of DJ Tim Westwood and various posing suburban, privileged kids, he was the self-proclaimed 'voice of da yoof'. Sacha Baron Cohen announced he has retired the character (along with Borat).

Getty Images
With Johnson known the world over thanks to roles in Fast & Furious and San Andreas, if the film can strike the right chord between nostalgia and funny but not far-fetched comedy, Baywatch could be ripe for a franchise when the movie is released in 2017.
Reuse content