Aaron Paul and Bryan Cranston were reunited at the Need for Speed screening in New York last night, after working together on hit crime drama Breaking Bad. 
The US actors looked thrilled to see each other again, with Cranston appearing on the red carpet to support Paul, who stars as an ex-con street racer in Scott Waugh's new film.
Paul, 34, almost passed on the lead role, as he "didn't even want to read the script."  "I saw the script and I was like, ' Oh no, another video game movie'," he told The Hollywood Reporter.
"It took everything in me to turn the first page and once I turned the first page, I kept turning. I was so surprised that it had a great human story behind it and great characters that I found myself instantly invested in."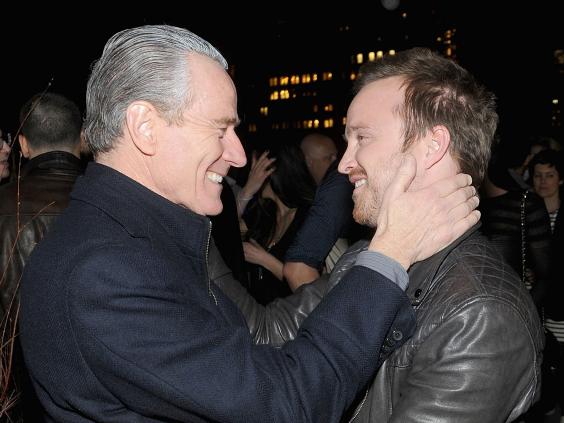 Paul's co-star Ramon Rodriguez was also unconvinced about bringing the popular video game to the big screen. "When I first heard about the script I thought, 'Ugh, I don't want to do just another car film or a video game adaptation that doesn't work', " he said.
"But when I read the script, the thing that caught me was the story of these brothers and these guys, which I was actually kind of attracted to, and to see them come together for a buddy of theirs, I can really relate to that."
Cranston had dashed to the Cinema Society's Need for Speed event after performing in Broadway play All the Way. The 58-year-old is currently playing former US president Lyndon Baines Johnson, hence the silver hair seen amusing Paul in the photos.
Paul will next be seen in Ridley Scott's Biblical epic Exodus, due for release later this year. He has also not held back his desire to guest star on Netflix TV series House of Cards and HBO's True Detective.
Need for Speed is out in UK cinemas today.
Reuse content