It is Lerwick's answer to Monty Python or the Beatles' Magical Mystery Tour - the traditional "Up-Helly-Aa" celebrations, caught on film as they have never been seen before. The locals don't only dress up as vikings and set fire to their galley after a torchlit parade. They also march through the streets in the most outlandish fancy dress imaginable. They come as sheep, as dalmatians, clowns, convicts and as cavemen. The most startling moment in the film is at the very end, when we see walruses slithering along the rocks as the waves beat down behind them. It is only when they stand on their hind legs that we realise these are Shetlanders in disguise.
What is remarkable about Old Norse Viking Festival is its age - the beautifully shot documentary was made by Gaumont way back in 1927 - and the fact that it has lain unseen for 80 years or more. This is just one of thousands of rare films and TV titles from 1895 to the present day that have been digitised as part of the British Film Institute's hugely ambitious "Britain On Film" project. The idea behind it is that anyone in the UK can click on a map of the country and discover a film that relates to their region.
The BFI is looking to members of the public to help identify people and events contained in the films. They will have local knowledge far exceeding that of any curator.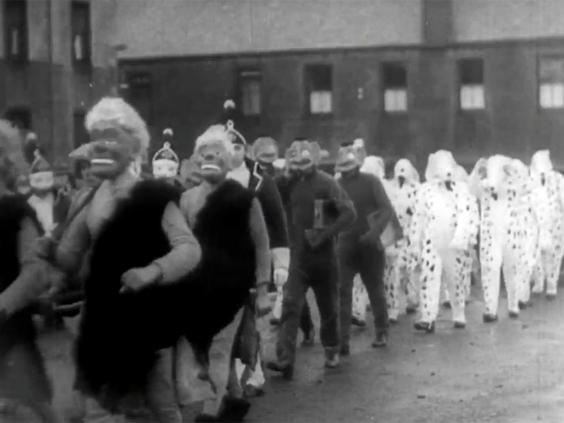 Heather Stewart, Creative Director, BFI, had an uncanny experience when she watched one of the films in the collection. Children's Excursion (1952) is about the community Moniaive in Dumfries and Galloway, the village she grew up in. It was made by a local filmmaker three years before Stewart was born, detailing a day out to Edinburgh, taking in the zoo and the Forth Rail Bridge. "Suddenly, my mother and my great granny, who had died when I was 12, and my granny come walking into frame. I almost fell off my chair. It was very touching."
A rummage through a few of the forgotten films that have been digitised turns up some intriguing material. Fans of former poet laureate John Betjeman will be fascinated by West Wycombe (1955), one of the documentaries the poet made for the Shell-backed "Discovering Britain" series. We see Betjeman on the road from High Wycombe to Oxford stopping off to visit the mausoleum of the Dashwood family.  What starts as a good natured travelogue takes on a more sinister aspect as Betjeman explores the origins of the Hellfire Club, "said to have practiced black magic and whose steward was Paul Whitehead, whose heart was once in this urn." We see Betjeman entering the caves where Sir Francis Dashwood and "his wild and dangerous friends" are said to have celebrated black mass. "People say they have seen ghosts and Satanic monks here. I have never seen one myself but I must say I don't like the feeling of the caves."
The collection also includes some of Britain's first ever "home movies" from the Passmore Collection (scenes of children on the beach in 1902.)
Blockbusters to watch this summer
Blockbusters to watch this summer
1/7 Inside Out

The director behind 'Up' has  made another Pixar animation  to make grown adults weep with this metaphysical tale of a group of emotions directing the life  of a young girl. Out 24 July

2/7 Terminator Genisys

Arnie remains doggedly true to his word as the man who said "I'll be back", returning once more  to protect Sarah Connor in a new instalment which can surely only best the previous two. Out 2 July

3/7 Eden

Summer movies don't come less blockbuster-like than this saga about the world of French house music, based on the experiences of director Mia Hansen-Love's  DJ brother. Out 24 July

4/7 Trainwreck

Forget the superheroes – this  summer's greatest screen force is ribald comedian Amy Schumer, star of this Judd Apatow film about a hard-partying journo getting  a handle on love. Out 28 August

5/7 Magic Mike XXL

Channing Tatum and his  jock-strapped posse return in  this sequel to the 2012 hen-party favourite, whose level of, ahem, exposure will undoubtedly fail to match up to its title. Out 3 July

6/7 Ant-Man

The Marvel hydra grows another head with a first film instalment for an incredible shrinking hero, played by Paul Rudd, who has  the ability to shrivel to the size of… you've guessed it. Out 17 July

7/7 Mission-Impossible - Rogue Nation

The stolid spy franchise ramps  up with another adventure for  Tom Cruise's Ethan Hunt, this time leading a team to eradicate dully named rogue organisation the Syndicate. Out 30 July
Social historians will find rich pickings. For example, watch the various "bathing beauty" films made over the years and you realise how much body shapes have changed in Britain. The revellers shown in Father Neptune Festival On Brighton Beach (1951) or in Bathing Beauty Contest (1945) seem smaller and slenderer than people today. There are plump housewives and men with beer bellies but nothing approaching obesity.
Britain On Film brings together material from the BFI National Archive and 13 other archives. It includes feature films as well as non-fiction. Among the features are the rarely seen A Window On London (1939), starring Michael Redgrave as a crane operator working on the building of Waterloo Bridge (under which the BFI itself is based.)
Much of the material recovered during this vast new trawl through British film history hasn't been seen since the time it was made.
"The public are going to have as much a sense of discovery as we as archivists," says Robin Baker, Head Curator, BFI . "The reality is that some of the things that have been digitised virtually no-one has seen, including archivists. They (the films) have come from either neg  (negative) material or from the sole surviving nitrate. Some of the material is spectacularly rare."
http://player.bfi.org.uk/britain-on-film/
Reuse content