A new David Cronenberg film paints a "very familiar" picture of the ambition and greed of Hollywood, according to its star John Cusack.
The Con Air and Being John Malkovich actor said Maps to the Stars, which also features Julianne Moore, Robert Pattinson and Mia Wasikowska, was a "heightened myth" of the vanities and excesses of celebrity-driven Los Angeles, but the film depicted "a very familiar ecosystem".
It tells the story of an older actress, Havana, desperate for a role (Moore), a limo driver (Pattinson) desperate for a break, a spoilt brat child star in addiction recovery (Evan Bird) and his damaged sister (Wasikowska) who ends up working for Havana after befriending Carrie Fisher through social media.
Speaking before the premiere at the Cannes Film Festival, Cusack, 47, said of Hollywood: "It's an ecosystem of fear and greed and desperation, the sorts of people who function within that and feed it and enable it and are predators there."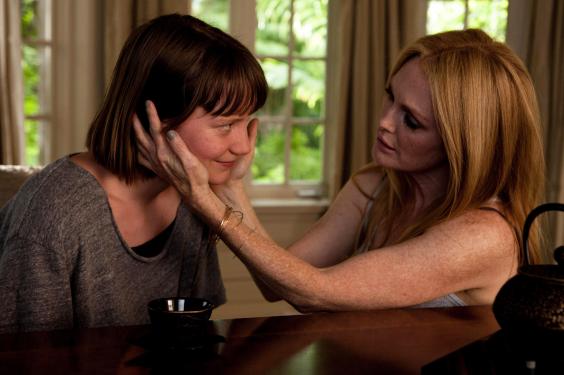 But he said it could be any pressurised community. "It could be Washington, it could be the financial district, it could be Silicon Valley. But there's something about LA and fame and the hunger and need for acknowledgement which is almost a bit more infantile. When you read [the script], you didn't think it went too far. You thought it was just about right, strangely."
Yet Cronenberg, whose past works include The Fly, Crash and A History of Violence, insisted it was "absolutely not" a reflection of true life. "There is no real person like them at all."
And Julianne Moore insisted she loved the movie business. "I'm not here to disparage it. I think that the reason we value film and value culture and value narrative is because they tell us stories about our lives, who we are."
But echoing Cusack's comments on the juvenile side of Hollywood, she admitted Havana was "an extreme adolescent and, as we all know, that's extremely funny".
Pattinson, who retains his Twilight vampires fanclub among the crowds of Cannes, revealed he had said yes to taking part even before reading the script. He previously worked with Cronenberg on Cosmopolis which was seen at the festival two years ago. Maps to the Stars is competing for the Palme d'Or main prize.