When news first broke that Thor himself would be playing the receptionist in the all-female Ghostbusters reboot, excitement reached fever pitch. But now, it's about to hit a whole new level as the first photo of Chris Hemsworth in full costume has leaked online.
The Australian actor is seen wearing a similar get-up to ghoul-fighting girls Kristen Wiig, Melissa McCarthy, Kate McKinnon and Leslie Jones, with the added accessory of some rather fetching thick-rimmed glasses. Oh, and a motorbike, because if you take away a superhero's hammer you have to give him something else to play with, right?
Hemsworth was cast in the traditionally female role in June and his character will be called Kevin. Annie Potts played the most junior Firehouse employee Janine in the 1984 original and spent most of her time answering phones and tracking appoinments.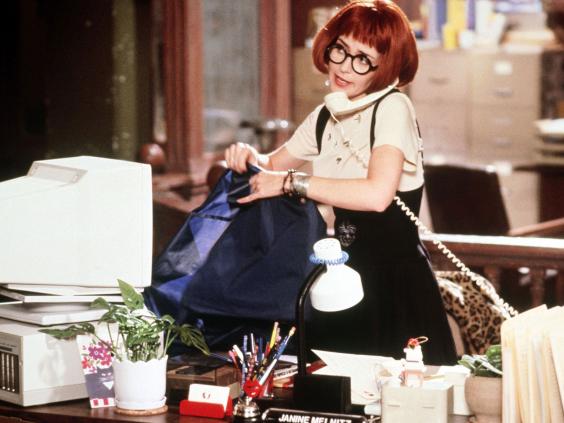 From the look of the first picture of Hemsworth, it seems that Kevin may be required to do a whole lot more in the name of busting ghosts.
First look of Chris Hemsworth as Kevin for the upcoming film 'Ghostbusters' pic.twitter.com/aJUxZYQk6Z

— Hemsworth News (@Hemsworth_News) August 17, 2015
Plot details remain unconfirmed at this stage, but Wiig and McCarthy are reported to be playing "unheralded authors who write a book positing that ghosts are real" and go by the names Erin Gilbert and Abby Bergman.
McKinnon stars as Bergman's new partner Jillian Holtzmann, while Jones is NYC subway worker Patty Tolan, who unexpectedly meets the movie's biggest supernatural threat.
#whoyougonnacall pic.twitter.com/hnrSjhCqSl

— Paul Feig (@paulfeig) July 10, 2015
Both Bill Murray and Dan Aykroyd from the first film have shot cameos but again, it is currently unknown what their appearances will involve.
The original Ghostbusters line-up
The original Ghostbusters line-up
1/7 Ghostbusters

Bill Murray, Dan Aykroyd and Harold Ramis in 1984's Ghostbusters

Rex

2/7 Ghostbusters

Ernie Hudson, Dan Aykroyd, Bill Murray and Harold Ramis in '1984's Ghostbusters

Rex

3/7 Ghostbusters

Bill Murray, Dan Aykroyd and Harold Ramis in a scene from 1984's Ghostbusters

4/7 Ghostbusters

Ramis, Ernie Hudson, Bill Murray and Dan Aykroyd star in 1984's Ghostbusters

Rex

5/7 Ghostbusters

Bill Murray, Dan Aykroyd, center, and Harold Ramis, right, appear in a scene from the 1984's Ghostbusters

AP

6/7 Ghostbusters

Annie Potts stars in 1989's Ghostbusters II

Rex

7/7 Ghostbusters

In this Ghostbusters scene Sigourney Weaver's character suspects her apartment is haunted, only to find a box of exploding eggs in her kitchen that begin to fry and pop on their own accord
Director Paul Feig has been sharing photos of the new uniforms, proton packs and car on Twitter and will likely keep teasing fans right up until next summer, when Ghostbusters reaches UK cinemas on 15 July.
Reuse content