Marvel has revealed the first official Ant-Man image at Comic-Con in San Diego.
The concept illustration, starring Paul Rudd as the title character, has been designed especially for the four-day festival and released ahead of the studio's hotly-awaited presentation on Saturday.
Andy Park's artwork, hosted by Entertainment Weekly, gives fans a close-up of Ant-Man's suit, a winged ant and the two leading actors in profile.
Production on Ant-Man should have started by now, but when director and co-writer Edgar Wright dropped out over creative differences after eight years on the project, a replacement had to be found.
Peyton Reed is now helming the movie, about a superhero who can shrink to minuscule size while increasing in strength and power.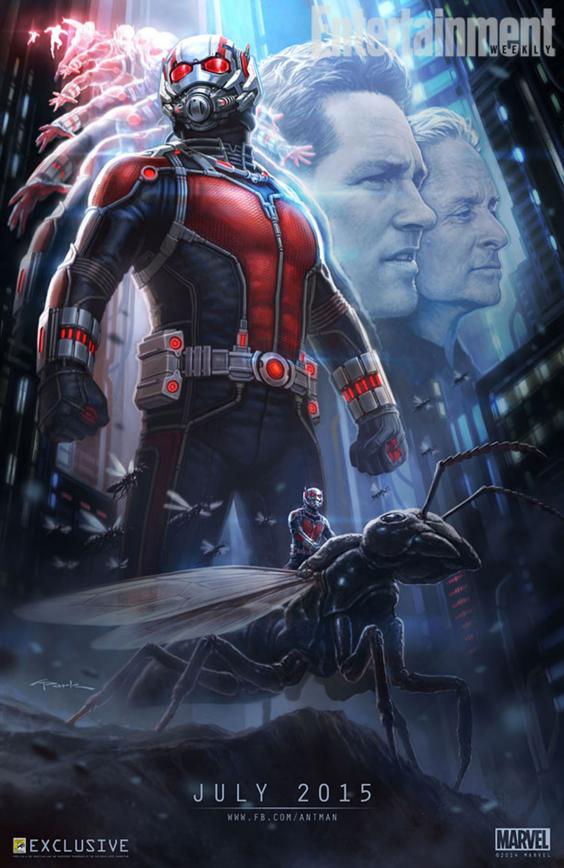 Ant-Man, real name Scott Lang, stole the technology behind his miraculous suit from genius biochemist Dr Hank Pym so that he could indulge his thieving tendencies more easily. Nevertheless, his brave, world-defending side will be emphasised in the film.
Marvel's best superheroes
Marvel's best superheroes
1/19 Black Widow

The Black Widow (Natasha Romanoff) played by Scarlett Johansson

AP

2/19 Spider Man

British actor Andrew Garfield as Spider-Man

PA

3/19 Captain America

Chris Evans in 'Captain America: The First Avenger'

Rex

4/19 Iron Man

Robert Downey Jr in Iron Man 3, who won favourite action movie star at the People's Choice Awards 2014

Iron Man 3

5/19 Wolverine

Hugh Jackman bears his claws and loses the plot in X-Men movie 'The Wolverine'

Twentieth Century Fox Film

6/19 Hulk

Edward Norton as Hulk in The Incredible Hulk

YouTube

7/19 Thor

Chris Hemsworth as Thor. Recently Marvel revealed its plans to make the hammer-wielding Norse superhero Thor a woman

Rex Features

8/19 Hank

Nicholas Hoult as Kan in 'X-Men: Days of Future Past'

AP

9/19 Raven Darkhölme

Jennifer Lawrence as Raven Darkhölme in X-Men: Days of Future Past

10/19 Hawkeye

Jeremy Renner as Hawkeye in 'Avengers Assemble'

Marvel

11/19 Winter Soldier

Sebastian Stan as the villainous Winter Soldier in the 'Captain America sequel

Marvel

12/19 The Avengers

The Avenger's superheroes

Marvel

13/19 Cyclops

The optic blast hero has long been played by James Marsden

YouTube

14/19 Professor X

Patrick Stewart landed the role as Professor Charles Xavier in Bryan Singer's comic-book blockbuster X-Men

Rex Features

15/19 Rocket Raccoon

Bradley Cooper voices Rocket Raccoon in Guardians of the Galaxy

Marvel

16/19 Groot

Also known as the Monarch of Planet X, Groot is played by Fast and Furious star Vin Diesel in Guardians of the Galaxy

Marvel

17/19 Drax

Known as 'the destroyer', Drax is played by actor Dave Batista in Guardians of the Galaxy

YouTube

18/19 Gamora

A soldier and assassin played by Zoe Saldana in Guardians of the Galaxy

YouTube

19/19 Guardians of the Galaxy

Bill Mantlo's comic creation on screen in Guardians of the Galaxy

Marvel
Shooting is scheduled to begin in August, with Michael Douglas playing Pym, who invents a means of communication with tiny creatures.
Evangeline Lilly, Patrick Wilson and Michael Pena also star in Ant-Man, set to hit UK cinemas on 17 July 2015.
Reuse content