It's no surprise that David O. Russell keeps referring to 'Jennifer and I,' rather than just himself in our brief moment together. 
The director has worked with the 25-year-old on three occasions, with both Silver Linings Playbook and American Hustle being nominated for Academy Awards while their latest project together, Joy, is rumoured to also be in the running for an Oscar.
The film is semi-based on the real life of Joy Mangano, an American inventor and businesswoman who rose to fame in the 90s after creating the Miracle Mop.
"We needed [Mangano's] blessing," O. Russell tells The Independent. "Jennifer and I were offered the chance to have this story, but we first said we'll only do it if we can make what we like of it. We kept the truest parts - which we think are fascinating - but still made fiction of what we'd like to."
Together, the pair decided to work on the film, but didn't want to retread old ground: "Jennifer and I, as a team, discussed what we would get to do: to do what we had never done before, not only for her as an actor but for me as a director and a writer."
Indeed, Mangano's rags to riches story is incredible on its own, with both Russell and Lawrence having previously expressed just how amazed they were by her when they met. But that story itself wasn't the only attraction: there were dozens of similarities between the actress and the inventor.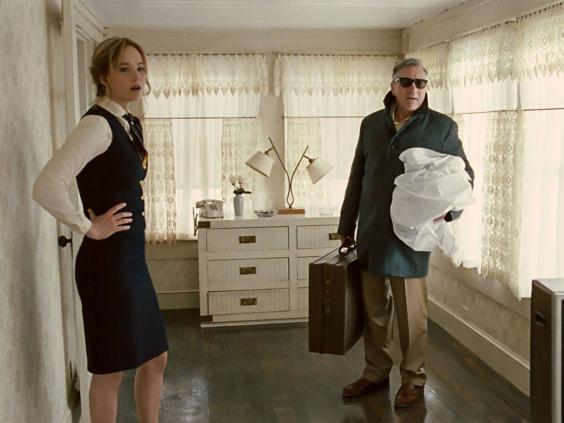 "[Jennifer and Joy] have many things in common, which is good," Russell says. "They're both indomitable spirits who can be the unanxious presence in the room, the quiet one at the centre of it. 
"We had this vision that inspired Jennifer and I. Because I've seen her at 20, before Hunger Games hit, to have to deal with a lot - which has as many problems in it as failure does - and handle it with authority and maturity. So in a way, for me, it was a little bit about her."
Certainly, in the film Lawrence shows authority and maturity, commanding our attention throughout Joy, even when sharing the screen with the likes of Hollywood legend Robert De Niro, who plays her father. 
This is, after all, her tale: one of a woman who overcomes the diminishing odds to become a success while not forgetting where she came from.
"To me, the second half of the movie feels like a Western in the sense that she's alone and she's going to do that," the 55-year-old continues, "It's true if you do anything, if you write something or make something, it's just down to you who is ultimately going to have to carry it all the way. 
"The fact that [Joy] was so forgiving in the end, was a real expression of power to me. That was one of the reasons I wanted to make the film, that expression of power as a forgiving quiet power - which is one of the reasons I love the Godfather films - and I had not seen that with a woman in it."
O'Russell explains that Joy, like the titular character of Francis Ford Coppola's legendary films, was a tolerant person, capable of forgiving those who betrayed her.
"That strength, seeing a character that inhabits that in a way which I think is badass, having gone through everything, I think is something that inspires me," he says. "And getting to weave a tapestry out of that which uses all different sorts of time and language, music, cinema and characters, that's what turns me on and makes me want to go to the movies."
Whether, like The Godfather, Russell's film will stand the test of time is yet to be seen, but with Oscar announcements on the horizon, it would be no surprise to see it up for an award or two.
Joy is out now in cinemas.