Pocahontas, Mulan and The Little Mermaid might be named after Disney princesses but a disturbing new study has revealed that men have more to say than female characters in these movies.
Linguists Carmen Fought and Karen Eisenhauer discovered that male characters make up 76 per cent of the dialogue in Pocahontas (1995), 77 per cent in Mulan (1998) and 68 per cent in The Little Mermaid (1989).
Beauty and the Beast's title from 1991 might suggest equality but male characters speak 71 per cent of the time, while Aladdin (1992) boasts the most shocking statistic with 90 per cent of all lines going to men.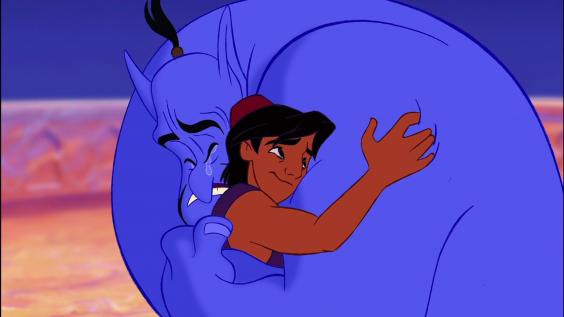 Surprisingly, early Disney films such as Snow White (1937) had fewer speaking roles but spread them equally between male and female characters. Cinderella (1950) and Sleeping Beauty (yes, the one where she is drugged and falls asleep from 1959) gave women more dialogue than men.
It was when the new animated era began with The Little Mermaid that gender balance started going downhill. It is worth noting that mermaid Ariel has her voice stolen by the evil Ursula in return for human legs in that movie, but there is no excuse for the lack of speaking women in Beauty and the Beast.
"There are no women leading the townspeople to go against the Beast, no women bonding in the tavern together singing drinking songs, women giving each other directions or women inventing things," Fought told The Washington Post.
"Everybody who's doing anything else, other than finding a husband in the movie, pretty much, is a male."
Eisenhauer added that she believes "carelessness" is to blame, as society is "so trained to think that male is the norm".
"When you want to add a shopkeeper, that shopkeeper is a man. Or you add a guard, that guard is a man. I think that's just really ingrained in our culture," she said.
Strong female leads in Tangled and Brave in the 2000s suggested a reversal, with 52 per cent and 74 per cent of lines going to female characters in those films respectively.
Sadly, despite 2013's Frozen being heralded as a feminist movie for telling the story of two sisters, the majority of lines (59 per cent) were spoken by men. It did, however pass the Bechdel test for featuring at least two women talking together about something other than a man.
Bechdel Test Pass/Fails
Bechdel Test Pass/Fails
1/10 PASS: Frozen

It features two central female characters, Anna and Elsa, discussing the isolationist policies of Arendelle, plans to build a snowman, and the time Elsa locked their civilization in an eternal winter

Disney

2/10 FAIL: The Hobbit: An Unexpected Journey

Contains fewer than two named women so fails the test on first criterion.

Rex

3/10 PASS: August: Osage County

Meryl Streep and Julia Roberts head strong female cast in family saga featuring multiple conversations about the character's relationships, which do not centre on a man

4/10 FAIL: Jack Ryan: Shadow Recruit

Kenneth Brannagh's blockbuster includes two named women (Katya, a Russian assistant, Kathy, the protagonist's fiancée) but they do not speak to each other throughout the entire film

Rex

5/10 PASS: American Hustle

American Hustle passes but only due to a single scene where a con artist's wife, played by Jennifer Lawrence, discusses nail polish with a politician's wife, played by Elisabeth Röhm

Rex

6/10 FAIL: The Hangover Part 3

The wives of Doug and Stu are both named and do have a conversation but it's about Alan, Zach Galifianakis' character

7/10 FAIL: Noah

Russell Crowe Biblical epic scrapes in due to scene where Noah's wife Naameh (Jennifer Connolly talks to adopted daughter Ila (Emma Watson) about her pregnancy

Rex

8/10 PASS: Blue Jasmine

Jasmine (Cate Blanchett) and Ginger (Sally Hawkins) have multiple conversations about something other than a man, mostly about Jasmine herself

9/10 FAIL: Gravity

Gravity fails, despite delivering a strong female role for Sandra Bullock, since its isolated outer space setting limits her opportunities for female bonding

Rex

10/10 FAIL: The Avengers

The Avengers fails because none of its female characters talk to each other at any point

AP
Fought and Eisenhauer noted that in most modern Disney films, women are more likely to be admired and praised for their achievements than their looks. Nevertheless, the fact that Disney princesses are often outspoken by men in movies they supposedly lead, as well as being dominated in terms of power, has led Fought and Eisenhauer to ask:
"Are these movies really so great for little girls to watch?"
Reuse content