Eddie Redmayne hailed Stephen Hawking and his "incredible" family after being named best actor at the Baftas for his portrayal of the astrophysicist in The Theory of Everything, which also won outstanding British film.
Hawking and his family were at the British Academy Film Awards to witness Redmayne's win for a part he called a "role of a lifetime" on the most prestigious night in the UK's film calendar.
The acting category saw Redmayne pitted against Benedict Cumberbatch, whose film The Imitation Game left empty-handed despite nine nominations.The victorious actor said: "This is one of the best nights of my life," after "one of the worst" at the awards three years earlier, when a bout of food poisoning meant he was sick in the corridor and prevented him from presenting a prize.
The actor dedicated the award to three families: his own, his "professional family" who worked on the film and to the Hawking family and hailed their "great strength and passion for life".
This is his third award for the role which shows Hawking meeting his former wife Jane at university before the onset of motor neurone disease (also known as ALS). After winning the Bafta, Golden Globe and Screen Actors Guild awards, he will be hot favourite for the Oscar later this month.
Redmayne's co-star Felicity Jones missed out on the best actress award, which went to Julianne Moore, who played an Alzheimer's sufferer in Still Alice.
Baftas 2015: The winners in pictures
Baftas 2015: The winners in pictures
1/18 Best Actress

Moore played an academic suffering from Alzheimers disease in the film

Dominic Lipinski/PA Wire

2/18 Best Actor

Stephen Hawking and his family supported Redmayne's portrayal of the physicist by attending the awards ceremony

Dave J Hogan/Getty Images

3/18 Best Supporting Actress

Patricia Arquette collected a gong for Best Supporting Actress in Boyhood

EPA/ANDY RAIN

4/18 Best Supporting Actor

JK Simmons celebrates after winning best supporting actor for Whiplash at the BAFTA awards ceremony

REUTERS/Suzanne Plunkett

5/18 Best Actress

Julianne Moore with the Award for Leading Actress for Still Alice, poses alongside presenters Henry Cavill (Man of Steel) and Chris Evans (Captain America)

Dominic Lipinski/PA Wire

6/18 Best Actor

Redmayne and Stephen Hawking attend the Baftas after show party at the Grosvenor House Hotel

Daniel Leal-Olivas/PA Wire

7/18 Best Supporting Actor

JK Simmons poses with Reese Witherspoon, who presented him with the award for Best Supporting Actor

Stuart C. Wilson/Getty Images

8/18 Rising Star

British actor Jack O'Connell poses with his Rising Star award

EPA/ANDY RAIN

9/18 Outstanding British Film

Lisa Bruce, Anthony McCarten, Steven Noble, Krystyan Mallet, James Marsh, Tim Devan, Eric Fellner, Eddie Redmayne and Felicity Jones alongside presenter David Beckham with the Outstanding British Film Award for The Theory of Everything

Dominic Lipinski/PA Wire

10/18 Best Director

Foxcatcher actor Steve Carell, left, and Boyhood actor Ethan Hawke, collecting the award on behalf of Richard Linklater, winner of Best Director for Boyhood

Jonathan Short/Invision/AP

11/18 Best Film

(Left to right) Jonathan Sehring, Cathleen Sutherland, Ellar Coltrane, Ethan Hawke, Patricia Arquette and John Sloss with the Best Film Award for Boyhood

Dominic Lipinski/PA Wire

12/18 Bafta Fellowship

Sally Hawkins (left) and Imelda Staunton pose for photographers with winner Mike Leigh

Jonathan Short/Invision/AP

13/18 Best Adapted Screenplay

New Zealand-born novelist Anthony McCarten after winning the Best Adapted Screenplay for 'The Theory Of Everything'

EPA/ANDY RAIN

14/18 Best Sound

Sound engineers Craig Mann (second left), Ben Wilkins (centre) and Thomas Curley (second right), pose with the award for sound for their work on the film Whiplash with presenters British actress Phoebe Fox (right) and British actor Dougray Scott (left)

AFP PHOTO / BEN STANSALLBEN STANSALL/AFP/Getty Images

15/18 Bafta Fellowship

Hawkins and Staunton laugh with winner Mike Leigh

EPA/ANDY RAIN

16/18 Best Film not in the English Language

(Left to right) Pawel Pawlikowski, Eric Abraham, Piotr Dzieciol and Ewa Puszczynska, winners of Best Film not in the English Language for Ida

David M. Benett/Getty Images

17/18 Best Animated Film

Phil Lord and Christopher Miller (right), winners of the Best Animated Film award for the movie Lego Movie

Dominic Lipinski/PA Wire

18/18 Bafta winners

Winners clutch their awards on the stage at the Royal Opera House in London

Jonathan Short/Invision/AP
The ceremony was hosted by Stephen Fry at the Royal Opera House, in what he said would be his last time overseeing the event.
Boyhood, the US independent film that took 12 years to make, was named best film and its helmer Richard Linklater won best director.
It beat The Theory of Everything, which won the outstanding British film, the first award to be announced on the night. Eric Fellner, co-founder of the film's producer Working Title, said it was a "privilege" to win "in a year of amazing British films".
Thanking Professor Hawking and everyone depicted in the film, which also won best adapted screenplay, Fellner said: "Without their great story there would be no film." 
Director James Marsh said it was particularly pleasing to have one the award for outstanding British film "as it is such a British story… It grew out of English soil".
The Grand Budapest Hotel picked up five awards including costume design, and make up and hair. Whiplash, the jazz "thriller" won three including best supporting actor for JK Simmons.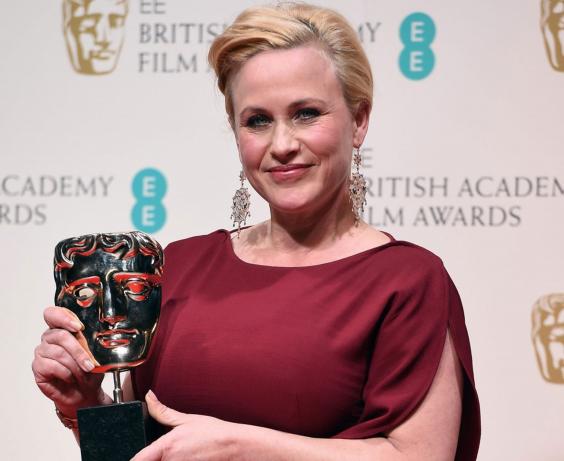 Patricia Arquette won best supporting actress for her role in Boyhood, beating Imelda Staunton and Keira Knightley. "This film was a work of art," Arquette said on the podium before addressing director Linklater: "You broke the rules of cinema; you made an ordinary story extraordinary."
Mike Leigh was given a Bafta Fellowship in the year that his highly acclaimed film Mr Turner was overlooked by the academy. He said: "This is very nice indeed, I've never appeared on this stage before." He added that those who expected him to be rude about the snub for his film, they would be "disappointed".
He made an impassioned speech thanking those who had backed him, before adding: "To those boneheads, philistines and uninspired skinflints who said no, a big thank you to you as well. If you'd said yes you've had interfered with the movie… and made a pig's ear of the whole thing… Thank you for keeping away, and may you all rot in hell."
The award for rising star went to Jack O'Connell, the star of films including '71 and Starred Up. Previous winners include James McAvoy, Eva Green and Tom Hardy.
The Lego Movie, which was surprisingly overlooked for an Oscar nomination, won best animation film. In accepting the award, the directors jokingly took a dig at the American voters.
"You win the award for best academy," Phil Lord said after accepting the award with Christopher Miller. "You are our favourite academy."
The award for film not in the English language went to Polish movie Ida, and surprisingly not to Leviathan, which won at the London Film Festival and had been heavily tipped to win.
Reuse content