And you thought the Duchess of Cambridge had it bad? The actress Evan Rachel Wood expressed outrage and violation last night after a national newspaper published pictures of her unborn child.
The Mildred Pierce actress, who announced that she and her husband Jamie Bell are expecting a child last month, was photographed by paparazzi as she left an LA hospital holding her latest ultrasound pictures and "private medical records".
Blown up versions of the ultrasound images soon appeared on the Daily Mail website under the headline "Baby's first picture! Pregnant Evan Rachel Wood can't stop smiling."
She wasn't smiling for long, however, taking to Twitter to say:  "Which sick f*** paparazzi hid in the parking lot of my hospital after my ultrasound. I can't stand this."
The invasion of Wood's privacy occurred as she walked on the roof of a hospital car park "where you should be safe".
She tweeted: "That's my child. It's not even out of the womb and they are snapping photos of it. I am getting out of LA. People have no hearts."
The actress said she "had never been more violated by a photographer" continuing: "That's the inside of my body and my child. Would you like my soul too? Nothing is sacred."
She called on the Daily Mail to "please remove the photos because they are private medical records".
The piece was later removed from the newspaper's website.
Emmy- and Golden Globe-nominated Wood, 25, started her career on American television in the late nineties appearing in American Gothic and Once and Again.
Film credits including The Ides of March, The Wrestler and Whatever Works.
After a high profile relationship with Marilyn Manson which ended in 2010 the actress got together with English actor and Billy Elliot star Jamie Bell.
Wood and Bell married last year.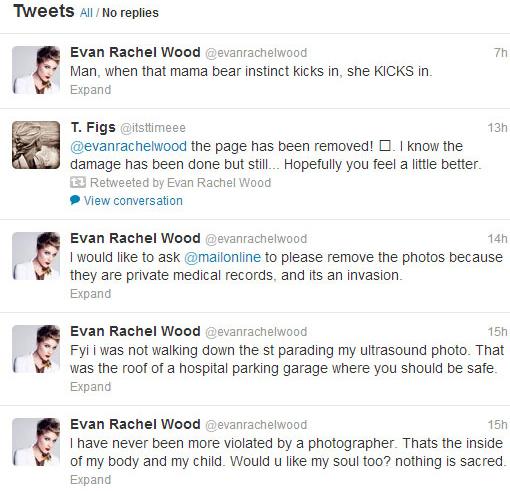 Reuse content