If you thought fake applause was only reserved for episodes of Friends and other nineties sitcoms, think again - they're still useful for some of the biggest awards shows.
At Sunday's Screen Actors Guild Awards, there was a rather awkward moment when a slip-up by the sound man made many viewers realise that the actors in the room may not actually be that enthusiastic about each other's performances in this year's best films.
As Reese Witherspoon finished reading off the list of nominees for outstanding performance by a male actor in a supporting role, the apparent "real applause" in the room came to an end to await the name of the winner.
However, as Witherspoon began opening the envelope, a monetary sound of fake applause was blasted out over the silent hall, causing Witherspoon to glance confusingly around the room, while the audience reacted with a mixture of laughter and gasps.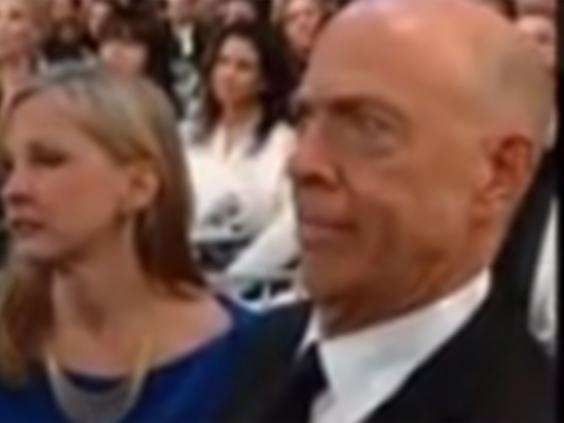 J.K. Simmons, who eventually won the award for his performance in Whiplash, must also win plaudits for his brilliant reaction to the bizarre twist to his crowning moment. Such a mistake like that, on such a big night, would not have gone down well with his on-screen character, Terrence Fletcher.
Screen Actors Guild award winners
Screen Actors Guild award winners
1/10 SAG winners

Julianne Moore wins Best Actress for Still Alice

Getty Images

2/10 SAG winners

Patricia Arquette wins Best Supporting Actress for Boyhood

Getty Images

3/10 SAG winners

The cast of Birdman collect their Screen Actors Guild award

Getty Images

4/10 SAG winners

JK Simmons with his SAG for Best Supporting Actor for his role in Whiplash

Getty Images

5/10 SAG winners

Eddie Redmayne with his Screen Actors Guild award for Best Actor

Getty Images

6/10 SAG winners

Downton Abbey stars celebrate their win for Best Ensemble Cast in a Drama Series

Getty Images

7/10 SAG winners

Orange is the New Black stars celebrate their SAG for Best Ensemble Cast in a Comedy Series

Getty Images

8/10 SAG winners

Viola Davis with her SAG award for Best Actress in a Drama Series for How to Get Away with Murder

Getty Images

9/10 SAG winners

Uzo Aduba with her SAG for Best Actress in a Comedy Series for Orange is the New Black

Getty Images

10/10 SAG winners

Frances McDormand wins Best Actress in a TV Movie or Miniseries for HBO's Olive Kitteridge

Getty Images
Robert Duvall, a man who's been in the business a long time, was fittingly undeterred by the sound fail.
Credit to Witherspoon as well, for shaking off the potentially embarrassing moment with style and wit, quipping, "What was that noise? It wasn't me".
Reuse content