At a time when superhero movies are being met with nothing but rapturous applause and people literally emptying their wallets while making explosion noises at the box office, 20th Century Fox has somehow managed to mess up Fantastic Four.
The signs weren't good when the studio chose not to screen it pre-release for critics. Then the cast confessed to not even having seen it and hinting that it would probably not be well-received. Then it wasn't well-received and was left floundering around 9% on Rotten Tomatoes. And now the film's director is cutting ties with the project.
In an incredibly swiftly deleted tweet, Josh Trank wrote:
"A year ago I had a fantastic version of this. And it would've recieved great reviews. You'll probably never see it. That's reality though."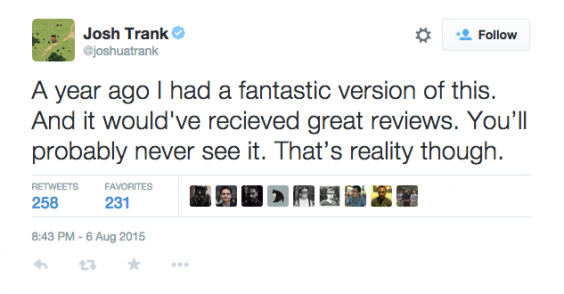 It would be interesting to know what this actually "fantastic" version would have been like, perhaps less serious in tone and more self-referential, something that has worked well for Marvel movies Guardians of the Galaxy, Ant-Man and the upcoming Deadpool.
Aside from the the Fantastic Four arguably being quite a dull supergroup, it seems things were pretty turbulent on set.
The Hollywood Reporter previously quoted an insider as saying Trank was "erratic" and at times "very isolated", adding: "If you've got someone who can't answer questions or who isn't sure or is in hiding, that's not good."
Reuse content