The Power Rangers are back. And you have no choice in the matter. 
The 90's television classic is getting its own cinematic reboot, and Entertainment Weekly has provided a first look at the new team. 
Me and Earl and the Dying Girl's RJ Cyler plays Billy Cranston (the Blue Ranger); Naomi Scott plays Kimberly Hart (the Pink Ranger); Ludi Lin plays Zack Taylor (the Black Ranger); popstar Becky G. plays Trini Kwan (the Yellow Ranger); and Dacre Montogomery plays Jason Lee Scott (the Red Ranger).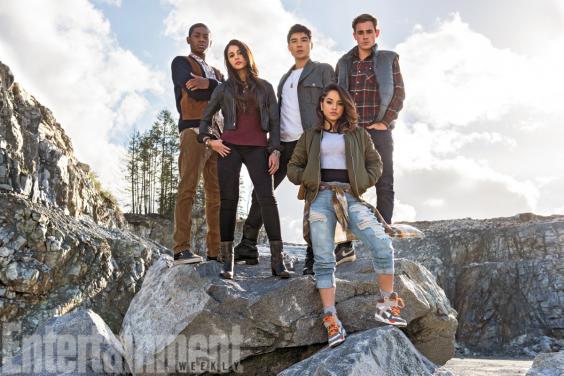 But they're so modern and cool! With their gilets and waistcoats! Everyone likes gilets right?
Honestly, it's difficult to make a judgment call on whether a Power Rangers return is, in any form, a smart idea; considering the original series was so ruthlessly, unforgivingly '90s in its style. Who exactly are the Power Rangers outside of their high kicks and electricity special effects?
Director Dean Israelite (Project Almanac) stated this reboot is absolutely intended as an updated reflection of the current teen experience, as a coming-of-age story for the "disenfranchised and disparate". He's also been careful to keep diversity at the heart of the Power Rangers, while swapping around some of the original's, awkwardly race-based colour assignments.
"From the very beginning, diversity was a very important part of the whole process," he stated. "We switched all of the races around, but we made sure that the essence of each of those characters are who they were in the original show, and this really will be an origin story of those characters."
Plus, the film does have one major weapon in its arsenal: Elizabeth Banks as villain Rita Repulsa. "It's very exciting that we got [Banks], and I think what she loves is the opportunity to really embrace the insanity and deliciousness of Rita Repulsa in terms of how weird and wonderful that character was, and really dive into and consume that character," Israelite said.
"You should always be off-balance when you're watching her. Is she insane? Is she totally calculated? Does she know what she's doing? Elizabeth can toe that line really well."
Power Rangers hits screens in 2017.