Mel Gibson's pacifist World War II drama Hacksaw Ridge received a roughly 10-minute standing ovation at Venice at the weekend, something of a rarity at that particular film festival.
According to Deadline, about six minutes into the ovation Gibson and key cast members Andrew Garfield, Vince Vaughn, Hugo Weaving, Teresa Palmer and Luke Bracey were asked to go into the audience to greet people.
Hacksaw Ridge centres on the real-life story of Desmond T. Doss, a conscientious objector who saved 75 fellow soldiers in Okinawa without firing a single bullet; a pacifist, he in fact refused to even carry a gun.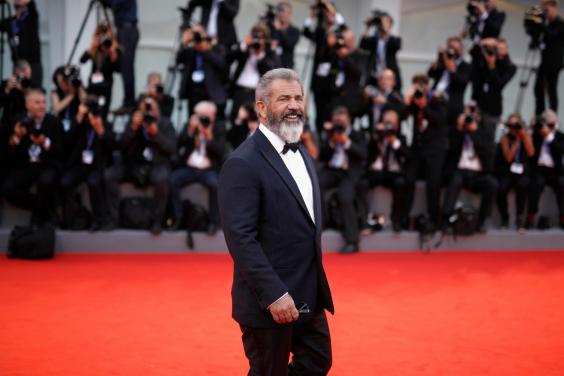 "While everybody else is taking life, I'm going to be saving it," Doss (Garfield) says in the trailer (above), giving a passionate defence of his stance that eventually wins over his officers.
"Private Doss, you are free to run into the hell fire of battle without a single weapon to protect yourself," he is told in court.
At a news conference for the film, Garfield said of his character: "The beautiful thing about Desmond Doss is that he was a very simple man, in the sense that he had a knowing. He had a knowing in his heart, in the core of his being, that he was not supposed to take another man's life."
Gibson has had an infamously turbulent career, and, asked at the panel what his relationship is with Hollywood in a single word, he replied: "Survival."
Early Oscars 2017 contenders
Early Oscars 2017 contenders
1/18 Silence

Martin Scorsese's passion project since 1991 is yet to receive a release date but rumours abound that it will be out in time for the Oscars. Based on a novel of the same name by Japanese author Shusaku Endo, the story centres on two Jesuit missionaries sent to 17th century Japan to spread Christianity and find their mentor Once there, they endure brutal persecution at the time of Kakura Kirishitan ('Hidden Christians') following the defeat of the Shimabara Rebellion. Silence sounds weighty, intense and full of hard-hitting promise.

2/18 Billy Lynn's Long Halftime Walk

Brokeback Mountain and Life of Pi director Ang Lee has narrowly missed out on a Best Picture win twice now but this adaptation of Ben Fountain's acclaimed novel could be the film that finally wins him some overdue glory. The cast includes Kristen Stewart and Vin Diesel with newcomer Joe Alwyn in the lead as 19-year-old soldier Billy, who is brought home for a victory tour after serving in Iraq. Told in flashbacks, the drama reveals the horror of what really happened to his squad in contrast to America's flashy, patriotic perceptions. Out here 6 January.

3/18 A United Kingdom

Oyelowo plays Prince Seretse Khama, inaugural Botswana president from 1966 to 1980, in this follow-up to 2015's Belle. Films about real life people often hold clout with the Academy when done well and with Gone Girl's Rosamund Pike playing Khama's eventual wife Ruth Williams, A United Kingdom should pull in cinemagoers. Khama sparked a global stir when he married the white Londoner in the late Forties and the first pictures from the movie promise beautiful costumes and cinematography. A United Kingdom will open the London Film Festival before its general release on 25 November.

4/18 Loving

Ruth Negga and Joel Edgerton star as Mildred and Richard Loving in this historical drama about an interracial couple sentenced to prison in Virginia in 1958 for the crime of getting married. Out here just in time for the Oscars on 3 February. Written and directed by Jeff Nichols, Loving earned positive reviews from critics when it competed for the Palme d'Or at Cannes and received a standing ovation for understated, strong performances.

5/18 Manchester by the Sea

One of the best scripts co-producer Matt Damon had ever read, this tragedy about an uncle who is forced to take care of his teenage nephew after the boy's father dies while trying to reconcile with his ex-wife stars Casey Affleck, Michelle Williams and newcomer Lucas Hedges. It was bought at Sundance by Amazon for $10 million and arrives in the UK on 13 January.

6/18 Nocturnal Animals

Designer Tom Ford has cinematic strings to his bow, as proved with 2009's Venice premiere The Single Man. He's back in the chair for this drama-thriller starring Amy Adams as a remarried art gallery owner whose ex-husband's violent new book begins to haunt her. Jake Gyllenhaal, Isla Fisher and Armie Hammer also star. Due in UK cinemas on 4 November.

7/18 The Light Between Oceans

Michael Fassbender stars alongside last year's Best Supporting Actress winner Alicia Vikander in the big screen adaptation of ML Stedman's 2012 novel of the same name. Derek Cianfrance is the man behind the camera for this story about a lighthouse keeper war veteran who rescues a baby girl with his wife after she washes up on an adrift rowboat. Then, in steps another Oscar winner, Rachel Weisz, as the woman who threatens to break their happy family apart. Out in the UK on 4 November - bring tissues.

8/18 American Pastoral

Ewan McGregor makes his directorial debut with this period adaptation of Philip Roth's novel American Pastoral. The drama - set in the 60s - centres on a successful businessman (McGregor) whose missing daughter (Dakota Fanning) is accused of a violent bombing in post-war America. Out in the UK on 11 November.

9/18 Queen of Katwe

Indian-American filmmaker Mira Nair (Monsoon Wedding) is the director behind this long-awaited biopic of Ugandan chess prodigy Phiona Mutesi. That Mutesi is played by 12 Years a Slave Oscar-winner Lupita Nyong'o is reason enough to anticipate this Disney-produced film, out here 21 October.

Disney

10/18 Free Fire

Ben Wheatley's new action thriller will close the London Film Festival. Set in Massachusetts in the late Seventies, Free Fire stars Oscar-winning Room actress Brie Larson in the lead alongside Cillian Murphy. It follows the 'heart-stopping game of survival' after shots are fired during a meeting between Justine, two Irishmen and two arms dealers who are selling them a stash of guns. Expect 'blood, sweat and irony' with bravura filmmaking from the High-Rise director. Reaches UK cinemas sometime in 2017.

11/18 Paterson

Jim Jarmusch's Palme d'Or contender sees Adam Driver take the lead as a bus driver poet from Paterson, New Jersey. Each night after work, he has dinner with his wife Laura before walking his dog (2016's Palm Dog winner) to the bar for one beer. Then one day, a small disaster strikes.

12/18 The Founder

Michael Keaton has starred in the last two Best Picture winners Spotlight and Birdman. Here, he takes on the role of ruthless McDonald's founder Ray Kroc, with the film telling the story of the fast food empire's origins. The ambitious entrepreneur on a journey to theme didn't end so well for last year's Joy, so it remains to be seen whether The Founder can live up to expectations as an Oscars contender. Out here 30 September.

The Weinstein Company

13/18 Sully

Clint Eastwood returns with Sully: Miracle on the Hudson, about the hero pilot who, in 2009, successfully landed his plane along the Hudson River after it was disabled by a flock of geese, saving all 155 crew and passengers. Tom Hanks takes the lead as Chesley Sullenberger in a biopic that sounds like it could tick a lot of Oscars boxes. Based on the autobiography Highest Duty, the thriller marks Eastwood's first directorial effort since 2014's American Sniper. Out 2 December.

14/18 Jackie

Pablo Larrain directs Oscar winner Natalie Portman as late first lady and fashion icon Jacqueline Kennedy in what he has promised will not be another 'classic biopic'. Set in the days immediately after John F Kennedy's 1963 assassination, the film sparked great excitement among distributors after a seven-minute promo screened at Cannes. Release date unknown at this stage.

15/18 The Girl on the Train

The Help's Tate Taylor is in the director's chair for 'this year's Gone Girl' about a troubled woman who becomes embroiled in a murder case after developing a fixation on a beautiful couple from her commuter train. Expect a film pulsating with creepy, voyeur vibes, a la Rear Window, based on Paula Hawkins' bestselling thriller. Out in the UK on 7 October.

16/18 Florence Foster Jenkins

Meryl Streep has been widely praised for her turn as the 1940s New York heiress who couldn't sing (and we mean really couldn't sing) yet somehow became an opera singer with the help of her patient husband St Clair Bayfield (Hugh Grant) and pianist Cosme McMoon (Simon Helberg). Directed by two-time Academy nominee Stephen Frears, the film proved heartwarming and inspiring upon its release earlier this year and was embraced by both film lovers and critics.

17/18 Christine

Rebecca Hall set Sundance ablaze in January, earning five-star reviews for 'the performance of her career' in Christine, about the news anchor who killed herself live on air in 1974 after suffering from depression. Yet to receive a UK release date, Christine arrives in US cinemas in October, with Antonio Campos also one to watch for directorial accolades come awards season.

Courtesy of Sundance Institute

18/18 Arrival

Jeremy Renner in a scene from 'Arrival'

Paramount Pictures
Read more: Michael Bay gets custom camera the BAYHEM, has only used it for explosions and boobs thus far
Reuse content