Alec Baldwin became embroiled in a bitter Twitter war with a Daily Mail showbiz reporter last night after the journalist alleged the actor's heavily-pregnant wife had been using the social network to discuss shopping during James Gandolfini's funeral.
The actor, who attended the ceremony in New York yesterday, branded George Stark a "toxic little queen", and a "f***ing little b****" and went on to threaten him: "I'm gonna find you, George Stark, you toxic little queen, and I'm gonna f*** you up."
Stark had claimed that Baldwin's wife Hilaria, 29, who is due to give birth this summer, tweeted about smoothies, a wedding anniversary and shopping during the ceremony.
A succession of tweets from Baldwin's @ABFalecbaldwin Twitter account included: "My wife DID Not used her phone, in any capacity, at our friend's funeral."
He went on to ask: "How much of this sh** are people supposed to take? With these f***ing blatant lies EVERY DAY?"
Baldwin, who was famously caught on tape calling his 12-year-old daughter "a rude, thoughtless little pig", added to his reputation for verbosity by telling Mr Stark: "I would put my foot up your f***ing ass…but I'm sure you'd dig it too much."
The comments have since been removed from Twitter and Baldwin's account has been deleted.
Baldwin, who is the eldest of the four Baldwin brothers, married Hilaria, who is a yoga instructor, almost a year ago.
The couple were among hundreds of mourners at the funeral of Sopranos star Gandolfini in New York yesterday morning.
Mr Stark's article claimed Hilaria's "social media feed was full of upbeat posts while the Sopranos star's friends, family and co-stars were gripped with grief at a New York Catholic church."
Hilaria responded to the article by writing: "I hope that this reporter knows how much pain and drama he has caused from his poor journalism. Lying and bullying are shameful."
She denied the accusation that she used Twitter during the funeral saying: "I don't believe in bringing phones into a funeral and I never did and never would."
She also defended Baldwin's attack on Stark: "My husband fights for me fiercely. It hurts to be misunderstood and it hurts to see your loved one in pain-even more so when she is pregnant."
It is the second time in under a week that a Daily Mail reporter has had a public spat with a celebrity.
Columnist Liz Jones wrote an article about Rihanna calling the star a "poisonous pop princess", saying that "the message she's sending to her young fans is utterly toxic" on Monday.
The singer responded via Instagram by callings Jones "a sad sloppy menopausal mess".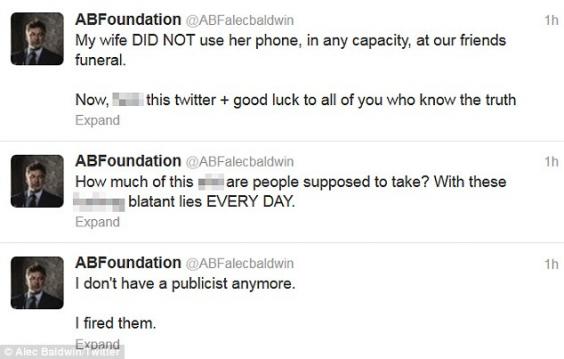 Reuse content