When God speaks to Moses in Ridley Scott's new $200m biblical epic Exodus, it will be through the voice of an 11 year-old English schoolboy.
Isaac Andrews follows in the footsteps of screen greats Morgan Freeman and John Huston when he appears as the deity in the 3D blockbuster, which Fox is banking on to become its big Christmas hit.
Christian Bale stars as Moses, the Old Testament prophet who rises up against the Egyptian Pharaoh Ramses and sets 600,000 Israelite slaves "on a monumental journey of escape from Egypt and its terrifying cycle of deadly plagues".
Filmmakers have long wrestled with direct representations of God. Cecil B De Mille chose to have the deity issue his stone tablets to Moses as a burning bush, or in a stern off-screen booming voice, as in his 1956 epic The Ten Commandments.
At producer/director Ridley Scott's suggestion, when God speaks directly to Moses in Exodus: Gods and Kings, it is through a young boy, Malak, (the Hebrew word for angel or messenger), who is played by Andrews, a London schoolboy.

The director said the potentially controversial decision allowed him to avoid depicting the Almighty as "voices from the rocks with thunderous clouds and lightning".
Scott said: "Sacred texts give no specific depiction of God, so for centuries artists and filmmakers have had to choose their own visual depiction. Malak exudes innocence and purity, and those two qualities are extremely powerful."
Andrews, who has only been acting for two years, is already building up an impressive blockbuster CV. He will next be seen in The Avengers: Age of Ultron and Alice In Wonderland: Through The Looking Glass, the 2016 sequel to Tim Burton's 2010 fantasy film.
He has also voiced roles in a number of Radio 4 plays and appeared in the film Hercules this year, and is busy rehearsing and attending school, his agents, Hamilton Hodell, said.
Rabbi David Baron, a Beverly Hills-based consultant on Exodus, defended the film's "God-child". He said: "They went off the biblical text, but the biblical text was very terse." The Rabbi hoped the film would encourage its audience to re-engage with The Bible, adding: "You've never seen locusts swarming like they do in 3D."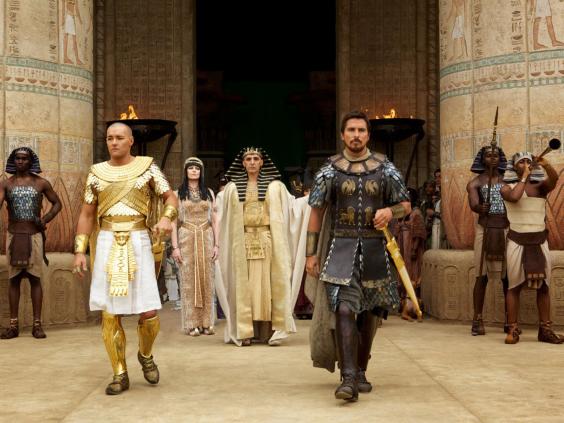 Exodus follows Darren Aronofsky's Noah, starring Russell Crowe, which solved the "God problem" by refusing to allow even a mention of the word "God". The Genesis story was still criticised by Christian groups for turning Noah into an eco-warrior and banned in many Muslim countries for "contradicting the teachings of Islam."
Scott, who describes himself as a religious "agnostic" believes his Exodus film cleaves closely to the biblical source. The director told Variety that he was attracted to the story of a reluctant hero, who only gradually comes to accept his prophesied destiny, and even then finds himself actively questioning God's plans and his own role in them.
The Blade Runner director also found contemporary echoes, from the revolutions of the Arab Spring to the latest unrest in the Holy Land, in the story.
Scott also confirmed that Harrison Ford would return for a Blade Runner sequel, however he will only produce and not direct the film, which could being shooting in 2015.
Actors who dared to play God
John Huston: A vengeful voice of God in 1966 epic, The Bible, Huston demonstrated his own omnipotence by directing the epic and also starring as Noah.
Morgan Freeman: A more people-friendly, white-suited deity in Bruce Almighty (2003) where Freeman gives down-on-his-luck Jim Carrey's TV reporter the powers he's always dreamed of.
Alanis Morissette: Singer acts out her questing hit dressed in hippie robes in Kevin Smith's provocative Dogma (1999), called "blasphemous" by some Christian groups.
George Burns: Religious groups picketed Oh, God!, a 1977 vehicle for comedian George Burns, who proves his existence to humans as a kindly old man with a miracle or two up his sleeve.
Val Kilmer: Uncredited voice of God in DreamWorks' animated The Prince of Egypt (1998) to suggest the kind of voice we hear in our everyday lives rather than a larger-than-life deity.
Graham Chapman: Grumpy God descends from the clouds in Monty Python and the Holy Grail (1975), portrayed as a cut-out photograph of a bearded man with yellow eyes, wearing an elaborate crown.
Reuse content