Jennifer Lawrence has had a big weekend: not only did she appear at the Comic Con panels for both the Hunger Games and X-Men, hang out with Bill Murray and make headlines just for wearing a blue dress but she has also been attached to a new romantic comedy.
Based on the book of the same name by Graham Simison, The Rosie Project will tell the story of genetics professor Don Tillman trying to find his soul mate. Unfortunately for Tillman, his social skills are particularly bad and so he develops a survey to find the woman of his dreams.
While searching he finds Rosie, who will be played by Lawrence, who just happens to have the exact opposite qualities to what he was looking for.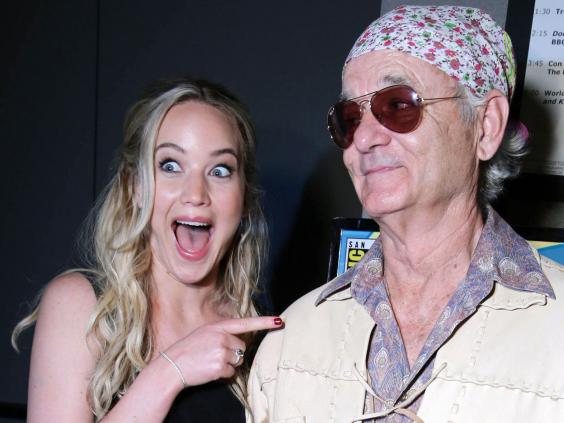 The book was well received, spawning a sequel, 2014's The Rosie Effect, and its film rights were bought by Sony that same year.
Set to potentially direct the film are Phil Lord and Christopher Miller, best known for directing the animated comedy's Cloudy with a Chance of Meatballs and The Lego Movie, as well as live-action cult-classics 21 and 22 Jump Street.
If you can't wait till then to see Lawrence on screen you can catch her this November in Hunger Games: Mockingjay – Part 2.
Jennifer Lawrence on screen
Jennifer Lawrence on screen
1/7 The Hunger Games

Jennifer Lawrence plays rebel Katniss Everdeen in the first Hunger Games movie

2/7 American Hustle

Jennifer Lawrence as neurotic housewife Rosalyn Rosenfeld in a scene from David O Russell's black comedy American Hustle

3/7 The Hunger Games: Mockingjay Part 1

Jennifer Lawrence plays brave heroine Katniss Everdeen in The Hunger Games: Mockingjay Part 1

Lionsgate

4/7 X-Men: Days of Future Past

Jennifer Lawrence plays shape-shifting mutant Mystique for X-Men: Days of Future Past

5/7 Winter's Bone

6/7 Serena

Bradley Cooper and Jennifer Lawrence star in new film Serena

YouTube/StudioCanal

7/7 Silver Linings Playbook

Jennifer Lawrence stars alongside Bradley Cooper in David O Russell's Silver Linings Playbook, for which she won Best Actress at the 2013 Oscars

Associated Press
Reuse content