Jennifer Lawrence has revealed she was teased on The Hunger Games: Catching Fire set by co-star Woody Harrelson, who demanded she give back her Oscar each time she forgot her lines.
Speaking at a press conference ahead of the sequel's London premiere last night, Peeta actor Josh Hutcherson told how Lawrence's new A-list status had been "a pretty big target" for jokes.
Click here for more pictures from the Catching Fire premiere
Hutcherson said: "Every time she would forget a line, Woody would go: 'Oh, better give that Oscar back!'" but added that the actress "hadn't changed a bit" since her win.
After smashing the box office with the first part of the dystopian blockbuster last year, the 23-year old won an Oscar for Best Actress for her role in David O'Russell's Silver Linings Playbook. 
Jeffrey Wright, who plays new character Beetee, also admitted he tried to scare Lawrence on set with a box filled with crickets, but his prank backfired.
But while Lawrence can enjoy a laugh with the cast, she is also aware of her more serious, new-found responsibility as a female role model.
When asked by BBC's Newsnight about Miley Cyrus' influence on young girls and the pressure of being a sex object, the actress said: "It's something that's a part of this world, a part of the entertainment industry that sells. Sex sells and for some disgusting reason young sex sells even more.
"But it's not really something that I worry about. Everybody has their own path, their own way of finding themselves. For some people that's how they feel best, sexy, how they want to perform. To each their own."
The day after Miley smoked a 'joint' on-stage and twerked with a dwarf at the MTV VMAs, Lawrence attended the premiere of her new film in Leicester Square.
"I think Katniss is a very good role model, she's strong and not afraid to stand up for what's right," she said before the showing.
"On the first movie, there was a girl who was an extra, and she was covered in scars, she had been burned. She came up to me and said that she was too self-conscious to go to school when she was younger. And then when she read The Hunger Games she was proud of her scars and her friends called her 'the girl on fire'."
The Hunger Games: Catching Fire, due for release on 21 November, continues the story of Lawrence's Katniss Everdeen, who must fight against evil rulers after emerging games victor in the last film.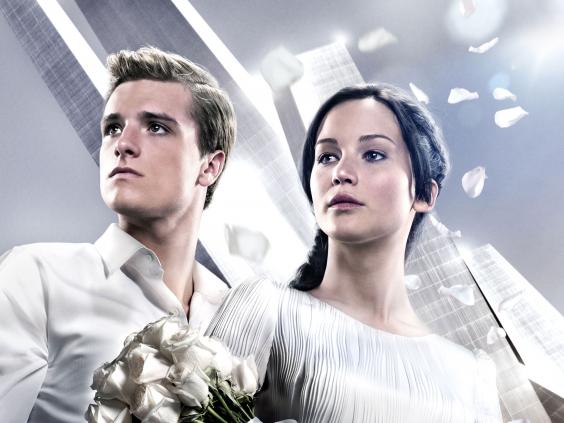 Reuse content