Julianne Moore could repeat her Oscars success following her acclaimed performance as an academic with early onset Alzheimers in Still Alice last year.
For her latest outing, the actress stars alongside Ellen Page in Freeheld, based on a true story about a lesbian couple who have to fight for pension rights after Moore's character is diagnosed with lung cancer.
The film has sparked some "double Oscar" buzz at the Toronto Film Festival where it debuted this weekend, with critics praising Moore's touching and strong performance.
The story is based on an Oscar-winning short documentary by Cynthia Wade, which tells the story of New Jersey police officer Laurel Hester - who had long kept her sexuality private for fears of repercussions at work - fight to have her pension benefits transferred to her partner Stacie Goldstein.
In light of the recent Supreme Court decision on gay marriage, Pete Sollett's film will remind audiences of how far the struggle for LGBT rights has come - but critics say the film itself is not as good as Moore's performance.
Variety calls the film "unremarkable", while The Hollywood Reporter says the "harrowing trajectory feels like a variation replay of something we've seen from [Moore] in a superior version".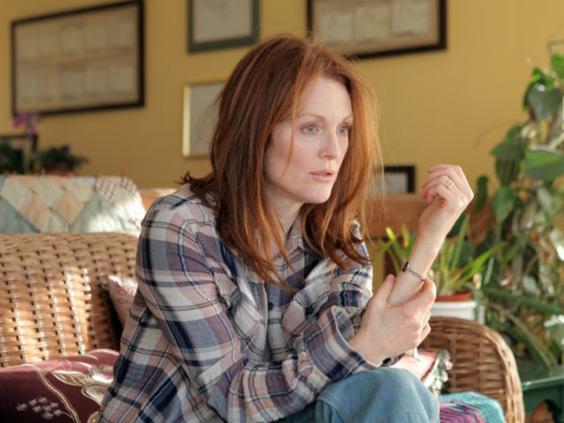 But it is not uncommon for actors to win an Oscar for films that have been deemed inferior to their stand-out performances - Moore's win for Still Alice was the only nomination the film earned at the 2015 awards.
Eddie Redmayne has also been touted for double Oscars glory for his performance in upcoming film The Danish Girl, which sees him play one of the first transgender women. However, critics say the film lacks the required emotional kick expected of such a groundbreaking subject.
The Oscars race has only just begun, but it seems Moore has made some strong early ground so far.
Oscars predictions
Oscars predictions
1/16 Carol

Cate Blanchetts next movie was first tipped as an Oscars contender at Cannes, where it received glowing reviews and won her co-star Rooney Mara the Best Actress gong. Both actresses are early favourites. as is the film itself, about a woman in a loveless marriage who sparks a connection with a 20-something department store clerk. Features a stellar score, too.

Press handout

2/16 The Revenant

Not just any film, but the film that might just prove seventh time lucky for Leonardo DiCaprio. 'Poor Leo' has been nominated again and again without taking home a golden man but, as a 19th century fur trapper hellbent on revenge, he'll be hoping for glory next February. Last year's Best Director Alejandro Gonzalez Inarritu is behind the camera and the first trailer looks gritty and awesome.

20th Century Fox

3/16 Joy

Jennifer Lawrence is set to be back in the front row at next year's ceremony with a nomination for Joy. The previous Best Actress winner plays a single mother turned multi-millionaire businesswoman in David O'Russell's biopic of Miracle Mop creator Joy Mangano. Out at Christmas, just in time for peak Oscars buzz.

20th Century Fox

4/16 Everest

Baltasar Kormákur's disaster thriller about the 1996 Mount Everest Disaster is set to open Venice next month, where previous titles selected to kick off the film festival have included Oscar winners Birdman and Gravity. The star-studded cast also bodes well for what looks set to be one of the biggest films of the autumn, including Jake Gyllenhaal, Keira Knightley, Emily Watson, Robin Wright, Josh Brolin and Sam Worthington.

5/16 Steve Jobs

This film may be somewhat infamous for all its problems en route to the cinema, but with Danny Boyle in the director's chair it's finally making waves. Michael Fassbender plays late tech pioneer Jobs while Seth Rogen is Apple co-founder Steve Wozniak. Yet another biopic, but the Academy does love them.

Universal Pictures

6/16 The Danish Girl

Eddie Redmayne returns in another challenging role as pioneering transgender artist Lili Elbe, who became the first man to undergo gender reassignment surgery. The 33-year-old Brit won last time around for his performance as Stephen Hawking in The Theory of Everything and was so excited then that we're not sure he could actually cope with the ecstasy of triumphing twice.

Working Title/Universal Pictures

7/16 Legend

Tom Hardy is playing not one but both Kray twins in this mobster biopic about notorious gangsters Ronnie and Reggie, who ran an organised London crime ring in the Sixties. Surely that deserves some Academy credit?

8/16 Son of Saul

A sure-fire hit in the foreign language category after winning the Grand Prix at Cannes, Son of Saul focuses on the Holocaust in a uniquely horrifying way. The story is told through the eyes of a Hungarian-Jewish prisoner who works in Auschwitz burning bodies after gas chamber extermination and is intent on giving his dead son a proper burial. This is the first film from director Laszlo Nemes, who could well leave Los Angeles with an Oscar or two next year.

9/16 Inside Out

Lego Movie fans were less than impressed when the film was snubbed at the Oscars last year, but there's little doubt Inside Out will not suffer the same fate. The clever Pixar movie about the inner workings of the mind is already the animated film of the year, winning five star accolades from a number of critics. The 'children's film' succeeds in appealing to viewers of all ages, from under-10s to adults brushing up on Freudian displacement.

Pixar

10/16 Black Mass

Warner Bros is touting this crime drama as a definite awards season favourite. Following the recent trend for biopics, the film is based on the true story of violent American criminal Whitey Bulger, who became an FBI informant. Johnny Depp stars as Bulger, and - should the Oscars campaigning pay of - this could be the film that turns his career around after a series of box office flops

Warner Bros

11/16 Macbeth

Michael Fassbender stars as Shakespeare's Scottish King in this thrilling, blood-spattered adaptation directed by Justin Kurzel. Marion Cotillard appears alongside the Irish-German actor as Lady Macbeth in the film, which was selected to compete for the Palme d'Or at Cannes. The movie shares the same producers as The King's Speech and Shame.

12/16 Sufragette

Expect uproar from feminist campaigners if this film doesn't get any Oscar nominations. Directed by Sarah Gavron (a rare female director) and based on a screenplay by Abi Morgan, the movie - as the title suggests - follows the early members of Britain's women's suffragette movement. Meryl Streep, who starred in Morgan's The Iron Lady, returns to play another historic British woman, Emmeline Pankhurst, while Carey Mulligan, Anne-Marie Duff, Helena Bonham Carter, Romola Garai and Ben Whishaw also star.

13/16 Snowden

Oliver Stone's political thriller brings to life the recent news story about American computer professional Edward Snowden's decision to leak classified information from the NSA to the Guardian in 2013. Based on The Snowden Files by Guardian journalist Luke Harding, the film sounds promising, but whether teen movie favourite Joseph Gordon-Levitt can give a convincing performance as Snowden will be up to the critics to decide.

14/16 In the Heart of the Sea

Chris Hemsworth takes on a huge whale in Ron Howard's ocean-based drama about the true story of a whaling ship attacked by a whale in 1820. Warner Bros clearly backs it, moving its release date from March to peak-awards season in December and the trailer suggests we're in for a stormy ride at sea.

Warner Bros

15/16 Jurassic World

We're not predicting this one to make a showing in the acting categories, but Colin Trevorrow may be in for a shot as Best Director. This blockbuster scored the highest opening of any movie ever earlier this year, and is tipped to pick up some gongs for visual effects and sound editing.

16/16 The Lady In The Van

Could an adaptation of an obscure-sounding Alan Bennett story win over US Academy voters? British films have fared well across the pond in recent years (The Imitation Game, The Theory of Everything and The King's Speech to name a few), which could give Nicholas Hytner's movie a boost. Starring Maggie Smith (and we all know how much Americans love Downton), Dominic Cooper and James Corden, this charming film deserves a look in.
Reuse content