A new teaser poster for forthcoming film Jurassic World has been released.
Scroll down to see full poster
The promotional artwork for the fourth instalment in the Jurassic Park franchise features the iconic tyrannosaurus rex logo in shades of smoky black and grey.
Beneath the image, which was shared by director Colin Trevorrow on Twitter, is the simple but ominous announcement: "The park is open."

The "park", of course, refers to the series' central  - and catastrophic - premise of creating a theme park full of cloned dinosaurs on Isla Nublar, a remote island off the coast of Costa Rica.
In the latest installment this pipe dream, originally envisioned by John Hammond, has been realised and is under the ownership of the Masrani Corporation.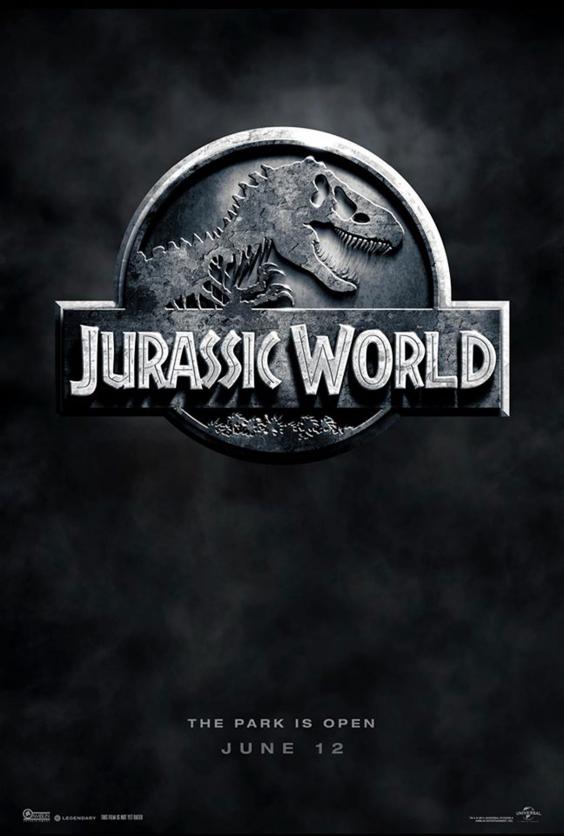 However, as visitor numbers begin to decline, the creation of a new attraction has disastrous consequences.
Chris Pratt plays park keeper Owen and the film also stars Bryce Dallas Howard, Nick Robinson, Ty Simpkins, Judy Greer, Jake Johnson, Omar Sy, Vincent D'Onofrio, Irrfan Khan and BD Wong.
Films to watch this season
Films to watch this season
1/5 Mr Turner, 31 October

Timothy Spall plays the British artist in Mike Leigh's new film Mr Turner. A look at the last quarter-century of his life, the biopic highlights the disparities between Turner's brilliance as an artist and flaws as a man

2/5 Unbroken, 26 December

Written by the Coen Brothers and directed by Angelina Jolie, this Second World War drama chronicles the life of Louis Zamperini (Jack O'Connell), who was captured by Japanese forces

3/5 Interstellar, 7 November

Directed by Christopher Nolan, Interstellar features Oscar winners Matthew McConaughey and Anne Hathaway. A group of explorers travel through a wormhole - or space "shortcut" - on a voyage aimed at saving humanity

4/5 The Imitation Game, 14 November

Keira Knightley and Benedict Cumberbatch star in Alan Turing biopic The Imitation Game. Cumberbatch has been tipped to win an Oscar for his performance as the mathematical genius, who lives with the pressure of hiding his sexuality at a time when homosexuality was criminalised

StudioCanal

5/5 Annie, 26 December

Oscar-nominated Quvenzhané Wallis is the new little orphan Annie in this reboot of the much-loved musical. A perfect family film

Getty
The film comes 14 years after the last instalment, Jurassic Park III, and 22 years after the original in 1993.
Jurassic World is scheduled for release in the UK on 12 June, 2015.
Reuse content