A dramatic new trailer for Jurassic Park sequel, Jurassic World, debuted during the Super Bowl last night.
Lead star Chris Pratt is seen coming perilously close to death by dino in the 70-second clip, with roars and screams aplenty.
The storyline follows the grand opening of a theme park featuring a very special attraction (that's a massive, genetically-modified dinosaur in case you were wondering), that somewhat inevitably goes wrong.
Pratt plays velociraptor expert Owen, who arrives to study Isla Nublar's creatures peacefully, only to end up at the hands of a reptile "bigger than a T-Rex".
Initially described as "a little shy" by one of the park's trainers during an aquatic show at the start of the teaser, the fearsome beast leaps from the pool to eat a shark as the audience cheer. Little do they know that they'll soon be running for their lives.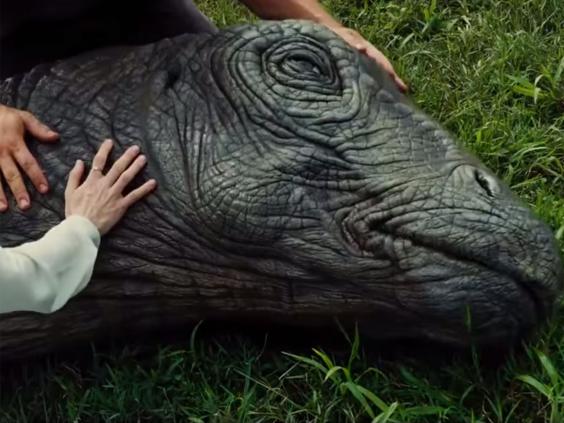 "You just went and made a new dinosaur?" Owen asks Claire in disbelief. "Probably not a good idea."
Fortunately, Owen has tamed the velociraptors so they aren't quite as hungry for human flesh as in past Jurassic movies.
Jurassic World in pictures
The scariest moment comes when two kids rolling around in a thick glass bowl for protection against the dinosaurs are attacked by a giant claw - you might want to bring a pillow to the cinema to hide behind as this is jumpy stuff.
BD Wong is back as Dr Henry Wu from the earlier films, last seen with Jurassic Park III more than ten years ago. Ty Simpkins, Nick Robinson and Bryce Dallas Howard also star.
Jurassic World reaches UK cinemas this summer on 12 June.
Reuse content