Ken Loach has made a public appeal to locate a rare batch of film numbering tape which the director needs to complete what could be his final feature film.
Loach, 77, is editing Jimmy's Hall, a period drama set in the 1930s about an Irish communist leader who opens a dancehall.
Acclaimed for films such as The Wind That Shakes the Barley and Kes, Loach has resisted the move to digital and still works on a traditional analogue Steenbeck editing machine, which incorporates nylon rollers, cutting the physical film stock with his editor Jonathan Morris.
Loach fears that Jimmy's Hall could be the last feature film to use the flatbed editing machine, and the director, who indicated he would step back from dramatic material to concentrate on documentaries, is running out of supplies less than a fortnight into the cutting process.
Speaking from the cutting room at Goldcrest Post London, Loach told ScreenDaily: "We're making a start and putting the scenes together. But we're finding that one or two of the support services are fading and one of those is in supplies of numbering tape.
"We're scratching around to find if some numbering tape still exists so we can identify the sound and picture so the film remains in sync."
Loach is looking for 25-30 rolls of dry transfer tape, 13mm wide, developed for Acmade Film Edge Numbering (or edge coding) machines. His supplies are due to run out by the end of next week.
The director, famed for his socially-committed films, said he preferred using a traditional Steenbeck because "it's a very linear process and you have a sense of the ongoing rhythm of the film."
"You can see the shape of a scene very easily and it has a handmade quality that you don't get on a computer - at least that's what we tell ourselves."
Morris, who has edited many of Loach's best known films, added: "On a Steenbeck, when you put up a roll of film 10 minutes long, you have to rewind it when you finished looking at it. That takes two or three minutes which is sometimes quite nice. It's thinking time, a little pause.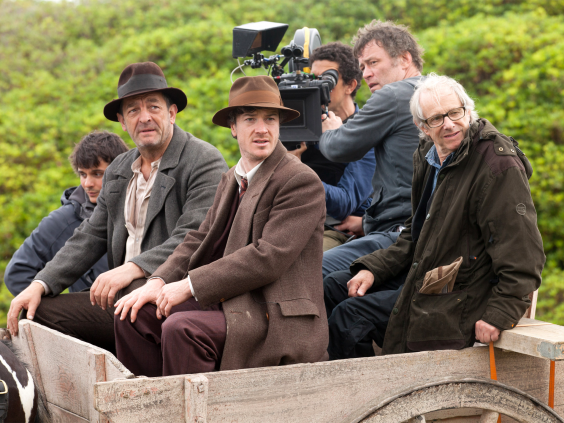 "When I'm working on the computer, I feel driven by the machine as opposed to the other way round. I suspect this will be the last film in this country edited this way, although people will still use the Steenbeck to view archive."
Backed by the BFI and Film4, Jimmy's Hall, written by Paul Laverty, was shot in August in Ireland. Set in 1932, Barry Ward plays James Gralton, who returns from a decade in New York to re-open the dance hall he built a decade earlier. The film will "celebrate the spirit of the free thinkers who went to learn, argue, dream and have fun" in the dance hall. Loach hopes to have a final cut ready by next February.
ScreenDaily reported in August that it could be Loach's last narrative feature. The Palme d'Or winner said: "I might not tackle another one on that scale again. But I'll keep making a bit of trouble from time to time."
Reuse content