While Legend may focus on Tom Hardy's Kray twins, Ronnie and Reggie, the real driving force behind the film is Frances Shea, Reggie's wife, played by Emily Browning.
Her character narrates the entire story, allowing us to see the emotional distress the twin gangsters inflicted upon those around them.
There's a lot more depth to Browning's interpretation of Shea than you would find in your typical Hollywood wife or girlfriend role.
Yet, these roles are few and far between, Browning tells The Independent: "I have read a lot of scripts where the girl is just there to be the girl.
"I think it's slowly getting better but I was watching a film with a friend the other night, a boy. I was like 'How does it feel to have all the characters for you. You're a straight white boy and you have all of the characters.'
"It is an issue for me. It's not even about 'strong, female characters.' People think that means badass girls with guns - which is really fun to do sometimes - but it's just about women being portrayed as real humans, real complex, interesting humans."
Browning has previously played leading parts in Sucker Punch, Sleeping Beauty and God Help the Girl, her most famous role being that of Violet Baudelaire in the screen adaption of Lemony Snicket's A Series of Unfortunate Events.
She added: "I want to be able to play a villain, a hero, an idiot. I want to play horrible people. I just want to be able to portray real human beings, to read a script where the girl seems like a real human being, that's what is important to me."
In the run up to Legend's cinema release, Frances Shea's niece, also named Frances, criticised the filmmakers for their portrayal of her aunt.
While Frances was not against Browning being cast in the role, she said she was 'mortified' that her aunt was made into the film's narrator without anyone having consulted her, or other family members, to "get a picture of what this woman was really like."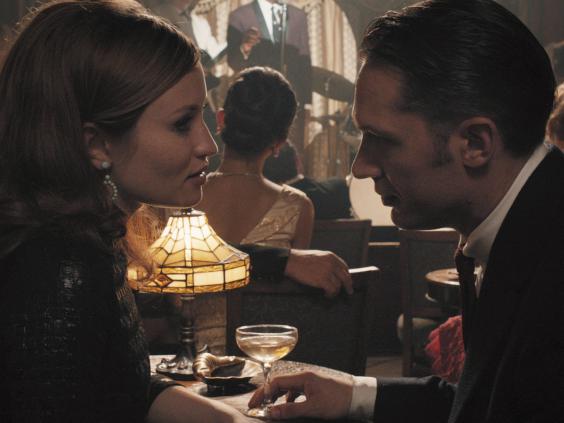 When questioned about this, Browning said that she had not spoken to any relatives of Shea but had acquired a letter and a diary entry written by Reggie's wife which she used to get to know the character.
"There's not that much information out there," the actress said. "I trusted Brian [Helgeland, director] with his depiction of the character."
Starring alongside Browning in Legend is Tom Hardy, as both Reggie and Ronnie Kray, Christopher Eccleston as Leonard 'Nipper' Read and Colin Morgan as Frankie Shea, Frances' brother.
Legend reaches UK cinemas on 11 September.
Reuse content