Lupita Nyong'o and Brad Pitt are reuniting for a film adaptation of romantic drama Americanah.
Pitt's production company Plan B are set to make the movie, with Nyong'o both starring and co-producing.
The pair last worked together on Steve McQueen's Oscar-winning slavery epic, 12 Years a Slave, for which Nyong'o won Best Supporting Actress in March.
Chimamanda Ngozi Adichie's bestselling novel tells the love story of a young Nigerian couple while exploring the humour and cruelties of the modern immigrant experience. It has received critical acclaim and was announced as the winner of the 2013 National Book Critics Circle Award for Fiction.
Nyong'o has described her casting as the heroine an "honour" and spoken of her own admiration for Americanah. "Page after page I was struck by Ifemelu and Obinze's stories, whose experiences as African immigrants are so specific and also so imminently relatable," she said in a statement.
"It is a thrilling challenge to tell a truly international story so full of love, humour and heart."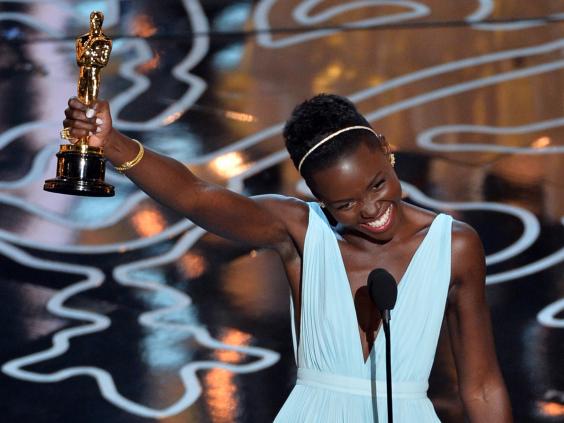 Another book from Adichie, Half of a Yellow Sun, premiered as a movie starring Chiwetel Ejiofor, John Boyega and Thandie Newton last year.
Elsewhere, Nyong'o was confirmed to appear in JJ Abrams' Star Wars: Episode VII in an as-yet-undisclosed role earlier this week.
The Mexican-Kenyan actress, 31, will join original cast members including Harrison Ford, Mark Hamill and Carrie Fisher for the next instalment in the sci-fi franchise, due for release in December 2015.
Nyong'o has revealed her own battles with self-identity in the past, giving a poignant speech on racism and beauty at this year's Black Women in Hollywood Luncheon.
"I hope you will feel the validation for your beauty but also get to the deeper business of feeling beautiful inside," she said. "There is no shade in that beauty."
Nyong'o was crowned the most beautiful person in the world by People magazine in April.