Sir Ian McKellen is believed to have married fellow theatrical knight of the realm Sir Patrick Stewart. Sir Ian conducted the ceremony at his friend Sir Patrick's nuptials to jazz singer Sunny Ozell this weekend, that is.
Eschewing Hello magazine or a newspaper advert, Sir Patrick, 73, announced the news of his third marriage via Twitter, sharing a photograph of himself and his bride with their heads poking out of a children's ball pool, accompanied by the words: "Yes, married."
Ozell, 35, and Sir Patrick have reportedly been together for around five years having met while the latter was playing Macbeth at the Brooklyn Academy of Music.
Acting veterans and best chums Sir Ian (The Lord of the Rings) and Sir Patrick (Star Trek: The Next Generation) , who recently appeared together in a Broadway revival of an acclaimed production of Samuel Beckett's Waiting for Godot, as well as Harold Pinter's No Man's Land, have also co-starred in X-Men.
Sir Ian announced in March on The Jonathan Ross Show that he was planning to conduct his friend Sir Patrick's wedding ceremony. The six-time Olivier-award winner said the wedding would take place in Massachusetts where the Bay State offers a "one day marriage designation" for $25 allowing a person to legally perform a wedding ceremony - although the exact whereabouts and details of the occasion have not been confirmed by either party.
Sir Ian posted a snap of himself on Facebook holding a "Doctor of Divinity" certificate and a T-shirt saying "Minister" along with the caption "I did my part".
It is the second time Sir Ian has been called on to perform the "Dearly beloveds" at a good friend's wedding, having previously led a civil partnership ceremony for two other friends.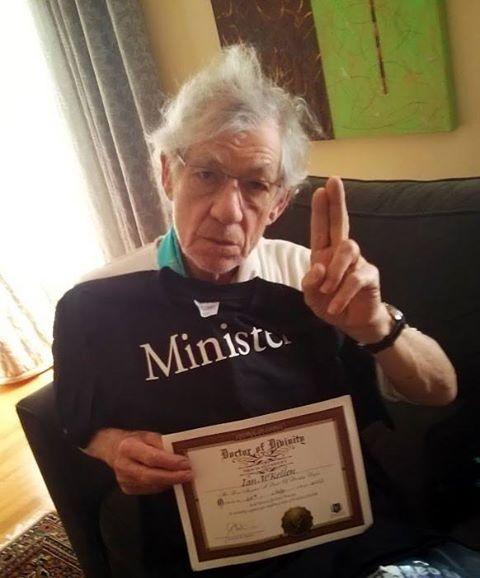 His marriage to Ozell is Sir Patrick's third trip down the aisle. He and first wife, Sheila Falconer, divorced in 1990 after 24-years of marriage. The couple have two children together, Daniel and Sophia. In 2000 Sir Patrick married one of the producers of Star Trek: The Next Generation, Wendy Neuss. They divorced three years later.
American-born Ozell describes herself as a "staunch Brooklynite" but is originally from Reno in the US state of Nevada.
On her website Ozell claims to be "equally adept at jazz standards as George Harrison, Bonnie Raitt and her own heartrending compositions". She is a regular at Lower East Side music halls such as Rockwood and the Living Room and has collaborated with Jim Campilongo, Adam Levy and Krystal Warren.
Sir Patrick's snap of himself and his wife in a ball pool is a nod to a previous photograph which went viral after he tweeted it (below).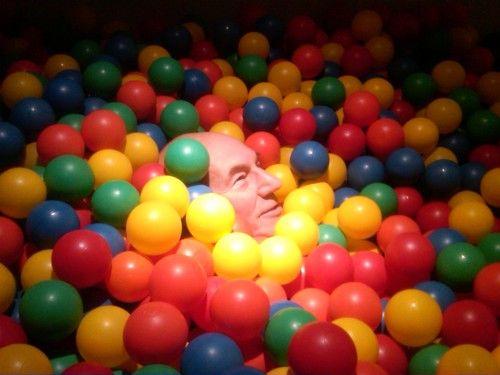 Reuse content