Channing Tatum's muscly torso has seemingly been deemed too risqué in Australia after posters for new stripper film Magic Mike XXL were censored down under.
Tatum is joined by Joe Manganiello, Adam Rodriguez, Matt Bomer and Kevin Nash on the original promo sheet, which shows all the actors gyrating in jeans with their tops off.
But a poster has emerged in Australia showing the cast with tight white T-shirts on instead, leading to confusion and light-hearted outrage among some fans.
"They added shirts to the Magic Mike XXL poster at a bus stop near my house"... Surely a crime against humanity?! pic.twitter.com/N2HdvqNRRG

— Pretty52 (@Pretty52) July 19, 2015
Saw poster for Magic Mike XXL today on which the cast had singlets photoshopped onto them. I really don't get the rationale there.

— Leena (@IshtarsHS) July 11, 2015
Shortly afterwards, The Mirror reported that these different posters were printed on special paper meaning that the stars appear clothed during the day-time and shirtless at night.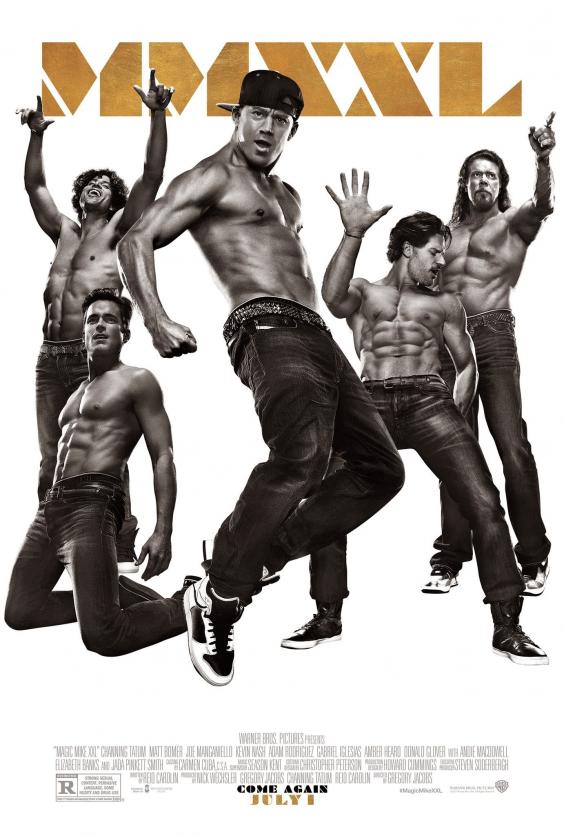 Tops or no tops, women have been flooding into cinemas to catch the boys in action with the sequel's opening week attended by a 96 per cent female audience.
Blockbusters to watch this summer
Blockbusters to watch this summer
1/7 Inside Out

The director behind 'Up' has  made another Pixar animation  to make grown adults weep with this metaphysical tale of a group of emotions directing the life  of a young girl. Out 24 July

2/7 Terminator Genisys

Arnie remains doggedly true to his word as the man who said "I'll be back", returning once more  to protect Sarah Connor in a new instalment which can surely only best the previous two. Out 2 July

3/7 Eden

Summer movies don't come less blockbuster-like than this saga about the world of French house music, based on the experiences of director Mia Hansen-Love's  DJ brother. Out 24 July

4/7 Trainwreck

Forget the superheroes – this  summer's greatest screen force is ribald comedian Amy Schumer, star of this Judd Apatow film about a hard-partying journo getting  a handle on love. Out 28 August

5/7 Magic Mike XXL

Channing Tatum and his  jock-strapped posse return in  this sequel to the 2012 hen-party favourite, whose level of, ahem, exposure will undoubtedly fail to match up to its title. Out 3 July

6/7 Ant-Man

The Marvel hydra grows another head with a first film instalment for an incredible shrinking hero, played by Paul Rudd, who has  the ability to shrivel to the size of… you've guessed it. Out 17 July

7/7 Mission-Impossible - Rogue Nation

The stolid spy franchise ramps  up with another adventure for  Tom Cruise's Ethan Hunt, this time leading a team to eradicate dully named rogue organisation the Syndicate. Out 30 July
Channing Tatum said earlier this month that he believes men should be objectified in films as much as women, while producer Reid Carolin shared his hope that Magic Mike XXL will spark body image discussions.
"We are objectifying men and saying women can look at men the same way men have been looking at women on screen for years," he said.
Reuse content