If you believe the director of Pain & Gain perhaps isn't the most astute choice to direct a film on such a politically sensitive topic as the 2012 Benghazi attack; the director of Pain & Gain seems very aware of that fact, too. 

Michael Bay's new film, 13 Hours: The Secret Soldiers of Benghazi, focuses on the events of 11 September 2012; when militants attacked an American diplomatic compound and a CIA station in Benghazi, Libya. Four Americans were killed in the attack, including Ambassador J. Christopher Stevens; with questions over what occurred continuing to cast a shadow over then-Secretary of State Hillary Clinton's presidential campaign.

Yet, he's convinced his film "doesn't get political at all"; telling the Wall Street Journal, "we show you what happened on the ground. It was written with the men who were there." Nevermind the fact it's literally impossible to make a film about a political event non-political in its content; Bay's entirely here for the gritty realism of it all.
Indeed, he's eschewing all his old tricks in an attempt to craft his own American Sniper, a film he explicitly references in conversation about 13 Hours; "I didn't want all the expensive toys. It was about shooting it very raw, over the shoulder of guys to make it feel like you are really there. Everything that I have learned from many, many soldiers is the confusion of warfare and how everything goes wrong. You kind of feel that in the movie."

One of those "expensive toys" appears to be the liberal usage of women's rear ends in his films. As one of five security contractors involved in Benghazi who had since bonded together in an attempt to bring their own accounts of the event to screen, Mark Geist seemed keen to ensure the project a sensitive voice.



That apparent benchmark of respect sat at trying to bait the director into including a shot of a ladies' backside in his sober war thriller. "He always has a girl's butt, in every Transformers, Pearl Harbor, The Rock," Geist noted. He claims to have blithely suggested an appropriate scene for the booty shot, but Bay turned out to be several steps ahead of him, "He's like, 'No, we're not gonna do it'," joked Geist, "That showed me how serious he was about this movie. But he thought about it."

Just conjure Bay in your mind, pacing the length of his office. "Welles didn't need butts! Kurosawa didn't need butts! Get it together, man," he'd cry, "Too long have butts cast a shadow over your true qualities as an artiste." Seriously, though; you've got to be concerned when one of your most famous shots as a director is this.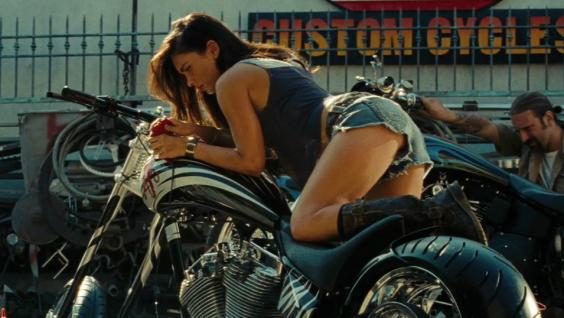 Oh, boy. The (buttless) 13 Hours: The Secret Soldiers of Benghazi opens in UK theatres 29 January. 
Reuse content