Marvel fans have been promised a female Captain Marvel and a black Black Panther, but two major films were missing from the studio's big announcement last night – the long-awaited Black Widow spin-off and a solo Hulk movie.
Eleven films were confirmed through to 2019 but the two hugely popular characters were left without their own titles, leaving many fans wondering why their wishes were not granted.
The plot thickened when Kevin Feige, Marvel Studios president, revealed that there are no current plans to make Black Widow and Hulk movies, despite rumours circulating for more than a year that they were in the pipeline.
So what have these heroes, played by Scarlett Johansson and Mark Ruffalo in The Avengers, done to deserve the silent treatment for the next five years?
"It's about bringing new characters to the screen," Feige said during a Q&A after Marvel's 'phase three'announcement.
"Black Widow couldn't be more important than as an Avenger herself and, like Hulk, The Avengers films will be the films where they play a primary role."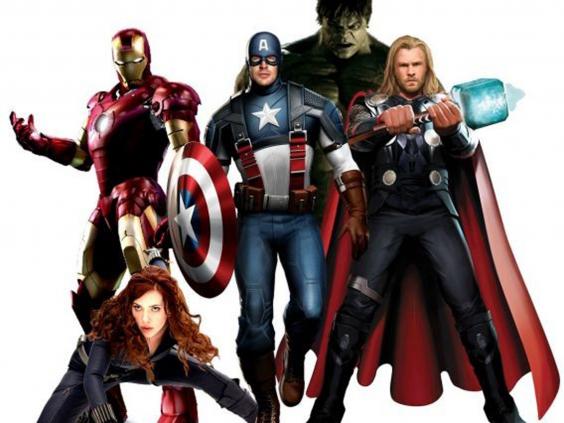 Marvel believes that the appeal and success of Black Widow and Hulk is down to their interactions with fellow Avengers.
"With [Black Widow], what's great is the interaction with all the team members and the question is whether we want to pluck her out of that," Feige told Badass Digest earlier this year.
Black Widow will play a "key part that's a linchpin to future films" in next year's The Avengers: Age of Ultron, after she first debuted in 2010's Iron Man 2.
As for Hulk, Feige was keen to assure fans that the iconic green humanoid is not "absent from the timeline".
"I'm going to say what I would have said about Black Panther last week, or Captain Marvel the week before that, or Doctor Strange the week before that, or Guardians of the Galaxy two years ago, or Ant-Man ten years ago: we'll see," he said.
"We'd love to do [a solo film], we'd love to find a place to put it, but right now Hulk will be appearing with his friends in the other films."
Marvel's best superheroes
Marvel's best superheroes
1/19 Black Widow

The Black Widow (Natasha Romanoff) played by Scarlett Johansson

AP

2/19 Spider Man

British actor Andrew Garfield as Spider-Man

PA

3/19 Captain America

Chris Evans in 'Captain America: The First Avenger'

Rex

4/19 Iron Man

Robert Downey Jr in Iron Man 3, who won favourite action movie star at the People's Choice Awards 2014

Iron Man 3

5/19 Wolverine

Hugh Jackman bears his claws and loses the plot in X-Men movie 'The Wolverine'

Twentieth Century Fox Film

6/19 Hulk

Edward Norton as Hulk in The Incredible Hulk

YouTube

7/19 Thor

Chris Hemsworth as Thor. Recently Marvel revealed its plans to make the hammer-wielding Norse superhero Thor a woman

Rex Features

8/19 Hank

Nicholas Hoult as Kan in 'X-Men: Days of Future Past'

AP

9/19 Raven Darkhölme

Jennifer Lawrence as Raven Darkhölme in X-Men: Days of Future Past

10/19 Hawkeye

Jeremy Renner as Hawkeye in 'Avengers Assemble'

Marvel

11/19 Winter Soldier

Sebastian Stan as the villainous Winter Soldier in the 'Captain America sequel

Marvel

12/19 The Avengers

The Avenger's superheroes

Marvel

13/19 Cyclops

The optic blast hero has long been played by James Marsden

YouTube

14/19 Professor X

Patrick Stewart landed the role as Professor Charles Xavier in Bryan Singer's comic-book blockbuster X-Men

Rex Features

15/19 Rocket Raccoon

Bradley Cooper voices Rocket Raccoon in Guardians of the Galaxy

Marvel

16/19 Groot

Also known as the Monarch of Planet X, Groot is played by Fast and Furious star Vin Diesel in Guardians of the Galaxy

Marvel

17/19 Drax

Known as 'the destroyer', Drax is played by actor Dave Batista in Guardians of the Galaxy

YouTube

18/19 Gamora

A soldier and assassin played by Zoe Saldana in Guardians of the Galaxy

YouTube

19/19 Guardians of the Galaxy

Bill Mantlo's comic creation on screen in Guardians of the Galaxy

Marvel
Feige had previously hinted that "some development work" was underway on a solo Black Widow film, before explaining that the idea was scrapped because a prequel would be needed to explain her backstory as a Russian spy.
Hollywood actress Jessica Chastain demanded a Black Widow film last month.
"Where is the Scarlett Johansson superhero movie?" she asked. "I don't understand it, why is it taking so long for this? This woman clearly shows that people want to go see her in movies."
But instead, Marvel's efforts will be focussed on its first female-led title, Captain Marvel, due out on 6 July 2018.
It remains unknown who will play heroine Carol Danvers, who gains superpowers after her genes are fused with alien race the Kree.
"[Captain Marvel] had been in the works almost as long as Doctor Strange or Guardians of the Galaxy before it came out, and one of the key things was figuring out what we wanted to do with it," Feige said.
"Her adventures are very earthbound but her powers are based in the cosmic realm."
The next Marvel movie to reach cinemas will be The Avengers: Age of Ultron on 1 May 2015, followed by Ant-Man on 17 July.