Jared Leto has won the Best Supporting Actor award for his role as transgender Aids patient Rayon in Dallas Buyers Club.
Leto, who stars alongside Best Actor nominee Matthew McConaughey, had been the favourite to take the accolade after winning at multiple recent awards ceremonies.
As last year's Best Supporting Actress winner Anne Hathaway announced Leto's name as winner, he hugged McConaughey before taking to the stage.
"Ellen I love you," Leto began, in a nod to this year's Oscars host Ellen DeGeneres. "To my fellow nominees, I'm so proud to share this journey with you. I have awe and so much respect for you all. To the academy, thank you."
Leto went on to thank his mother, who he had invited along to the ceremony as his date.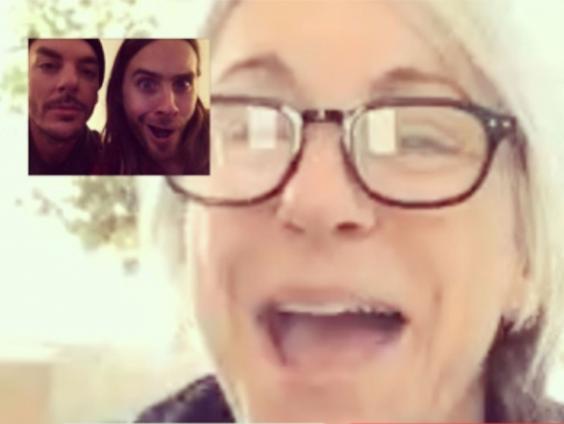 "In 1971, Louisiana, there was a teenage girl who was pregnant with her second child. She was a high school drop-out and a single mum but somehow she managed to make a better life for herself and her children, she encouraged her kids to be creative and work hard and do something special. That girl is my mother and she's here tonight - thank you for teaching me to dream."
Leto continued his speech to mention the crisis in Ukraine and those who are struggling with Aids and accepting who they are as people:
"To all the dreamers out there around the world watching this tonight in places like the Ukraine and Venezuela, I want to say we are here and, as you struggle to make your dreams happen, to live the impossible, we're thinking of you tonight.
Oscars 2014: Red carpet in pictures
Oscars 2014: Red carpet in pictures
1/31 Lupita Nyong'o

Lupita Nyong'o stuns in a plunging pale blue dress at the 86th Academy Awards

2/31 Jennifer Lawrence

Jennifer Lawrence arrives in a shocking orange dress as she hopes to take home the Best Supporting Actress award

3/31 Amy Adams

Amy Adams ditched the American Hustle glam for a classic navy dress

4/31 Anne Hathaway

Anne Hathaway

Getty Images

5/31 Emma Watson

Emma Watson

Getty Images

6/31 Pharrell Williams

Pharrell Williams leaves the Grammy Awards hat at home in favour of a suit...with shorts

7/31 Jennifer Garner

Jennifer Garner

Getty Images

8/31 Liza Minnelli

No-one's going to forget Liza Minnelli in a hurry after this electric blue sack shocker

9/31 Steve McQueen

British director Steve McQueen will be hoping for success for 12 Years a Slave

10/31 Jared Leto

Dallas Buyers Club's Jared Leto gives a double thumbs up on the red carpet

11/31 Naomi Watts

Naomi Watts at The Oscars 2014

Getty Images

12/31 Benedict Cumberbatch

Sherlock star Benedict Cumberbatch appears in a suave suit ready to present an award

13/31 Louise Roe

Louise Roe at the Oscars 2014

Getty Images

14/31 Jason Sudeikis

Jason Sudeikis wears a sleak blue tux

15/31 Shaun Robinson

Shaun Robinson at The Oscars 2014

Getty Images

16/31 Christoph Waltz

Christoph Waltz

Getty Images

17/31 Brooke Anderson

Brooke Anderson at The Oscars 2014

Getty Images

18/31 Lady Gaga

Lady Gaga

Getty Images

19/31 Joseph Gordon-Levitt

Joseph Gordon-Levitt

Getty Images

20/31 Jenna Dewan Tatu

Jenna Dewan Tatu

Getty Images

21/31 Tara Lipinski

Tara Lipinski at The Oscars 2014

Getty Images

22/31 Rocsi Diaz

Rocsi Diaz at The Oscars 2014

Getty Images

23/31 Bill Murray

Bill Murray

Getty Images

24/31 Sally Hawkins

Sally Hawkins

Getty Images

25/31 Elsa Pataky and Chris Hemsworth

Elsa Pataky and Chris Hemsworth

Getty Images

26/31 Jeremy Renner

Jeremy Renner

Getty Images

27/31 Jessica Biel

Jessica Biel

Getty Images

28/31 Christine Teigen

Christine Teigen

Getty Images

29/31 Brad Pitt and Angelina Jolie

Brad Pitt and Angelina Jolie

Getty Images

30/31 Brad Pitt

Brad Pitt

Getty Images

31/31 Karen O of the Yeah Yeah Yeah's

Karen O of the Yeah Yeah Yeah's

Getty Images
"This is incredibly special as well because there's so many people who helped me get here.
"This is for the 36 million who have lost the battle to Aids and to those of you out there who have ever felt injustice because of who you are and who you love.
"Tonight I stand here in front of the world, with you and for you."
Speaking to reporters after his win, Leto explained why he name-checked the situations in Ukraine and Venezuela during his acceptance speech.
"You have an opportunity when you stand on this stage. You can make it all about yourself, or you can hold up a mirror and shine a light," he said, noting that his band, 30 Seconds to Mars, is due to play in the Ukraine "in a couple of weeks", and until recently had a concert in Venezuela "in the works".
"I feel at home all over the world," the 42-year-old added. " Social issues like this affect us in a really immediate way… Being a person in a global band, it was important to me to address these things."