Paramount Pictures has apologised for its promotional poster for the new Teenage Mutant Ninja Turtles film, which shows the action-turtles leaping out of a burning New York sky-scraper, while touting its release date of 9/11 this year.
The ill-planned poster was tweeted from Paramount Australia's twitter account @ParamountAU on Tuesday with the text: "Check out the official poster for #TMNT in cinemas September 11!"
The offending material was swiftly deleted after a barrage of criticism from social media users.
The film is set in New York and the promotional image showed the four turtles; Leonardo, Donatello, Michelangelo, and Raphael, jumping from a tall building that has suffered a large explosion from high up its structure.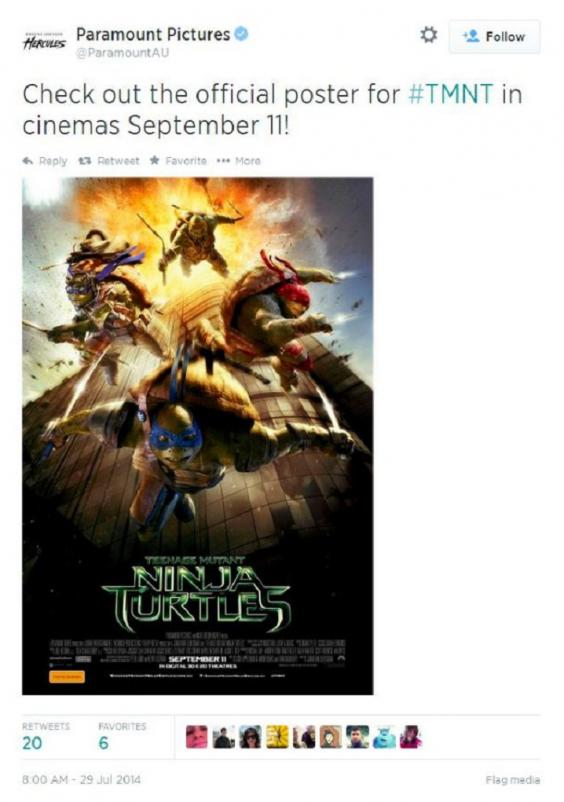 The image, alongside the release date of 9/11, was seen by many as severely insensitive as it was found to be reminiscent of the 2001 attacks, in which people were seen leaping out of the Twin Towers in New York.
Paramount said it has taken immediate action to discontinue the use of the poster.
Video: Teenage Mutant Ninja Turtles trailer

In a statement issued to Buzzfeed, Paramount said: "We are deeply sorry to have used that artwork for the marketing materials promoting the September 11 opening in Australia. Combining that image and date was a mistake.
"We intended no offence and have taken immediate action to discontinue its use."