Will Disney's big Star Wars gamble pay off?
Ignoring the minor hysteria which sparked around news of major reshoots - which have since been largely played down - the hype has been overwhelmingly positive when it comes to the franchise's first spin-off film, Rogue One. 
The film's latest trailer is but testament to that fact; following up on promises this would be a Star Wars film unlike any other, featuring vastly different locations, and a gritty feel more akin to a traditional war movie than a space adventure. 
Rogue One follows a wayward band of Rebel fighters brought together for one improbable mission: steal the plans for the Death Star. These events, of course, directly link into the first scenes of A New Hope; when Princess Leia is seen concealing the plans in R2-D2 before she's captured by the Galactic Empire.
Directed by Gareth Edwards, the film largely centres around Felicity Jones' Jyn Erso: a criminal misfit who becomes entangled in the Rebellion's ambitious, and resolutely dangerous, schemes. Donnie Yen, Diego Luna, Jian Wen, Forest Whitaker, Alan Tudyk, Riz Ahmed, Mads Mikkelsen and Ben Mendelsohn also star. 
The trailer also accompanied the release of a stunning new poster for the film, itself heavily hinting at a moral struggle between light and dark for our hero Jyn.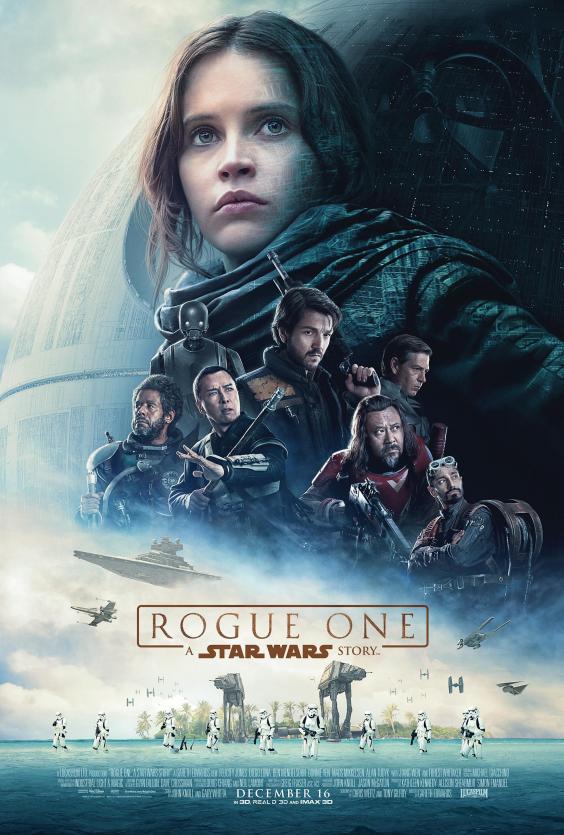 Rogue One: A Star Wars Story hits UK theatres 16 December.
Reuse content