The hype may firmly be surrounding the grand return of Darth Vader to the Star Wars universe, but it looks like Rogue One may be reviving another classic villain.
Entertainment Weekly has pointed out that the latest TV spot for the spin-off film seems to tease a return for Grand Moff Tarkin, the Imperial commander so memorably played by Peter Cushing in 1977's A New Hope.
Rogue One follows a wayward band of Rebel fighters brought together for one improbable mission: steal the plans for the Death Star. These events, of course, directly link into the first scenes of A New Hope; when Princess Leia is seen concealing the plans in R2-D2 before she's captured by the Galactic Empire.
It makes sense, then, that Tarkin would appear in some capacity; the new spot - titled "Breath" - shows what looks suspiciously like the back of Tarkin's head, gazing at the Death Star's construction. 
You can take a look at the moment below: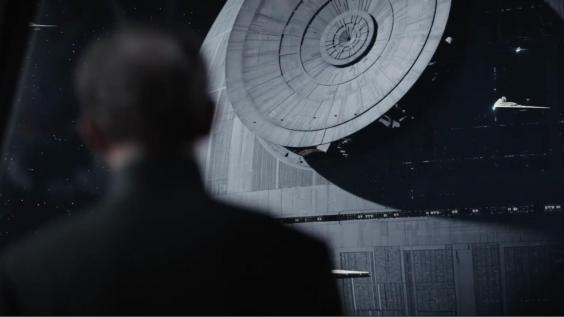 Cushing sadly passed away in 1994, though his character has continued to feature in the Star Wars franchise: played by Wayne Pygram in 2005's Revenge of the Sith, and voiced by Stephen Stanton in the animated series Rebels and Clone Wars. 
There's a chance that Cushing won't be re-cast for Rogue One, however; with executive producer and visual effects supervisor John Knoll hinting the film would be making use of revolutionary new technologies. "I have to tread lightly there because some of the fun bits of innovation are stuff that I've been asked not to talk about yet. You know, we want to hold that back," he told EW. 
Directed by Gareth Edwards, the film largely centres around Felicity Jones' Jyn Erso: a criminal misfit who becomes entangled in the Rebellion's ambitious, and resolutely dangerous, schemes. Donnie Yen, Diego Luna, Jian Wen, Forest Whitaker, Alan Tudyk, Riz Ahmed, Mads Mikkelsen and Ben Mendelsohn also star. 
Rogue One: A Star Wars Story will be released in cinemas on 16 December. Here's how to get tickets for the year's most anticipated film.
Reuse content