Proof that there is no fad which Hollywood believes can't be elevated into a blockbuster arrived after Sony Pictures Animation snapped up the rights to turn the lovable Emoji character into a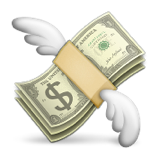 film franchise.
Sony triumphed in a three-studio auction to bring the round-faced figures, originally used as cute footnotes to text messages, to the big screen.
The deal, said to be worth seven figures, surprised some insiders since, unlike the Lego brand, recently turned into a hit film, there are no underlying rights to buy for the widely-used ideograms.
Film website Deadline speculated that Sony was forced to act to block a rival Emoji film pitch, with Warner Bros and Paramount also waving their cheque-books at the Emoji.
Developed in the late-90s in Japan as smiley-faced emoticons, the wealth of happy/sad characters now available suggests Emoji enjoy a greater expressive range than the average Hollywood actor.
Expanding far beyond its original adolescent audience, Emoji symbols have become widespread across social media and work emails. Entire sentences are now constructed using what has been described as the world's first global language.
The "Emoji Movie" will provide competition for Minions, the cheerful yellow pill-shaped organisms who earned their own spin-off release after becoming cult stars in Despicable Me.
The Sony project will be co-written by Eric Siegel, a US sitcom producer and Anthony Leondis, director of Kung Fu Panda: Secrets of the Masters and a soon-to-be-released DreamWorks animation, B.O.O.: Bureau Of Otherworldly Operations, featuring the voices of Bill Murray and Melissa McCarthy.
The producers will develop the Emoji film's characters from a wealth of symbols available from Apple's library. It currently houses 93 individual yellow forms, 15 families of four, 10 happy couples and seven anthropomorphic cats.
Japanese-created fads have previously provided the source material for box office success. The Pokémon video games spawned their first feature film in 1998, launching a franchise which now stands at 18 films.
This week Sony releases Pixels, an animated/live action film starring Adam Sandler that features popular videogame characters come to life, including Pac Man.
Reuse content