With the acquisition of LucasFilm, Disney took on a whole lot of Star Wars heritage, including a back catalogue of novels, games and TV shows.
Instead of trying to arrange the 'canon' into an easily accessible order, the corporation did away with it all, and decided to create all new material including numerous comic books in conjunction with Marvel (another company Disney own).
So far, they've released comics based on the likes of Darth Vader, Princess Leia and Chewbacca, with upcoming comics based on Poe Dameron and C-3PO later this year. Now we've had confirmation that a five-part series based on Han Solo is coming in June.
Written by Monstress co-creator Marjorie Liu with art by Mark Brooks, the story will take place between the original 1977 Star Wars and 1980's The Empire Strikes Back. Appropriately, it will take inspiration from a film also released in that time period, just not Star Wars.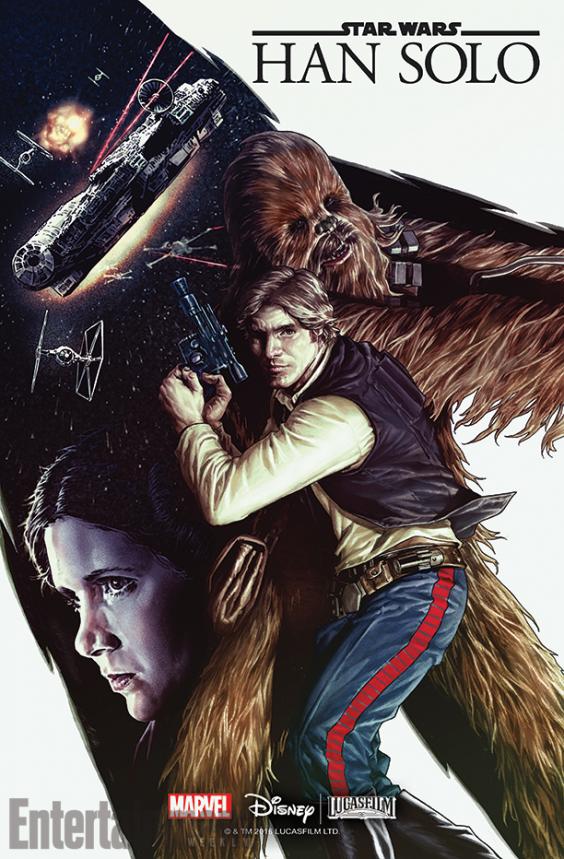 "I started thinking about this old movie from the '80s that I really enjoyed, which is Cannonball Run. I thought, OK, what if this is sort of like Han Solo in Cannonball Run in space?" Liu told Entertainment Weekly. 
"It finally came together in the story where there's this infamous starship race. It's the pilot dream race. Everyone wants to be in it, everyone dreams of winning it. The race is sort of a cover that will allow him to go on this mission for [Leia], but at the same time, even though the race isn't a priority, it's a real struggle for him because he knows he needs to focus, but he's on the race of a lifetime."
Every lightsaber in Star Wars history (films)
Every lightsaber in Star Wars history (films)
1/12 General Grievous

The general played a big part in the Clone Wars, collecting dead Jedi's lightsaber's along the way and using them to do a crazy spin-attack. Unfortunately, they all get cut off by Obi-Wan just a little too quickly.

2/12 Qui-Gon Jinn

Obi-Wan's master really didn't have too much time on screen, but his battles with Darth Maul will go down as some of the best in Star Wars history.

3/12 The Emperor

It was a little weird seeing The Emperor, at this stage Palpatine, getting out a lightsaber and battling Jedi. Much better when just using Force lightning!

4/12 Anakin Skywalker/Luke Skywalker/Finn

Now, this one really does have some history, travelling down the generations of Skywalkers, and briefly using by Finn in The Force Awakens. Of course, **Spoiler** someone else also uses the saber after it calls to them, could they be a Skywalker to?

5/12 Darth Vader

The first red-lightsaber we ever saw on screen: the definition of evil and an iconic weapon.

6/12 Yoda

Again, a little odd seeing a character from the Original Trilogy using a saber, especially when he was jumping around after putting down his walking cane. Ah well, doesn't stop Yoda being a brilliant mentor to Luke.

7/12 Mace Windu

Samuel L. Jackson managed to someone get George Lucas to give him a purple lightsaber, just to stand out from the rest of the crowd. That's one bad*ss motherlightsaber.

8/12 Obi-Wan

Sure, Obi-Wan managed to lose his saber on countless occasions throughout the prequels, but at least he had it in A New Hope when going against Vader. Because that went well...

9/12 Darth Maul

Maul's double ended lightsaber may have been the best thing about Phantom Menace. Scratch that, he was the best thing about that film! The last battle between Maul, Jinn and Obi-Wan was phenomenal, just a shame Maul didn't last until the next film (of course, he came back in The Clone Wars TV show, but that will take a little too long to explain here)

10/12 Kylo Ren

At first, the cross lightsaber was mocked by the Internet for being impractical. Yet, when seen in the movie, it's ferocious, spitting out light due to be unstable, much like it's master.

11/12 Count Dooku

Now, Dooku's character wasn't in the films for very long, feeling hugely underutilised, especially considering it was the great Christopher Lee, who took on the role as he was a trained fencer. It was still hugely impressive for an 80-year-old to be the best sword fighter in the galaxy.

12/12 Luke Skywalker

Luke's second saber, after the one he inherited from his father, was originally going to be blue as well. Yet, due to not standing out against the Tatooine landscape, it was changed to green - which is why in early posters his saber is blue.
Of course, Chewbacca will feature as his co-pilot, and Leia will make occasional appearances as well: "I couldn't not write Leia," Liu said, adding that writing the pair together was "a bit of a dream come true."
She went on to speak about possibly foreshadowing the events of The Force Awakens in her comic book: "It has actually coloured how I think about the book. That's been sort of an internal conversation with myself, whether I change certain beats, whether I do certain things to reflect this now-future canon that I know is coming down the line for him. 
"I haven't quite answered that for myself yet, but it's definitely in my head. It can't not be, because writing the book feels very bittersweet in a way."
Reuse content