As Star Wars fans worldwide eagerly await the first glimpse of upcoming saga The Force Awakens in a promised trailer later on today, we take a look at what we know about JJ Abrams' new film so far.
When will the new film be set?
Star Wars: The Force Awakens will pick off thirty years after the events of George Lucas' Return of the Jedi in 1983. That movie ended with Darth Vader (Anakin Skywalker)'s death, Leia being revealed as Luke's sister and Han Solo finally making it happen with Princess Leia.
Which of the original Star Wars cast members are returning?
Harrison Ford, Carrie Fisher, Kenny Baker, Anthony Daniels, Mark Hamill and Peter Mayhew are all returning for the new movie to reprise their presumably older original characters.
That means we'll be saying hello again to Han Solo, Princess Leia, R2-D2, C-3PO, Luke Skywalker and Chewbacca.
Star Wars 7 cast in pictures
Star Wars 7 cast in pictures
1/15 John Boyega

The 22-year-old best known for sci-fi movie Attack the Block is a new arrival for Star Wars and will be one of the sequel's 'trio of young leads'.

Getty Images

2/15 Harrison Ford

Ford will be returning as Han Solo for Star Wars 7 and is rumoured to have a 'gigantic role in the first of the next three films'.

3/15 Daisy Ridley

There's not much out there on Ridley, who is a relative unknown bar appearances in TV dramas Casualty and Mr Selfridge. But the British actress is set to become a huge star now...

Getty Images

4/15 Adam Driver

Lena Dunham tweeted confirmation that her fellow Girls star had landed the role of the villain in JJ Abrams' film. Now he has been officially confirmed and is expected to play a Darth Vader-like baddie.

Getty Images

5/15 Carrie Fisher

Carrie Fisher, who played Princess Leia in the 1977 original, has confirmed she will reprise the role in upcoming Star Wars films.

Getty Images

6/15 Kenny Baker

Baker played R2-D2 in the Star Wars franchise and will be back reprising his role for the 7th movie.

Rex

7/15 Domhnall Gleeson

Gleeson played Bill Weasley in the Harry Potter films and recently starred with Rachel McAdams in About Time. He has been confirmed for Star Wars 7.

Getty Images

8/15 Miltos Yerolemou

The Game of Thrones actor is not expected to have a 'major part' in the film

Rex Features

9/15 Oscar Isaac

Last seen in the Coen brothers' Inside Llewyn Davis, Isaac has been confirmed as a new arrival and will likely feature in a lead role.

Getty Images

10/15 Andy Serkis

Also confirmed for the 7th installment is Serkis - who has a reputation as one of the best motion capture actors out there. So expect him to portray some sort of other worldly character.

AP

11/15 Max Von Sydow

He's not a spring chicken but Von Sydow is a new arrival to Star Wars. Rumours suggest he might play a sinister old Jedi but that remains to be seen.

12/15 Mark Hamill

Mark Hamill will be back as Luke Skywalker along with his fellow original cast members Carrie Fisher and Harrison Ford.

13/15 Anthony Daniels

Anthony Daniels has starred as C-3PO in past Star Wars films and will be back for JJ Abram's seventh.

Neela Debnath/The Independent

14/15 Peter Mayhew

Peter Mayhew will reprise his role as Chewbacca with many fans excited at the theoretical prospect of a wizened old Chewie retired from space flight

Getty Images

15/15 Original Star Wars trio

Here are the original Star Wars trio of Harrison Ford, Carrie Fisher and Mark Hamill back in the day.

AP
What about the newbies?
Disney and Lucasfilm have confirmed that The Force Awakens will feature a "trio of new young leads". Few details have been shared about the new cast members' roles but open auditions advertised for a "smart capable" man in his late teens or early twenties and a "street smart and strong" orphaned girl.
Oscar Isaac, John Boyega, Lupita Nyong'o, Daisy Ridley, Andy Serkis, Domhnall Gleeson and Gwendoline Christie are all joining the Star Wars team and presumably two of them have filled these parts.
Who will be the villain?
Girls star Adam Driver is rumoured to be playing the main baddie in Star Wars 7 but few details are known about his upcoming role so the speculation could well be false.
Driver will definitely be starring in some way though, as Lena Dunham tweeted her congratulations and told him to "rip a hole in da force" back in February before the news was officially confirmed.
Is Harrison Ford alright after his injury?
The 71-year-old actor broke his ankle and had to be airlifted to hospital from Buckinghamshire's Pinewood Studios after an incident with a hydraulic door while shooting a Star Wars stunt. He recovered not long afterwards and resumed filming so don't panic, Han Solo will be in the movie.
Who is directing?
JJ Abrams is at the helm of the seventh Star Wars saga, having directed Star Trek and Star Trek Into Darkness in 2009 and 2013 respectively. Abrams comes from New York and is also for executive producing hit TV series Lost.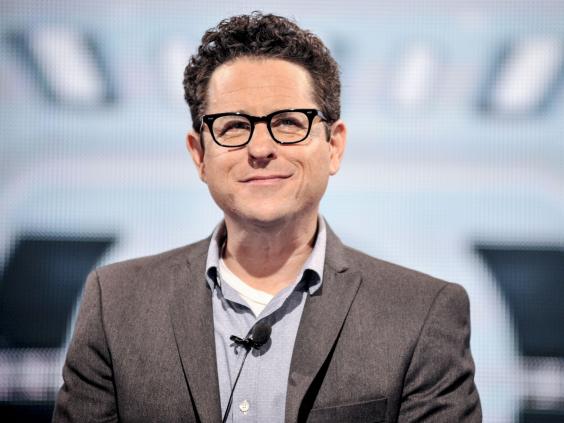 Where has the movie been shot?
Abrams tweeted that he was "on the set of the Star Wars Episode VII in Abu Dhabi" back in May, causing the internet to go into meltdown. He confirmed that some leaked pictures were of the Star Wars set after reports that a "whole world" was being built on a salt lake.
Is it going to be any good?
If Abrams' cast has paid heed to this motivational message he sent them earlier this year than yes - it's going to be awesome.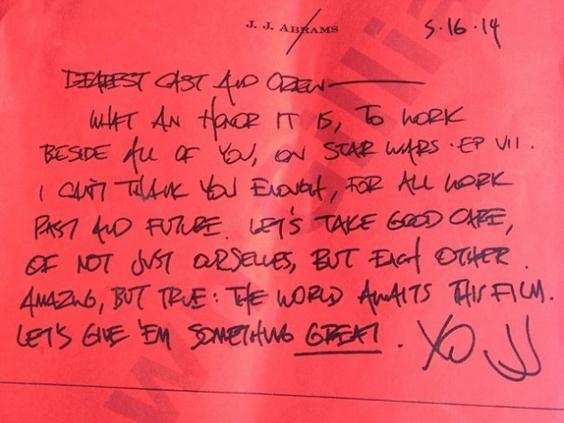 When can I go and see it?
Star Wars: The Force Awakens will released in the UK on 18 December 2015, just in time for Christmas and the same date as movie-goers get to see it state-side. That's just over a year to wait.