Stephen Hawking has said he was so impressed with Eddie Redmayne's portrayal of him on the big screen that at times he mistook the actor for himself.
Hawking has praised Redmayne's performance in the forthcoming biopic The Theory Of Everything, which follows the renowned scientist's life from his days as a PhD student to being honoured by the Queen in 1989.
Oscars 2015 winners
Oscars 2015 winners
1/15 Best Actor

Eddie Redmayne picks up his award for Best Actor (Robyn Beck AFP)

2/15 Best Actress

Julianne Moore picks up her award for Best Actress for her role in Still Alice (Robyn Beck AFP)

Getty Images

3/15 Best Picture

The cast and crew of Birdman accept their Best Picture Oscar on stage

Getty Images

4/15 Best Supporting Actress

JK Simmons

Getty Images

5/15 Best Supporting Actress

Patricia Arquette

Getty Images

6/15 Best Director

'Birdman': Director Alejandro Gonzalez Inarritu accepts the Best Director Award for Kevin Winter/Getty Images)

7/15 Best Screenplay

Birdman: Director Alejandro G. Irritu, Nicolas Giacobone, Alexander Dinelaris, Jr. & Armando Bo (ROBYN BECK/AFP/Getty Images)

8/15 Best Documentary Feature

CitizenFour: Laura Poitras (2nd L) embraces The Guardian journalist Glenn Greenwald (C), as Mathilde Bonnefoy (R) and Dirk Wilutzky (L) (ROBYN BECK/AFP/Getty Images)

9/15 Best Adapted Screenplay

The Imitation Game: Graham Moore (ROBYN BECK/AFP/Getty Images)

10/15 Best Production Design

The Grand Budapest Hotel: Adam Stockhausen (Production Design) and Anna Pinnock (Set Decoration) (ROBYN BECK/AFP/Getty Images)

ROBYN BECK/AFP/Getty Images

11/15 Best Visual Effects

Interstellar: Paul Franklin (2ndL) , Andrew Lockley (R) , Ian Hunter (L) and Scott Fisher (ROBYN BECK/AFP/Getty Images)

12/15 Best Animated Feature

Big Hero 6: Don Hall (C), Chris Williams (R) and Roy Conli (ROBYN BECK/AFP/Getty Images)

13/15 Best Cinematography

Birdman: Emmanuel Lubezki AFP PHOTO / Robyn BECK (ROBYN BECK/AFP/Getty Images)

14/15 Best Sound Editing

American Sniper: Alan Robert Murray (R) and Bub Asman (ROBYN BECK/AFP/Getty Images)

15/15 Best Foreign Language Film

Ida (Poland): Pawel Pawlikowski (ROBYN BECK/AFP/Getty Images)
"I thought Eddie Redmayne portrayed me very well. At times I thought he was me. I think Eddie's commitment will have a big emotional impact," said the physicist, who shed a tear when he first saw the film.
Redmayne has admitted that he was daunted by the prospect of playing the eminent scientist, who was diagnosed with motor neurone disease at the age of 21.
The actor said he did not know Hawking had been "entirely healthy" as a young man before reading the script, but described the process of preparing for the role as "riveting".
Redmayne met with specialists to analyse photographs of Hawking and see how motor neurone disease manifested itself in the scientist's body. He later worked with a choreographer to perfect Hawking's movements.
The film, which is based on Hawking's ex-wife Jane Wilde's memoir A Life with Stephen, tells the story of the young couple, who fell in love while studying at Cambridge University in the Sixties.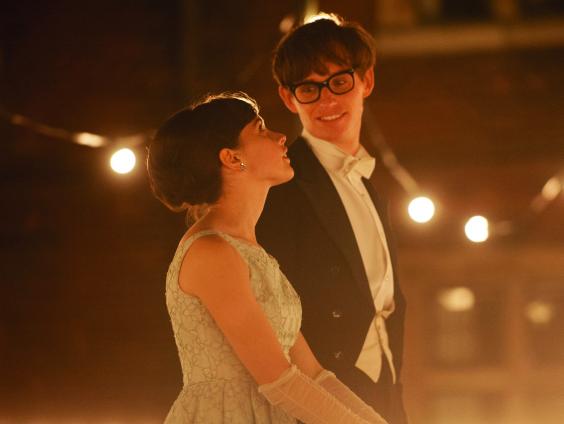 Wilde, who is portrayed by Felicity Jones in the film, remains determined to marry the young Hawking despite being told by doctors that he only has two years to live.
The couple went on to have three children together, but later divorced in 1995.
The Theory of Everything is released in the UK on 1 January following its current release in the US in order to qualify for an Oscar nomination.
This article was originally published on 18 November 2014. It has since been edited and republished.
Reuse content