Just hours after intelligence reports began officially linking North Korea to terrorism threats surrounding The Interview, Hollywood has reacted by scrapping another film project that was due to be set in the region.
An as yet untitled thriller written by Steve Conrad with Gore Verbinski directing and Steve Carell lined up to play the lead had been due to start filming in March.
But following the month-long cyber-attack on Sony by an organisation called the Guardians of Peace which culminated on Tuesday in the cancellation of the New York premiere of the studios' Seth Rogen film The Interview amid threats of a 9/11-style terror attack, filmmakers behind the Steve Carell film have decided to pull the plug.
An insider told industry website Deadline that it "just makes no sense" for the project to move forward.
This morning US intelligence officials reportedly linked North Korea to the Sony cyber-attacks for the first time. An unnamed US government official told NBC News: "We have found linkage to the North Korean government."
The large-scale attack which started on the 24 November has included the leak of sensitive information including employee salaries and medical records as well as embarrassing emails by Sony executives containing Hollywood gossip and scathing attacks on some of the film industry's biggest names from Angelina Jolie to Leonardo DiCaprio.
Sony has now cancelled its planned Christmas Day release of the film at the heart of the controversy, The Interview, a dark comedy which features an imagined assassination plot against North Korea's supreme leader Kim Jong-un.
Several major cinemas decided not to screen the film following threats of terrorism by the Guardians of Peace earlier this week.
The Pyongyang regime warned earlier this year that the film's release would represent "an act of war" that would lead to "merciless" retaliation. But the government in North Korea has always denied it is connected to the Sony hack and Guardians of Peace.
Newt Gingrich, the former speaker of the House and Republican presidential candidate, called the threat an "act of war" – the same phrase used by the North Korean government to describe the plot of the film itself.
Hollywood stars have condemned Sony's decision to pull the film's distribution and a petition has been launched to secure its cinematic release.
Ben Stiller said: "Really hard to believe this is the response to a threat to freedom of expression here in America."
Stressing that he was speaking "as a creative person, not any kind of expert", he added: "Terror threats shouldn't dictate free expression. That's my opinion."
Rob Lowe, who stared in the West Wing, said: "Wow. Everyone caved. The hackers won. An utter and complete victory for them. Wow."
Sony Cyber Attack: The Worst Affected In Hollywood
Sony Cyber Attack: The Worst Affected In Hollywood
1/13 Leonardo DiCaprio

The actor's 'horrible behaviour' over Steve Jobs biopic was branded 'actually despicable' in leaked Sony executive emails

Getty Images

2/13 Seth Rogen

Seth Rogen and James Franco cancel Interview (North Korea-baiting film) press appearances after Sony hackers' threats

3/13 James Franco

Seth Rogen and James Franco cancel Interview press appearances after Sony hackers' threats

AP

4/13 Aaron Sorkin

The screenwriter has said that the people who hacked into Sony Entertainment Pictures and released private emails are 'threatening the lives of whole families'

Theo Wargo | Getty Images for Nantucket Film Festival

5/13 Amy Pascal

Also leaked: Sony Pictures co-chair Amy Pascal's email joking about President Barack Obama's race

Getty Images

6/13 George Clooney

Leaked email chain between Pascal and George Clooney appeared to reveal just how much the actor struggled to cope with the criticism of his The Monuments Men

Getty

7/13 Barack Obama

Sony executives Scott Rudin and Amy Pascal's leaked email exchange jokes about Barack Obama favouring films with black actors

Getty

8/13 Channing Tatum

Channing Tatum's leaked Sony executive email responding to the success of 22 Jump Street with Jonah Hill, which became the highest grossing R-rated comedy ever when it opened in June this year

Getty Images

9/13 Jaden and Willow Smith

Will Smith and Jada Pinkett Smith's children Willow and Jaden Smith found themselves in the Sony inbox as well

Getty

10/13 Mark Gordon

DiCaprio's exchange with Jobs TV producer Mark Gordon (pictured) was leaked too

Getty Images

11/13 Princess Beatrice

Sony hackers linked to North Korea revealed Princess Beatrice earns $30,000 a year

12/13 Michael Fassbender

Aaron Sorkin's leaked emails claimed he had no idea who actor Michael Fassbender (pictured) was

Getty Images

13/13 Scott Rudin

Information leaked has also included embarrassing emails involving high profile producer Scott Rudin attacking Angelina Jolie

Getty Images
He compared the decision to pull the film to the former British Prime Minister Neville Chamberlain's policy of appeasement with Adolf Hitler.
He tweeted: "Saw Seth Rogen at JFK. Both of us have never seen or heard of anything like this. Hollywood has done Neville Chamberlain proud today."
Film-maker Michael Moore joked: "Dear Sony Hackers: now that u run Hollywood, I'd also like less romantic comedies, fewer Michael Bay movies and no more Transformers."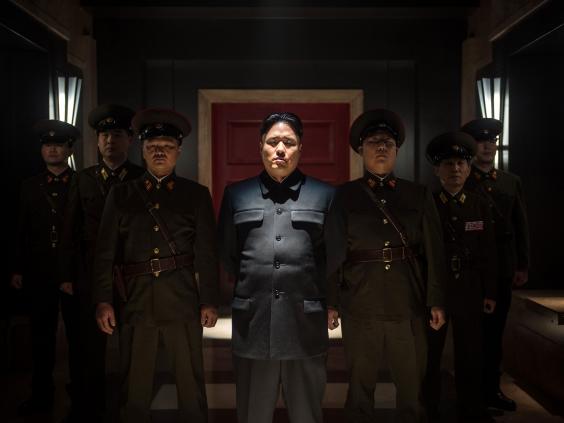 Comedian Jimmy Kimmel branded the move an "un-American act of cowardice that validates terrorist actions and sets a terrifying precedent".
In a statement Sony Pictures said: "The studio, which has been shaken by hacker leaks over the past several weeks, said it respected and shared in the exhibitors' concerns.
"We are deeply saddened at this brazen effort to suppress the distribution of a movie, and in the process do damage to our company, our employees, and the American public.
"We stand by our film-makers and their right to free expression and are extremely disappointed by this outcome."
This morning Denzel Washington became the latest name linked to the Sony hack after leaked emails revealed an unnamed film executive said he shouldn't get lead roles in international films because he is black.
Reuse content