Of all the entertainment news that slipped out over the holiday season, none was more thrilling – or as mockingly awful, depending on one's perspective – than that contained in a tweet from Sylvester Stallone.
The 68-year-old muscle man revealed he is preparing to once again star as the troubled and misunderstood Vietnam veteran John Rambo. The fifth Rambo film will be titled Rambo: Last Blood.
In his social media post, Stallone said he was preparing to film a gangster movie based on the life of Gregory "the Grim Reaper" Scarpa and said work would start after he had completed the Rambo film.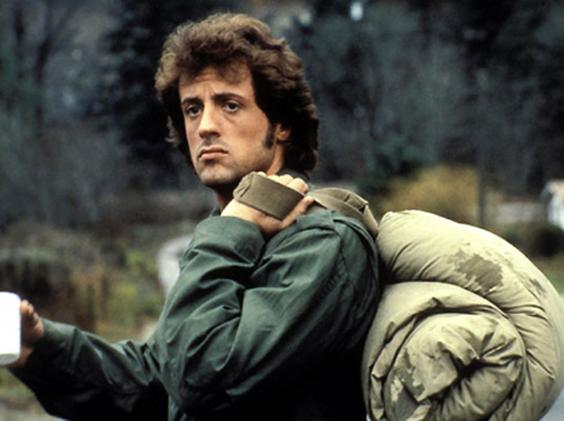 The character of John Rambo had his first outing in First Blood in 1982. There was a follow-up and then another follow-up before the fourth film, titled Rambo, in 2008. That film, which told of the character's effort to save Christian missionaries captured by the Burmese military, reportedly grossed $113m (£74m) worldwide.
Variety said there had been much speculation as to whether or not Stallone would retire the conversation-shy Rambo, who first appeared in David Morrell's 1972 novel First Blood. Reports say what may or may not be his final outing will be taking on a Mexican drugs cartel.
Best films to watch in 2015
Best films to watch in 2015
1/9 Suffragette - 11 September

Meryl Streep is bound to make a formidable Emmeline Pankhurst in Sarah Gavron's new film about the British women's suffragette movement of the early 20th century. Streep is again working from a screenplay by Abi Morgan who also wrote The Iron Lady.

Getty Images

2/9 Far From The Madding Crowd - 1 May

Thomas Vinterberg turns his hand to Thomas Hardy and British costume drama. Memories of the John Schlesinger version with Alan Bates and Julie Christie will be hard to exorcise. Carey Mulligan and the mercurial Flemish actor Matthias Schoenaerts star as Bathsheba Everdene and Gabriel Oak.

3/9 Jurassic World - 12 June

The third Jurassic Park sequel is finally here starring Chris Pratt. The storyline goes something like this - theme park gets dinosaur to attrack visitors and it all goes horribly wrong. Should prove a fun one among cinema-goers.

Colin Trevorrow

4/9 Terminator: Genisys - 3 July

Arnold Schwarzenegger kept his promise - he's back and he's trying to stop Judgement Day.

5/9 Spectre - 6 November

Bond is back for the 24th time. So is arch-villain Blofeld. Director Sam Mendes did a sterling job with Skyfall but the last movie ended on a very downbeat note with poor old Judi Dench signing out of the series. The challenge now is to reinvigorate a franchise that is already well into its 50s.

Rex Features

6/9 Cake - 20 February

It's Rachel from Friends as you've never seen her before as Jennifer Aniston plays Claire Bennett - a woman who initiates a relationship with a widower while battling hallucinations of his dead wife.

7/9 Suite Francaise - 13 March

It will be intriguing to see how Saul Dibb's long-awaited adaptation of Irène Némirovsky's novel deals with a problem that has often confounded British film-makers: how to portray French characters played by English-speaking actors in Nazi-occupied, wartime Paris without slipping into 'Allo 'Allo!-style caricature. Michelle Williams and Kristin Scott Thomas lead Dibb's promising cast.

8/9 In The Heart Of The Sea - 13 March

Chris Hemsworth plays tough seafarer Owen Chase in this dramatic Moby Dick movie.

Warner Bros

9/9 Cinderella - 27 March

Kenneth Branagh's live action remake of Disney's classic tale stars Downton Abbey's Lily James. Helena Bonham-Carter and Cate Blanchett also star as the Fairy Godmother and evil stepmother.

Disney
Indeed, Stallone does not seem keen to give up on any of his "old ones  but good ones". In addition to working on the Rambo film, he revealed he would be travelling to Philadelphia to play Rocky Balboa for the seventh time in director Ryan Coogler's Creed.
He will play the trainer of Apollo Creed's grandson, portrayed by Michael  Jordan. "Going to Philly to start the film CREED," Stallone tweeted on December 28. "What a great idea."
Doing Scarpa based on Gangster Greg Scarpa after LAST BLOOD RAMBO...

— Sylvester Stallone (@TheSlyStallone) December 28, 2014
Reuse content