Tessa Thompson is a self-proclaimed 'female agitator', consistently challenging viewers by starring in provocative films such as Selma and Dear White People. In her most recent venture, Creed, she plays a character breaking out of the traditional 'girlfriend' mould created by Hollywood.
"I just really like playing complex characters because we're complex as people," she says. "It was so great that - in the context of a sports movie and being a love interest - it was more than you would expect. Humans are so weird and dynamic, so those are the characters I like to play."
Unlike the love interests in the majority of action flicks dominating the box office, Thompson's character Bianca is incredibly complex: she's a musician from Philadelphia suffering from hearing loss and, when put opposite Michael B. Jordan's Adonis Creed, she refuses to easily fall into the relationship.
"We wanted to find a love story that felt honest," the 32-year-old says. "The truth is, some people meet each other and fall in love straight away, but most have to work at it to get there and we wanted to get there."
It is rare and refreshing for a female character to be so unique and realistic in a blockbuster pumped full of testosterone. One scene in particular, in which Bianca and Adonis go out for dinner on a "first date/not actual date" as Thompson puts it, is a fantastic exploration of real-world dating.
"We shot that scene last, and we had been working together for three months. Mike is so charming and charismatic. He's not an easy person to be opposite and not look at with love and affection."
Even Bianca's musical style is independent and unaffected by the local Philadelphia scene, one which produced the likes of John Legend and The Roots.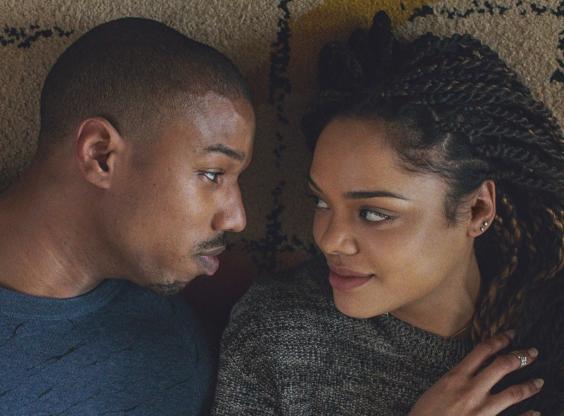 "We wanted Bianca to be a really independent artist who was actually very different to the music that generally comes out of Philadelphia. She's inspired by those artists but the music that she makes is really different sonically. That was maybe a bit more interesting."
Thompson performs three of the soundtrack's songs, all of which are minimalist electronic beats composed by Ludwig Göransson. (Listen on Spotify.)
"I grew up listening to a lot of Massive Attack and Portishead. Ryan [Coogler, director] really likes newer artists like FKA Twigs, those were reference points which he gave us and so we made it work in that world."
Those three songs alone are much more interesting than any other original pop songs made for mainstream movies. Unfortunately, no one at the Golden Globes or the Oscars noticed the soundtrack, or the film for that matter, as pointed out by numerous critics claiming the Academy snubbed the it (except Sylvester Stallone. . .).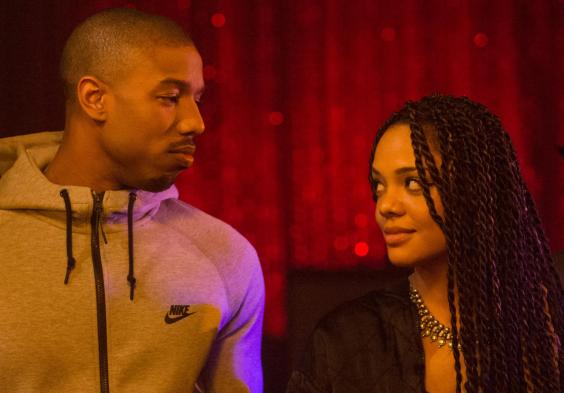 When I met Thompson, the nomination list had not been announced, but she has since spoken of how glad she is that #OscarsSoWhite has created conversation, something both Selma and Dear White People have done in the past.
"They're so important because they're movies that create conversations. With Selma, you got to see this man, this figure as a real human being. We have this real problem as human beings to put people on pedestals: with celebrities, with historical figures and we forget they're humans just like us. It's important, especially with the heroes of the Civil Rights movement, that they were just people and in the face of injustice that decided to do something.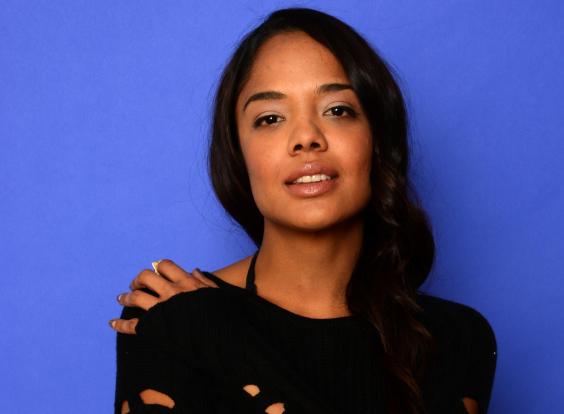 "Dear White People started a conversation about race. It's such a difficult thing to talk about especially in America because of our history. I love that you can confront it with humour and with satire. I love being part of films that have something to say. 
"Even Creed has some incredible things to say about millennial love, mentors - there are so many kids that go without a family, so the importance of community membership is so important."
It's great to see a film star so eager to create conversation in a time when dry blockbusters can reign for weeks on end. On her Instagram page and Twitter, Thompson writes that she is a 'female agitator', something she prides herself in being.
"To me, tension creates growth," she says. "I like the idea that things sit with people and ruffle their feathers, and make them think. To me, making things that are disposable or you forget is one of my least favourite ideas."
Creed is in cinemas now.
Reuse content