The first official poster for The Hobbit: The Battle of the Five Armies has been released at Comic-Con ahead of the movie's Christmas release.
Hero Bard the Bowman is seen standing defiantly before a fearsome Smaug as Esgaroth is devastated by fire, under a caption reading: "The defining chapter".
Directed by Peter Jackson, the final instalment in the JRR Tolkien franchise stars Martin Freeman as Bilbo Baggins, Ian McKellen as Gandalf, Richard Armitage as Thorin Oakenshield and Lee Pace as Thranduil.
Lee Evans plays Bard while Benedict Cumberbatch provides the dragon's voice. Evangeline Lilly, Cate Blanchett, Orlando Bloom and Manu Bennett also feature, among others.
The third film, set in Middle Earth 60 years before The Lord of the Rings, will see the Dwarves fight to take back the lost Kingdom of Erebor.
Speculation is rife that the first trailer will be screened to fans at the San Diego pop culture festival this weekend.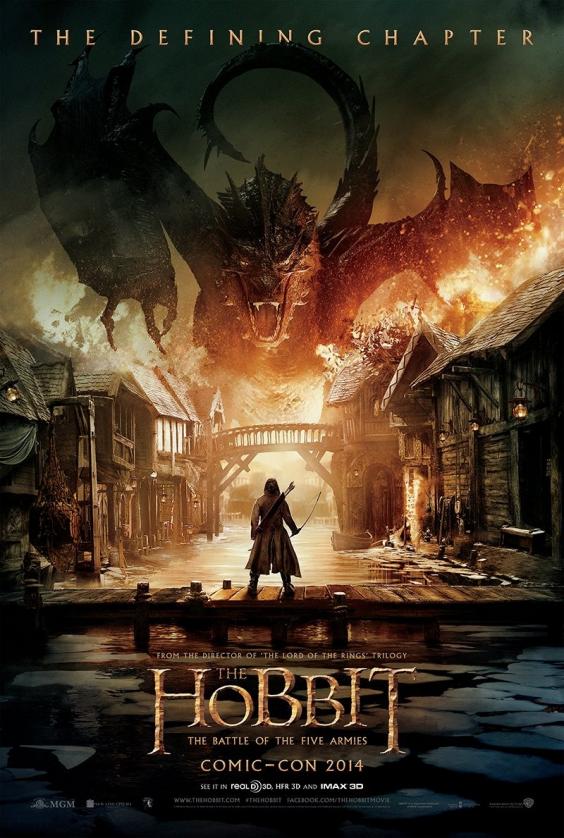 Originally titled There and Back Again, the movie changed its name in April. The new title references the epic battle involving many known characters from goblins and dwarves to elves and men but the previous will likely be used on a future box set of all three films.
Earlier this year, Armitage described Jackson as "the godfather of all our visions of Middle Earth" and suggested that he does not think the director will revisit Tolkien's world again for cinema.
Viggo Mortensen, however, who played Aragorn in the Lord of the Rings series, has argued that Jackson's focus on special effects became a "mess".
Reuse content