It might have been pulled from theatrical release in the midst of the Sony Pictures cyber-attack, but controversial comedy The Interview already has a perfect 10 rating online.
The movie, which sees Seth Rogen and James Franco play US journalists tasked with assassinating North Korea leader Kim Jong-un, was cancelled last week after hackers threatened to bomb the cinemas that screened it.
Much of Hollywood, along with US president Barack Obama, voiced their disappointment at Sony's decision. But film fans have taken another backlash route – by scoring the movie highly on rating websites such as IMDB and Rotten Tomatoes.
A massive 22,607 IMDB users have collectively given The Interview top marks, while 96 per cent of the 28,662 on Rotten Tomatoes have rated it at three stars or higher. All this support comes despite them never having seen the film.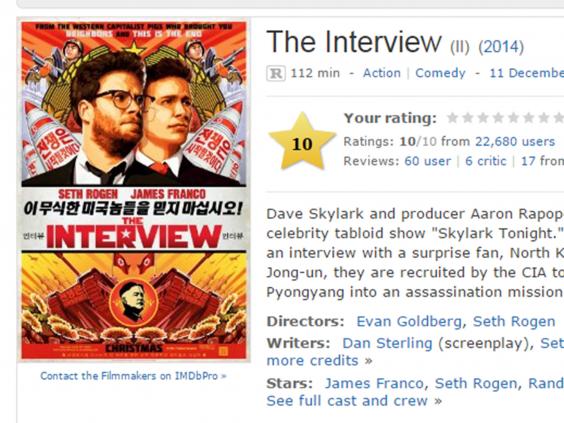 Unfortunately, film critics in general have been less welcoming, with The Wall Street Journal criticising The Interview for being a "buddy comedy with a slob aesthetic". Our own reviewer, Roger Friedman, gave the film four stars so maybe it's just not to everyone's taste.
Sony Cyber Attack: The Worst Affected In Hollywood
Sony Cyber Attack: The Worst Affected In Hollywood
1/13 Leonardo DiCaprio

The actor's 'horrible behaviour' over Steve Jobs biopic was branded 'actually despicable' in leaked Sony executive emails

Getty Images

2/13 Seth Rogen

Seth Rogen and James Franco cancel Interview (North Korea-baiting film) press appearances after Sony hackers' threats

3/13 James Franco

Seth Rogen and James Franco cancel Interview press appearances after Sony hackers' threats

AP

4/13 Aaron Sorkin

The screenwriter has said that the people who hacked into Sony Entertainment Pictures and released private emails are 'threatening the lives of whole families'

Theo Wargo | Getty Images for Nantucket Film Festival

5/13 Amy Pascal

Also leaked: Sony Pictures co-chair Amy Pascal's email joking about President Barack Obama's race

Getty Images

6/13 George Clooney

Leaked email chain between Pascal and George Clooney appeared to reveal just how much the actor struggled to cope with the criticism of his The Monuments Men

Getty

7/13 Barack Obama

Sony executives Scott Rudin and Amy Pascal's leaked email exchange jokes about Barack Obama favouring films with black actors

Getty

8/13 Channing Tatum

Channing Tatum's leaked Sony executive email responding to the success of 22 Jump Street with Jonah Hill, which became the highest grossing R-rated comedy ever when it opened in June this year

Getty Images

9/13 Jaden and Willow Smith

Will Smith and Jada Pinkett Smith's children Willow and Jaden Smith found themselves in the Sony inbox as well

Getty

10/13 Mark Gordon

DiCaprio's exchange with Jobs TV producer Mark Gordon (pictured) was leaked too

Getty Images

11/13 Princess Beatrice

Sony hackers linked to North Korea revealed Princess Beatrice earns $30,000 a year

12/13 Michael Fassbender

Aaron Sorkin's leaked emails claimed he had no idea who actor Michael Fassbender (pictured) was

Getty Images

13/13 Scott Rudin

Information leaked has also included embarrassing emails involving high profile producer Scott Rudin attacking Angelina Jolie

Getty Images
Sony insists that it still plans to distribute The Interview in some form, potentially on YouTube, despite recent claims that the studio has "no further" release plans.
"Sony has been fighting to get this picture distributed," lawyer David Boeies told NBC. "It will be distributed. How it's going to be distributed, I don't think anybody knows quite yet. But it's going to be distributed."
Reuse content