Chris O'Dowd has praised co-star Ben Foster's "really smart" decision to follow disgraced cyclist Lance Armstrong's doping programme for his lead role in The Program.
Foster revealed last week that he had taken drugs to help him understand the challenging part and O'Dowd, who plays investigative journalist David Walsh, reckons the research idea "makes sense".
"With something like that you know it's not going to harm you necessarily and you're going to have to perform so much [while filming]," he told the BBC, adding that it is difficult to portray drug use if you have never tried the substance yourself.
"I think if you have to take drugs in a role, it's very hard to do without taking the drug at some stage in your life," he said. "I'm not advocating that you [should], but I'm sure it probably wouldn't hurt your performance.
"It might hurt you as a human being but it would be silly to say that would not be a good way in to knowing [what it feels like]. That's not to say you should or you shouldn't, but you can understand the validity of it."
Actors who have undertaken extreme diets for movie roles
Actors who have undertaken extreme diets for movie roles
1/10 Matthew McConaughey in Dallas Buyers Club

McConaughey committed to a strict diet ahead of playing Ron Woodroof in Dallas Buyers Club. He lost a massive 47lbs after surviving on a spoonful of tapioca pudding, Diet Coke and chicken each day.

AP

2/10 Tom Hanks in Castaway

Production was halted on Castaway for a year to allow Hanks time to lose 50lbs ahead of his time on a deserted island. The actor survived mainly on crabs, coconuts and coconut milk. During the first two weeks of his diet he could fit an entire meal in the palm of his hand.

Rex Features

3/10 Natalie Portman and Mila Kunis in Black Swan

Kunis, pictured here, and Portman both lost around 20lbs each for their roles as ballerines in 2010's Black Swan. Portman explained that most of her weight loss had come from the daily intense ballet training the cast were put through.

AP

4/10 Christian Bale in Batman

To play Christopher Nolan's darker version of the superhero, Bale gained 100lbs on a high protein diet accompanied by hardcore physical training. He was then asked to drop 20lbs of it as the director said he was too bulky. Previously, Bale had lost 60lbs eating mainly coffee and apples for his role as an emaciated insomniac in psychological thriller The Machinist.

Rex Features

5/10 Ashton Kutcher in Jobs

Kutcher embarked on the late Apple CEO Steve Jobs' fruitarian diet ahead of playing him in a biopic about his life and career. The actor lost nearly 20lbs but was briefly hospitalised as a result.

AP

6/10 Robert De Niro in Raging Bull

In the original Raging Bull, based on the life of aging boxer Jake LaMotta, De Niro put on 60lbs. To play the actor in his prime earlier in the film, however, De Niro endured extensive physical training, including entering three real boxing matches - he won two.

7/10 Anne Hathaway for Les Miserables

The actress lost 10lb in just three weeks before filming for the role of destitute Fantine in the movie adaptation of Victor Hugo's Les Miserables. She then shed a further 15lb while shooting. Hathaway lived on a diet of 'oatmeal paste'.

AP

8/10 Hilary Swank in Boys Don't Cry

Swank lived as man for a month and experienced extreme weight fluctuation before filming for her role as Teena Brandon in 1999's Boys Don't Cry. Her character becomes the male Brandon Teena during the film. Swank reduced her body fat to just 7 per cent and even bound her breasts with bandages in an effort to make her performance realistic.

Rex Features

9/10 Renée Zellweger in Bridget Jones' Diary

The US actress gained 20lbs to play the awkward thirtysomething Bridget in the classic 2011 rom-com. She went from a size 4 to a size 14 before slimming down again afterwards.

10/10 Matt Damon in The Informant

To play Mark Whitacre in Steven Soderbergh's 2009 character study, Damon piled on 30lbs. He lived on steak, Doritos crisps, beer and whatever other fatty foods he could find - nice.

Warner Bros
Performance enhancing drugs are illegal in sport but can otherwise be prescribed to patients in medical need. Foster experimented with "condensed" doping under a doctor's supervision, and also trained by cycling the Tour de France route with professionals.
He did not tell The Program's cast and crew that he was taking drugs but when director Stephen Frears found out, he simply said "he's still alive".
"It happened, there's nothing I can do about it, I can't turn the clock back," he told reporters at the Toronto International Film Festival. "The truth is, he's so good in the film and I'm so grateful to him for being that good.
"I'm not interested in the process by which people arrive at their performances, I just expect them to turn up on the first day and be brilliant."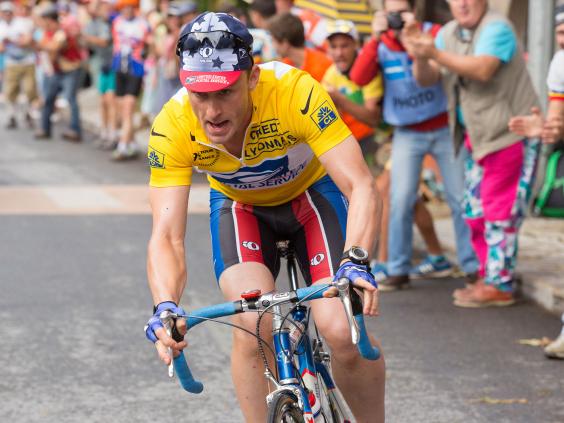 Foster made his confession to the Guardian but insisted that it would not recommend undergoing drugs programmes to fellow actors. "These are very serious chemicals and they affect your body in real ways," he said.
"For my own investigation it was important for me to privately understand it. I tried to infect myself with him, get him into my system. I've only just recovered physically."
The Program reaches UK cinemas on 16 October.
Reuse content