Angelina Jolie has unveiled the new trailer for her latest directorial project Unbroken after appearing with Brad Pitt on the Baftas red carpet in matching tuxedos on Sunday.
The Oscar-winning US actress, 38, has helmed the biopic of hero Louis Zampherini, due in UK cinemas on Christmas Day.
Former Olympic distance runner Zampherini survived life as a prisoner of war in World War II, when he was captured as an American/Italian bombardier by the Japanese Navy.
Following a disastrous plane crash, Zampherini spent 47 days on a raft in the Pacific Ocean before drifting ashore on the Marshall Islands only to be met by the enemy.
The preview clip mixes interviews with the real-life Zampherini, now 96, with film footage starring Skins actor Jack O'Connell in the lead role. Jolie appears too, in the director's chair, despite not acting in the movie herself.
"The will to push through any obstacle, the drive never to give into defeat," Tom Brokaw narrates over 1936 Olympics footage of the 5,000 metres. "These are the virtues that define the Olympic spirit, epitomised in the incredible story of former Olympian and American hero, Louis Zampherini."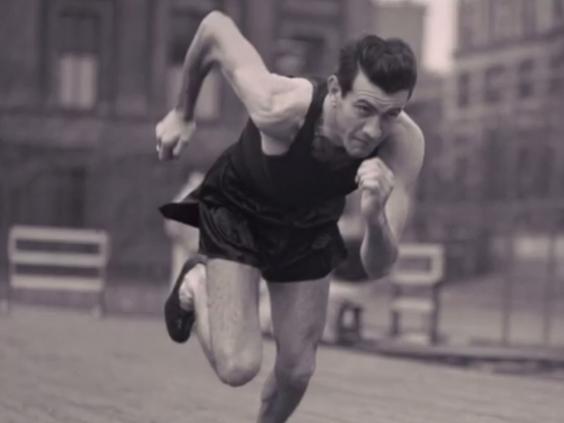 Based on the bestselling biography by Laura Hillenbrand (author of Seabiscuit ) and with a screenplay co-written by the Coen brothers, shooting for Unbroken has just finished in Australia.
Other cast members include Garrett Hedlund, Alex Russell, John Magaro, Finn Wittrock, Domhnall Gleeson and Japanese actor Miyavi.
The trailer closes with a motto from Zampherini himself: "Don't give up, don't give in, there's always an answer to everything."
Reuse content